Frittata Recipe From My Virgin Kitchen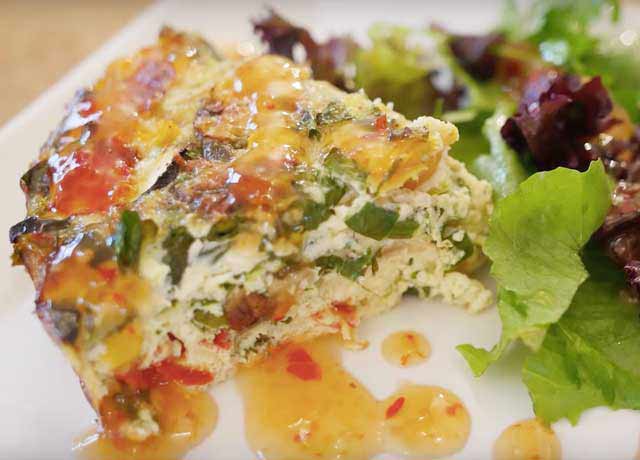 Frittata recipe comes from a fellow food blogger. It is an excellent quick and easy egg recipe that can be made with whatever vegetables you have in the fridge. If you are short of time or inspiration, this is a tasty and quick supper dish – low cost too. In fact you could find yourself using up ingredients you might otherwise have thrown away!
Add herbs to your taste – a bit of oregano or basil would be good. Barry suggest serving of with a drizzle of sweet chilli sauce – but you could add a sprinkle of chilli powder to the main ingredients – or even a teaspoon of mustard!
I could see this as being a fabulous recipe to turn to when you are feeling a bit tired and don't what to go to a lot of effort to cook. Below is the video and then the written recipe – so you can use which instructions you find easiest.
Fully Loaded Vegetable Frittata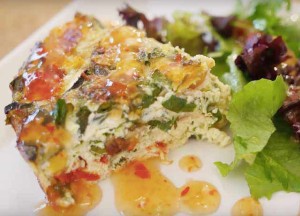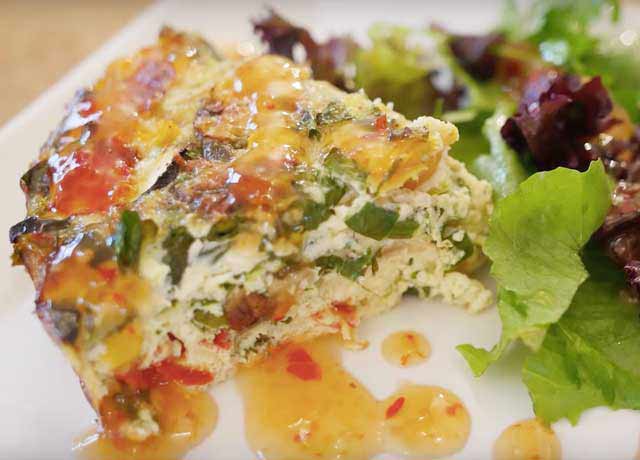 Ingredients
8

eggs

8

cherry tomatoes, sliced

6

button mushrooms, sliced

A handful

fresh spinach

4 tablespoons

sweetcorn

1/2 courgette

sliced

3

spring onions, sliced

1

pepper, sliced roughly

1

avocado, peeled and chopped in chunks

A handful

fresh parsley

Large handful

grated extra mature cheddar cheese

extra cheese

if you wish to top up before baking
Cooking Directions
Preheat the oven to 160 degrees C
Crack the eggs in a bowl and whisk together
Place all the other ingredients in a bowl and stir well
Add the eggs and stir well to mix
Pour into a quiche dish or baking dish
Sprinkle with extra cheese if desired
Place in the oven for around 35 minutes
Serve with fresh salad or vegetable of your choice!