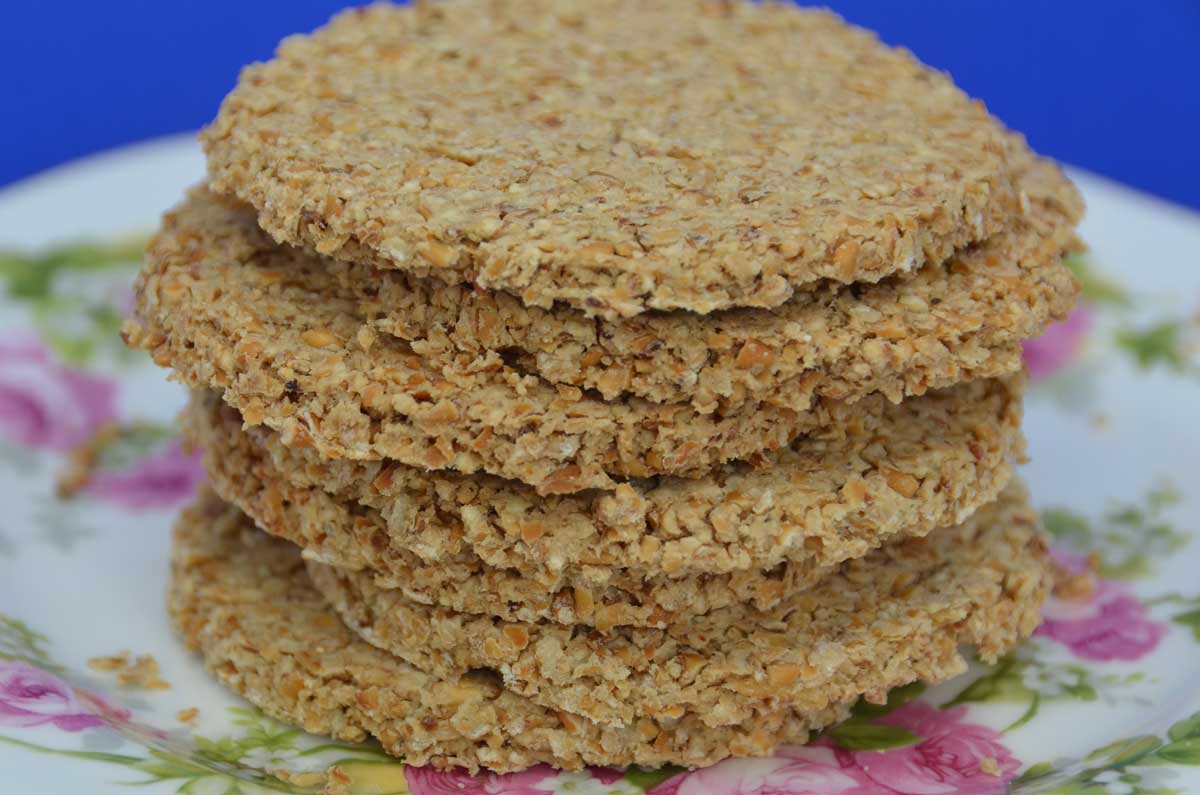 Oatcakes Recipe
I love oatcakes with cheese. And I am talking about a Scottish type oatcake (a savoury biscuit made from oatmeal) not a Staffordshire or Derbyshire oatcake – which is a type of pancake made from oatmeal. (I actually didn't know this until I was searching round the internet when writing up this recipe).
A Lancashire oatcake is different again but a type of pancake. Anyone who has the traditional recipes for these type of oatcakes is welcome to write in with their recipe and how they serve their oatcakes.
Scottish oatcakes are a simple delicious food, and easy to make with few ingredients. Serve with cheese or spread with some butter
And of course oatcakes are a traditional Scottish cuisine because oats grow so well in Scotland – mild summers and plenty of rain!
Scottish Oatcakes
I have always enjoyed oatcakes (the Scottish sort) with cheese. When made with oatmeal they are of course, wheat free and ideal for someone on a wheat free diet. Many of commercially produced oatcakes are a mix of oatmeal and wheat flour, but I wanted to do an exclusively oat based oatmeal. These are naturally gluten free, too!
Enjoy your oatcakes whenever you might have bread – so don't just have it with cheese. It is good with soup, with salad or with any sandwich fillings – try hummus, peanut butter or even jam.
Oatcakes are very easy to make taking just minutes. And the result is delicious! I love it when I find out an item you might regularly buy is so easy to make. And of course you know exactly what is in it. I am not sure I would commit to never buying oatcakes again but it is good to know I can easily put some together. After all it is probably quicker than going to the shops.
Add Flavourings
Use this recipe as a great starting point and then add some flavourings. Try a couple of teaspoons of freshly ground black pepper or a sprinkling of chilli. Ground ginger is good or some dried rosemary – or other favourite herb. See which goes best with certain cheeses!
Oatmeal
Oatcakes are made from oatmeal which is simply ground oats. Oats are well known now as a healthy food that can have many benefits including lowering cholesterol. It is most commonly used in porridge, muesli and flapjacks.
More Oat Recipes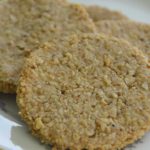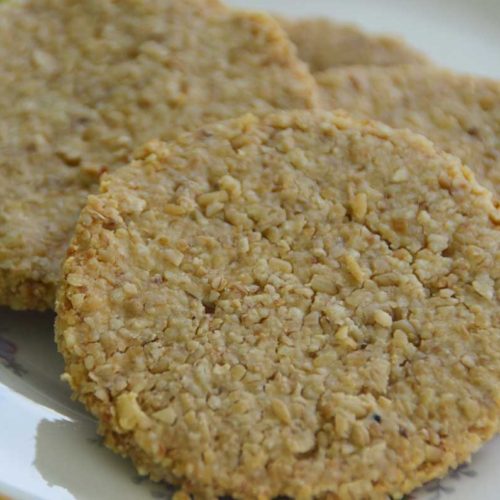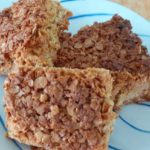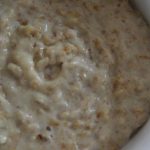 Baking Tip
Rather than greasing your baking tray – use these silicone baking sheets. No grease and can be washed and reused many, many times. Great time saver!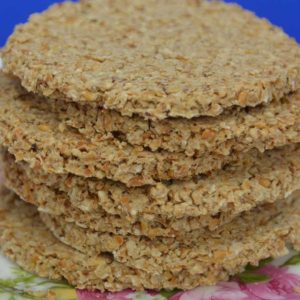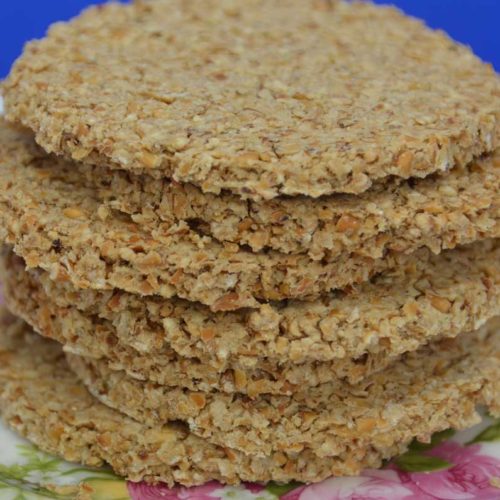 Oatcake Recipe
Easy recipe for oatmeal biscuits
Ingredients
250

g

oatmeal

25

g

butter

melted

1/2

teaspoon

bicarbonate of soda

pinch

of salt

100

ml

hot water

add a little more if mixture seems too stiff
Instructions
Preheat the oven to 180 degrees C

Put the oatmeal in a large bowl

Add the bicarbonate of soda and the salt

Add the butter and hot water

Stir well with a wooden spoon

Finally use your hands to bring the soft paste together

Sprinkle the work surface with oatmeal

Roll out the dough - the thickness is up to you depending on whether you like thin or thick oat cakes

Use a cutter to mark out the rounds

Place on a baking tray

Bake in the oven for about 20 minutes

Remove from oven and allow to cool a little

Place on a wire rack to cool completely

Keep in an air tight container to keep for a few days.
Notes
Line your baking tray with baking parchment or buy on these Silicone Baking Sheets which can be used again and again.
Try adding a teaspoon of ground black pepper or some chilli powder to the mix to spice up your oatcakes!