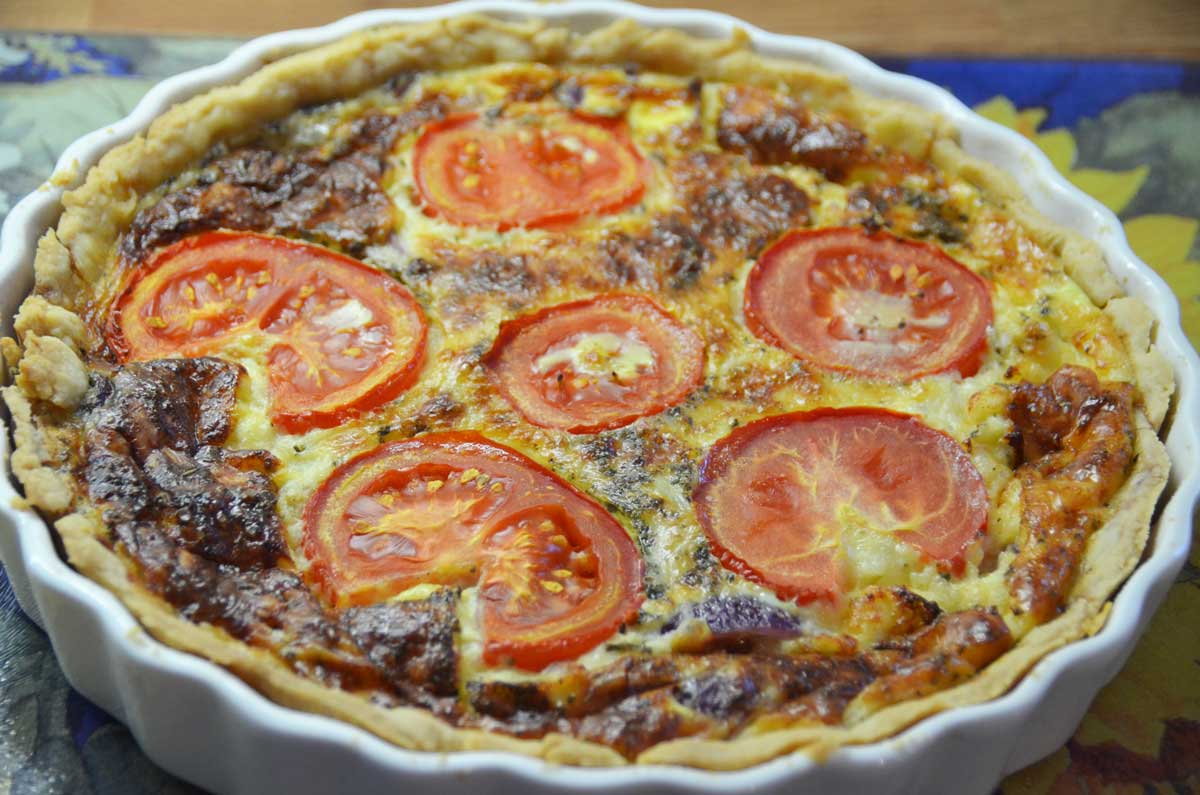 Quiches, like pizzas, are very adaptable. Great for salads, buffets and parties. Once you know the basics you can make a quiche from a wide variety of ingredients, which means it can be very useful for using up vegetables you have in your fridge which are not in sufficient quantity to make a whole portion for a main meal. This easy recipe for Cheese and Tomato Quiche is made from basic ingredients you are likely to have in your cupboards.
Use whatever type of tomatoes you have – small cherry or plum ones can be cut in half and dotted around the top or one large one can be sliced to distribute in four or six slices.
Possibly the best known quiche recipe is Quiche Lorraine, named after the area from where it came from, which was originally a German area, so officially quiche comes from Germany. Apparently the word quiche comes from the German for cake – 'Kuchen'. Quiches are very good eaten cold as part of a picnic or packed lunch.
This Cheese and Tomato quiche recipe can be made with ingredients you probably already have in your fridge and cupboards
Basic Cheese And Tomato Quiche
This easy quiche recipe is a basic quiche – yet quite delicious – and there are a number of variations you can try out. The ingredients are just eggs, milk, cheese and tomatoes in a pastry case but you can add herbs and flavourings to your taste.
You can use either white flour pastry or wholemeal flour – or a mix of the two. I always think wholemeal flour has an enjoyable nutty flavour – and of course you get the added health benefits of the wholemeal flour. Alternatively, you can always use ready made, shop bought pastry.
Baking Blind
If you have time, it is always better to bake your pastry 'blind' before adding the ingredients. This ensures your pastry is properly cooked through. To do this – once you have rolled out the pastry and lined your tin, line the pastry with some greaseproof paper. I always make enough to more than cover the pastry so it is easy to lift out afterwards. Fill the inside with baking beans or dried pulses and bake in the oven at 180 degrees C for about 10 minutes. This is to ensure the pastry stays flat in the tine – if you do not do this the pastry may puff up as it heats.
Alternatively you can prick the base of the pastry with a fork. In theory the holes will close as it cooks – but I prefer not to do it this way as I don't want any of the liquid filling seeping out through any unclosed holes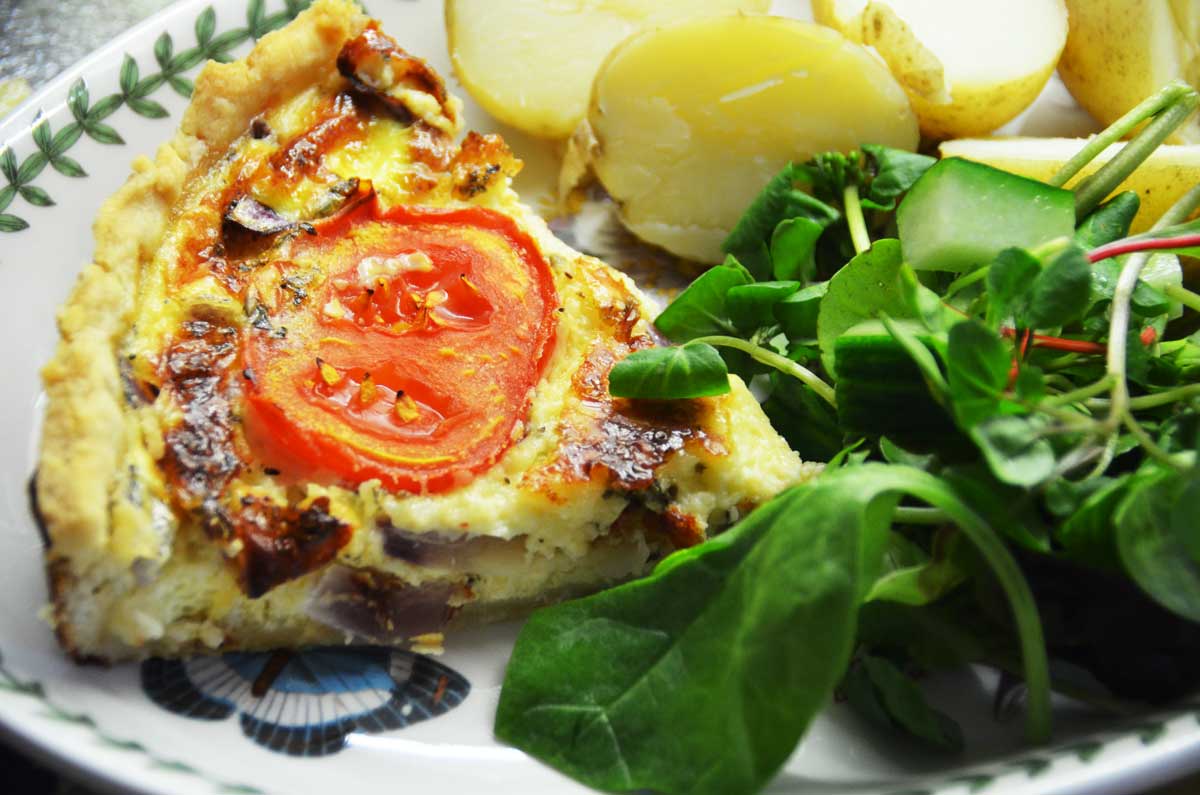 If you are making pastry – it is quite a good idea to make double the quantity and make two things at a time. It is almost as quick to make two quiches as one, as the base ingredients of milk and eggs is the same for most quiches. A quiche can be easily frozen for a future quick dinner.
You are also making the most of having the oven on – it is good to use the heat by cooking as many things as possible at one time.
Alternative To A Pastry Base
If you want a lighter base than pastry – or want to avoid the wheat and fat – try making a quiche with a rice base. It is very easy and makes a nice change. Click here for How To Make A Rice Base For A Quiche
Serve with new potatoes and salad leaves or your favourite cooked vegetables
More Quiche Recipes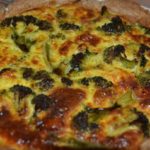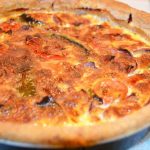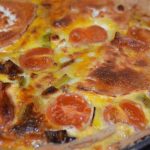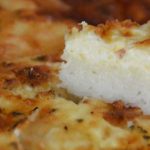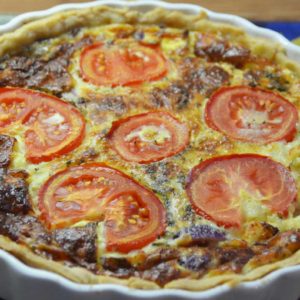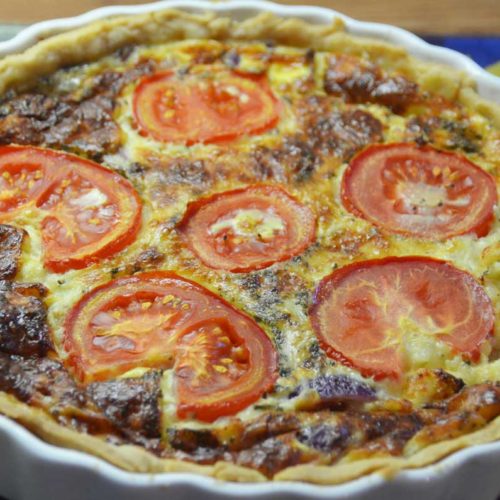 Cheese And Tomato Quiche Recipe
Deliciously easy quiche recipe to serve hot or cold
Ingredients
For the Pastry
140

g

plain flour

wholemeal, white or half and half

70

g

butter or margarine

3-4

tablespoons

cold water

pinch

of salt

optional
For the Filling
1

small

white or red onion

peeled and chopped

110

g

cheddar cheese

grated

3

free range eggs

200

ml

milk

1

teaspoon

mixed dried herbs

1

teaspoon

mustard

optional

1

large tomato

sliced or several cherry tomatoes cut in half
Instructions
Make the Pastry
Sift the flour into a bowl

Rub the butter or margarine into the flour, until it looks like breadcrumbs

Add 2 tablespoons of water and stir

Try to bring the pastry together with your fingers, adding more water if necessary, but just a drop at a time

Only work the dough enough to bring it all together and then stop

Place the dough in a polythene bag put it in the fridge for at least 30 minutes to 'rest'.

Roll out the pastry

Grease a cake tin or flan dish

Gently trim of off any excess

If you have time - bake blind for 10-25 minutes (see video above). Cut a round of greaseproof paper to size and fill with baking beans or dried beans. Place in a preheated oven for 10-15 minutes. Carefully remove sheet and beans.
Make the Filling
Pre-heat the oven to 180 degrees C

Arrange the onion pieces in the bottom of the flan

Place the cheese on top of the onion

Beat the eggs and mix in with the milk

Stir in the herbs and mustard

Pour over the onion and cheese

Slice your large tomato into 4 to 6 sliced and arrange on top or halve the cherry tomatoes

Place in the oven for about 45 minutes until set. NB The quiche can look done after only 20 minutes or so but don't be tempted to take it out too early or the middle will still be quite soft. If it is getting too brown on top, just turn down the oven a little.

Allow to cool slightly before serving

Delicious hot or cold with baked potato and salad