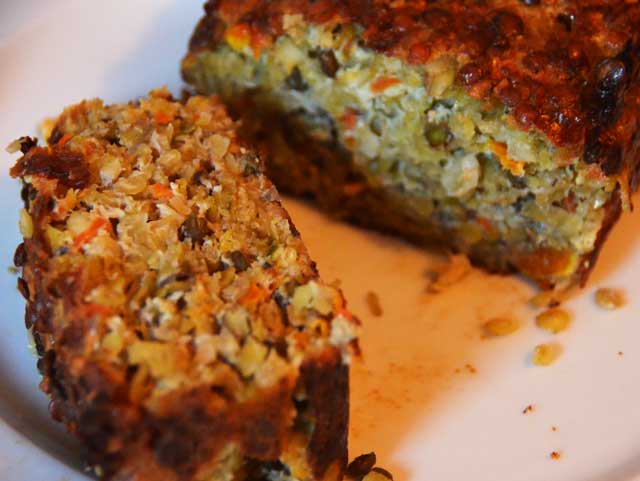 Simple Nut Roast Recipe
My Easy Nut Roast Recipe is very popular and in my opinion one of the best nut recipes out there but I am also on the look out for variations. I was particularly taken with a recipe from the book Pulse: Truly Modern Recipes for Beans, Chickpeas and Lentils, to Tempt Meat Eaters and Vegetarians Alike
, a book from which I have taken several ideas and would recommend to anyone interested in cooking with lentils and beans – including meat eaters. I did this recipe when I was on my wheat free diet and among a few other changes, omitted thee breadcrumbs – so this recipe is a wheat free nut roast recipe.
This Nut and Lentil Roast recipe is delicious, low cost and easy to prepare and makes a great alternative to a meat roast
It is very tasty and delicious both hot and cold. In fact it is ideal for a picnic or in a packed lunch. It also reheats really well. The loaf makes two loaves for four people so one can be kept in the fridge or frozen for another day.
This recipe did entail a lot of chopping of vegetables but once that is done, the preparation is quick. The vegetable chopping can be quite therapeutic if done with sufficient time (and the radio or your favourite music playing in the background.) Preparing a meal for raw ingredients is a wholesome activity and can be used as a time to think and contemplate – or just get really involved in the task at hand.
Nut Roast – A Bad Press?
Nut roast has had a bad press at times by being the obvious and potentially boring meat alternative. But it can be flavoured in so many different ways it is anything but boring and it is very nutritious. I tend to use generic mixed nuts which you can buy from the supermarket. That way you get the health benefits of different nuts too.
Since most people enjoy a roast dinner, a nut roast is ideal for serving as part of a full roast dinner. It can easily be prepared alongside a meat dish for any vegetarians coming for dinner. See also Lentil Roast
More Lentil Recipes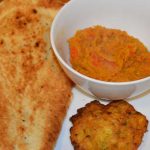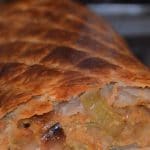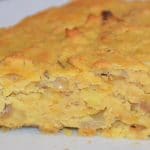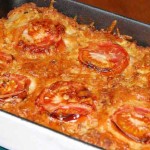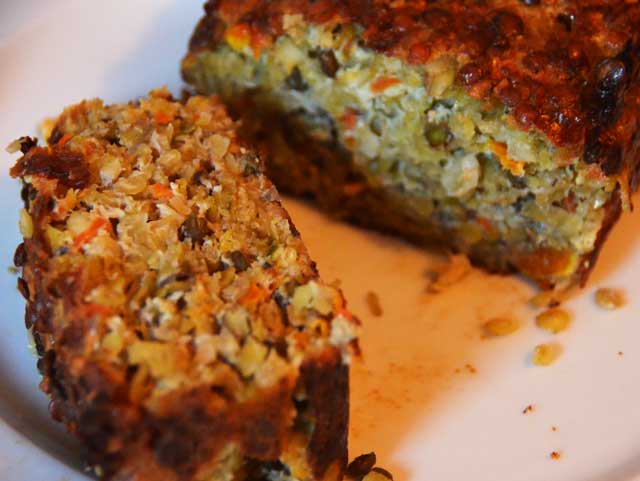 Nut And Lentil Roast Recipe
Easy Vegetarian roast dinner
Ingredients
50

g

puy lentils

300

g

red lentils

50

g

butter

1

onion

peeled and diced

2

carrots

scrubbed and diced

2

celery sticks

diced

1

pepper

deseeded and chopped

1

green chilli

diced

2

teaspoons

ground cumin

130

g

mature cheddar

grated

75

g

chopped mixed nuts

6

eggs

beaten

salt and pepper
Instructions
Preheat the oven to 180 degrees C

Line 2 1lb loaf tins (or one 2lb loaf) with greaseproof paper

Put all the lentils (puy and red) in a bowl and pour boiling water over

Leave to soak for 20 minutes

Melt the butter in a large saucepan

Add all the vegetables and cook for 5 minutes, stirring occasionally

Add the cumin powder and stir

Drain the lentils

In a large bowl mix the lentils, nuts and vegetables

Add the cheese and eggs

Stir well

Add salt and pepper to taste

Bake in the oven for 40 minutes or until nicely browned

Serve sliced hot or cold