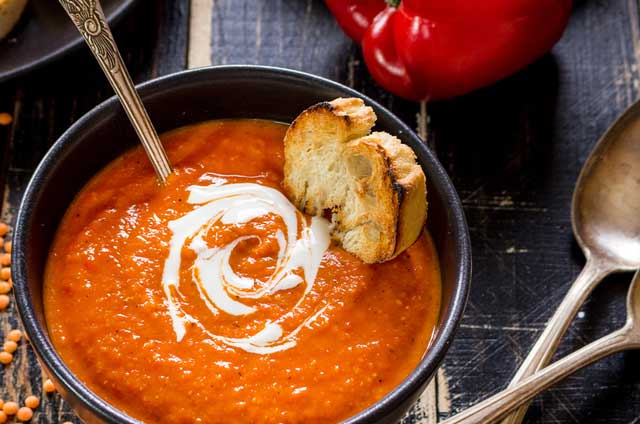 Roasted Pumpkin And Red Pepper Soup
This is a soup for autumn time. The chill air and autumn aromas of decaying leaves require some robust and warming flavours. Normally this is a time of harvest festival and the giving of surplus food. In these more uncertain times much of the normal harvest celebrations will probably not happen this year. But we can still celebrate with thankfulness in our homes – and enjoy some special soups. And roasted pumpkin soup will certainly do the job!
Autumn vegetables are superb for hearty, tasty soups served with crusty, rustic home made bread
Roasted Pumpkin
Pumpkins are very much associated with Halloween – and I am sure there will be many pumpkin carvings made this year still even if trick or treating and parties are off the agenda! This soup is an ideal way to use up the often discarded flesh of the pumpkin!
The pumpkins and red peppers are roasted to bring out the sweet flavour of both vegetables. Roasting vegetables is easy to do and creates good aromas as well as bringing out the best of the vegetables taste.
Autumn Cooking
Autumn is a traditional time for cooking in batches and storing up for the winter as well as chutney and jam making. Pickling and preserving was a normal part of the years calendar which fell away with the growth of supermarkets.
But now it does seem to be making a comeback as people reconnect with food, are living on tighter budgets and recognise the value in some of the 'old ways'. Not to mention that home made jam or chutney tastes far more real and fresh. Every batch will be slightly different reflecting the variable ingredients. This is refreshing after the uniformity of supermarket produce that they strive so relentlessly to achieve.
So if you have some surplus vegetables what better way to use them up than making soups and freezing them to bring out an warm up on a cold winter's day!
Follow Your Instincts
The more I cook and experiment with different combinations and ingredients, the more confidence I have in my own taste buds, and my own instincts. So when it comes to the autumn harvests, it becomes easier to put things together that I think will taste nice. I do trawl around the internet and my cookery books for ideas and then put together something combining a few of those ideas – always trying to keep it simple – and low cost.
So do have a go at ideas that you think will work – use a recipe or two as a guidance and then make your own variations. If you do make your own recipe – it would be great if you share it – just as people do at large 'bring and share' suppers.
Wonderful Pumpkins
This recipe came from my desire to find tasty pumpkin recipes, and my need to use up a delicious looking sweet red pepper that I had bought, just because it looked so good, from our local food shop. But there was something congruous about the autumn colours and the tastes I thought they would make together. The addition of a little cayenne pepper just gave it a little extra spice too!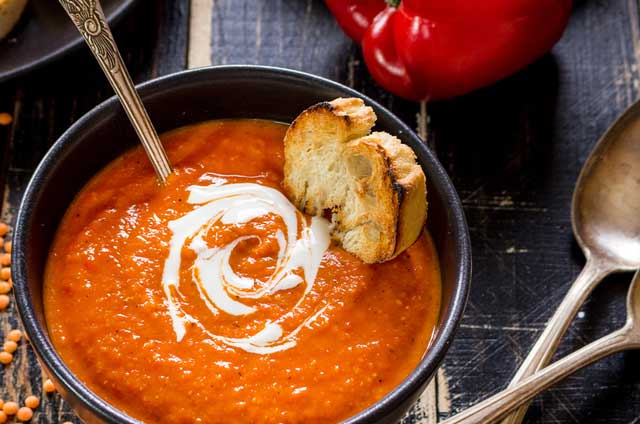 Pumpkin And Red Pepper Soup
Ingredients
2

tablespoons

olive oil

750

g

pumpkin flesh

chopped

1

red pepper

de-seeded and sliced

1

onion

peeled and sliced

750

ml

vegetable stock

2

teaspoons

paprika

Pinch

cayenne pepper
Instructions
Preheat the oven to 190 degrees C

Place the chopped pumpkin and red pepper on a roasting dish

Drizzle with 1 tablespoon of olive oil and stir a little to ensure it covers all the vegetables

Place in the oven for 15 to 20 minutes until the vegetables are starting to char slightly

Meanwhile, heat the remaining olive oil in a saucepan

Saute the onions

Add the pepper an pumpkin and cook for 2-3 minutes

Add the stock, paprika and cayenne pepper

Bring back to the boil and simmer for 20 minutes

Process in a blender

Reheat and serve immediately with crusty bread