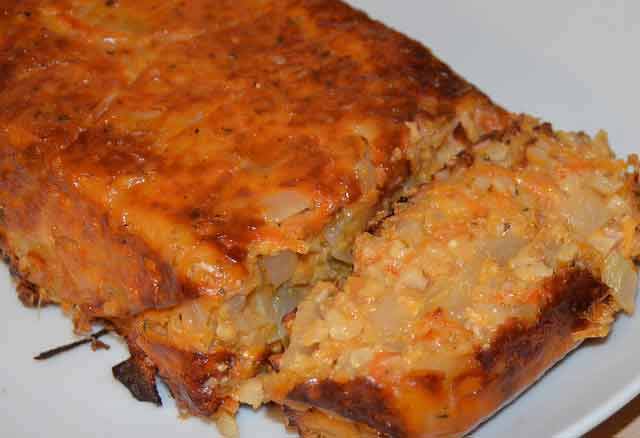 First Steps In Vegetarian Food
I first cooked this recipe for nut roast in the 1980s when I started to try out vegetarian dishes. I had a couple of vegetarian friends and the vegetarian restaurant Cranks was gaining in popularity. Cranks had their own version of nut roast in the cranks cookery book
. I cannot remember where the original recipe I used, came from but as I cooked it a few more times, I evolved my own version of the best nut roast recipe I have ever found.
Nut roast may be the archetypal vegetarian dinner, but it is easy to prepare, very nutritious and delicious. Packed with protein and nutrients, it is very satisfying
And it is so easy to prepare! All you need to do is to mix the ingredients together and place in a 2lb loaf tin. Perhaps it should really be called nut loaf!
Not Just For Vegetarians
Nut roast is often seen as an option for vegetarians and in fact is possibly regarded as almost synonymous with vegetarianism. It is probably one of the most well known vegetarian dishes. It is certainly a great alternative to a meat roast dinner – and it is especially popular for Christmas dinner.
As well as being tasty, it supplies plenty of filling protein and can easily be served alongside roast potatoes and other vegetables so it is easy to cook as a vegetarian option to a meat dish.
Nut roast sometimes has a bad reputation – may be because it is seen as the archetypal vegetarian dinner. There are certainly many variations and once you have cooked it a couple of times, you can adapt it to your own tastes. It is very easy to prepare and makes preparing a roast dinner a breeze.
It is, of course, true that there are now many other tasty vegetarian dishes that are substantial, delicious and easy to prepare and could be cooked as an alternative to a Sunday roast. Creamy Leek Croustade for example or Lentil Roast.
My Own Easy Nut Roast Recipe
You can vary the ingredients for your nut roast – especially the nut mix. I use a variety of mixed nuts – almonds, brazil nuts, pecans and walnuts. You can use any combination of nuts that you like. You can buy nuts already chopped or buy whole ones that you will need to put through a food processor. If you do buy whole ones, do make sure they are unsalted.
My recipe also contains carrots, cheese and onions. The carrots and onions bring sweetness and flavour as well as softening the texture. It is a substantial meal that even the most confirmed carnivore will find filling and very flavoursome.
Leftover nut roast is easy to use up too. It can be kept in the fridge and reheated or even taken as part of a packed lunch, eaten cold. Another idea, particularly if there is not enough for portions for everyone, is to crumble the nut loaf into a pan of sautéed vegetables – such as onions, carrots, peppers and sprouts. Stir well and serve with mashed potatoes and some gravy. Who said that left overs are boring!
Like many recipes, it is difficult to pinpoint exactly when the nut roast was truly born, but it is likely that it first appeared as a standard recipe in the early 1900s. It seems this is the time it first appeared in a recipe book.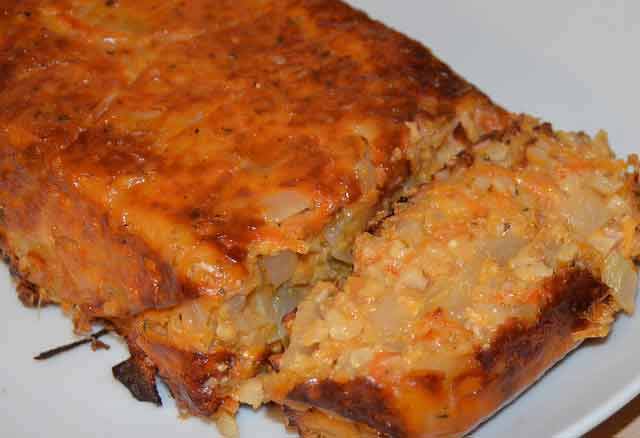 Nut Roast
Deliciously easy vegetarian roast dinner
Ingredients
150

g

mixed nuts

chopped (brazil, pecan, walnuts, almonds, hazelnuts, cashew nuts)

1

large

carrot

125

g

cheddar cheese

grated

1

small

onion

chopped small

1

teaspoon

mixed herbs

55

g

oats

200

ml

vegetable stock

1

tablespoon

tomato purée

1

egg

beaten

1-2

tomatoes. sliced
Instructions
Pre-heat the oven to 180 degrees C

Place the nuts, carrot, 2/3 of the cheese, onion and herbs in a bowl

Stir to mix

Add the oats and stir

Add the tomato purée to the stock and mix

Pour the stock onto the mixture and stir

Stir in the beaten egg to bind

Spread in a 2lb loaf tin - lined with greaseproof paper (so you can lift it out by the paper)

Sprinkle with the remaining cheese

Top with sliced tomatoes

Bake in the oven for 40-45 minutes