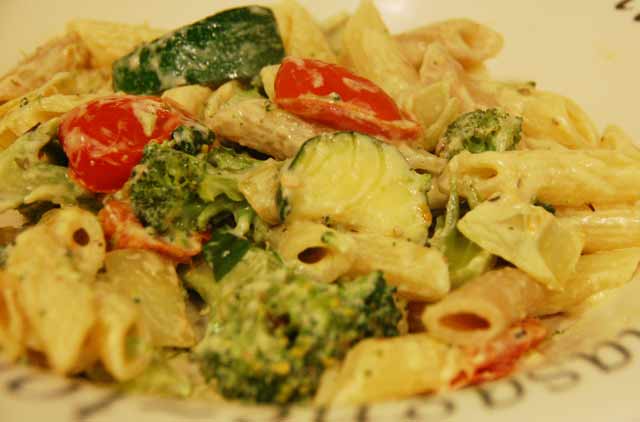 Carbonara Recipe
This Carbonara type recipe is fabulous for using up vegetables and is quick and easy. Pasta is a great backdrop to any meal and there are endless pasta recipes. Low cost and with a long shelf life, I would recommend anyone to ensure they always have a bag or two of pasta shapes in their cupboard so they can rustle up a meal in just as long as it takes to cook the pasta.
Which pasta shape to use exactly is a matter of personal preference. I like penne and spirali best. Purists argue that certain sauces go better with certain shapes due to the different ways they may cling on to the pasta. I do think spaghetti and linguine are probably best with pesto recipes, but apart from that, I have no preference.
Pasta is a great for a quick meal. This recipe makes a kind of vegetarian carbonara, with courgettes and broccoli, but you can make it with other vegetables
Wholewheat or White Pasta
Sometimes wholewheat pasta is really good but I don't always choose it – it really depends on my mood. Wholewheat pasta undoubtedly tastes different, being nuttier with a more grainy texture, and I do enjoy it. It does take a little longer to cook and I think it is particularly important not to overcook it. Even more important than with white pasta, so check and test frequently once it has boiled for 10 minutes or so. Wholewheat pasta is lower in calories and higher in fibre and has more iron and other nutrients too in the same sort of way as bread. It is marginally higher in protein too.
Creamy Vegetable Pasta Sauce Recipe
This Creamy Vegetable Pasta recipe is a sort of vegetable carbonara since it has a creamy sauce, although this recipe does not contain eggs.
It can be made with a variety of vegetables although I do think courgette and broccoli go particularly well with a creamy sauce. Use purple sprouting broccoli in the spring.
This is another recipe to deal with an over supply of courgettes in early autumn – and possible is one of the best yet! Courgettes really are wonderfully versatile and go with so many things. And this recipe is very quick to make. It takes just a bit of chopping vegetables, then it all the vegetables go in one pan. Apart, that is, from the broccoli which is cooked with pasta, either in the water with it or you can steam it over the top.
This recipe uses crème fraîche – I usually use half fat because it just as nice and of course is lower in fat and calories. If you prefer you can use full fat. You could also use sour cream or even single cream, too. Crème fraîche is a french version of sour cream, but higher in fat and less sour.
Add some Extras – Bacon, Mushrooms or Prawns
If you would like to incorporate bacon of course, just cook cut up pieces of bacon with the onion. Or add some prawns. I am certain mushrooms would go well with it and leeks would be great too.
This recipe can be easily adjusted according to how many people you are cooking for. I made this for two people but you can easily adjust it to suit the number of people you are cooking for.
The recipe has plenty of vegetables so needs no accompaniment but a good green salad would go very well and may be some garlic bread.
If you use a larger courgette, slice and the cut the round into halves or quarters. If you don't have the individual herbs, use mixed, dried herbs.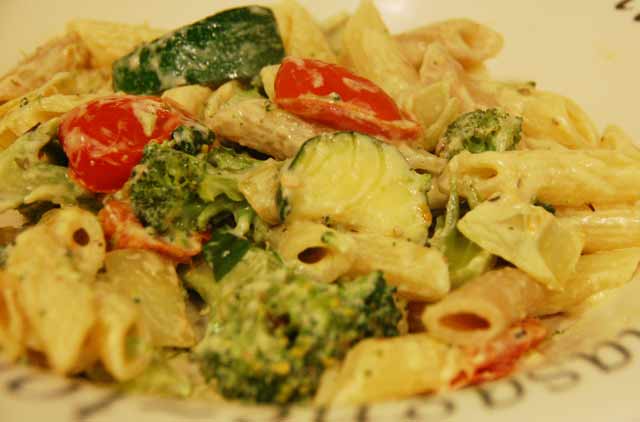 Creamy Vegetable Pasta
Ingredients
1

tablespoon

olive oil

200

g

pasta shapes

1

small onion

peeled and chopped

2

garlic cloves

peeled and crushed

1

small courgette

thinly sliced

1

teaspoon

dried oregano

4-5

basil leaves

torn or 1 teaspoon dried basil

1/2

broccoli head

broken into small florets

2-3

small tomatoes

cut in quarters

150

ml

crème fraîche

half or full fat

55

g

cheddar cheese

grated

Freshly ground

black pepper
Instructions
Place the pasta in a large saucepan, cover with boiling water

Bring back to the boil and simmer for 10-12 minutes until cooked

Meanwhile heat the olive oil in a large frying pan

Add the onion and cook for 2-3 minutes

Next add the garlic, herbs and courgettes and cook until the vegetables are soft

Cook the broccoli in the simmering pasta waster for about 5 minutes (or steam over the top of the pasta)

Add the tomatoes to the other vegetables

When the broccoli and pasta are cooked, drain and add to the vegetables

Reduce the heat to minimum and pour over the crème fraîche and cheddar

Stir until the cheddar is melted and the crème fraîche distributed throughout the pasta

Serve immediately