Chickpeas
Chickpeas are nutritious, versatile and cheap – and readily available in cans. If you are looking for a store cupboard recipe – this fits the bill and you can make changes according to what you have in your cupboards. Use it as a recipe by itself or as abase recipe to add other ingredients and make it go further
This is a vegetarian chilli recipe but you could add some leftover cooked chicken or beef if you would like to make it go further.
I have included red pepper and carrots but you could add mushrooms, celery, peas and/or sweetcorn. You could also substitute kidney beans with other pulses.
Chilli Chickpea Stew is delicious and versatile – an excellent store cupboard recipe
Store Cupboard Cooking
If you have times when you can't get to the shops (like now during the Coronavirus Lockdown), it is useful to be able to make tasty meals from what you have available. You can make up this stew and add other things to it to make it go further – vegetable, pulses or leftover cooked meat. It is an ideal base recipe
Spice it up as much as you want. Serve with potato or rice and fresh vegetables or salad. Top it with cheese.
Midweek Supper
Chickpea Chilli is also very easy and quick to make in times when you are busy and want something nutritious and tasty with very little fuss. It is a recipe you will come back to again and again.
Chilli Chickpea Stew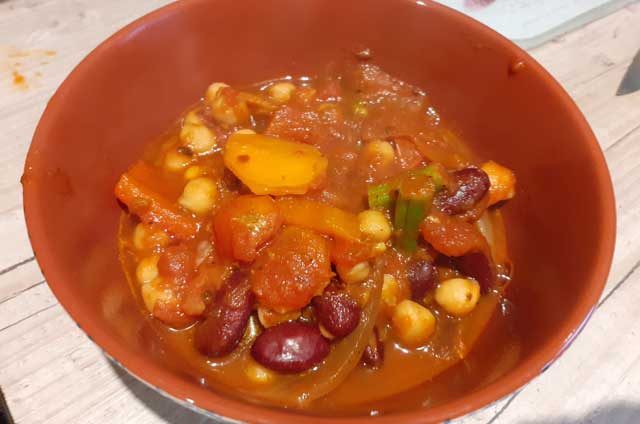 Prep time: 5 minutes
Cook time: 30 minutes
Total time: 35 minutes
Ingredients
1 medium onion

peeled and sliced

2 tablespoons

olive oil

2 teaspoon

ground cumin

1 teaspoon

dried oregano

1 large

carrot, peeled and sliced

1 large

red pepper, deseseded and chopped

2 garlic

cloves, peeled and finely chopped

1 teaspoon

chilli flakes

2x400g can

chopped tomatoes

1 x 400g can

chickpeas, drained

1 x400g can

kidney beans

10

green beans, chopped

1 tablespoon

balsamic vinegar
Cooking Directions
Heat the oil in a large saucepan
Add the onion and fry gently for 5 minutes until softening)
Add the pepper and carrot
Stir in the spices, herb and garlic
Cook gently for about 10 minutes
Stir in the tomatoes, chickpeas and kidney beans
Add the balsamic vinegar
Add the green beans
Stir well, bring to the boil, cover and simmer for 20 minutes