Chicken And Bean Casserole
Chicken and bean casserole is an easy, one pot supper. Most of the ingredients are from your store cupboard. I used cannellini and kidney beans but you can really use whatever beans you have in the cupboard. Butter beans, pinto beans or mixed beans would all be good!
This Spicy Bean and Chicken Stew is easy to make from store cupboard ingredients. Make a load and save some for later!
Chicken Thighs, Drumsticks Or Breast
I made this dish with chicken drumsticks, but you can use thighs, legs or breast – or a mixture of them all. So do use what you have or can afford – especially if you spot some on offer.
Using chicken thighs and chicken drumsticks keeps the cost of the recipe down. Although chicken pieces are lower cost, you could also use only half the chicken recommended and use an extra tin of lentils, chickpeas or other pulse to make the casserole go further.
Easy Spicy Supper
I spiced up this recipe with Fajita seasoning but you can use chilli and paprika instead. Taste after a 30 minute cooking time in the oven and adjust the seasoning to your taste.
The casserole is best cooked for about 75 minutes minimum but can stay in the oven for longer at 150 degrees if not everyone is ready to eat. It is ideal for cooling and putting in an airtight container for a home made ready meal another day. Can be frozen too.
Chicken Casserole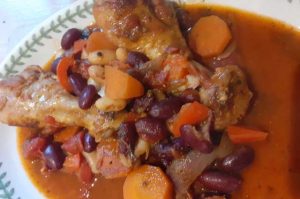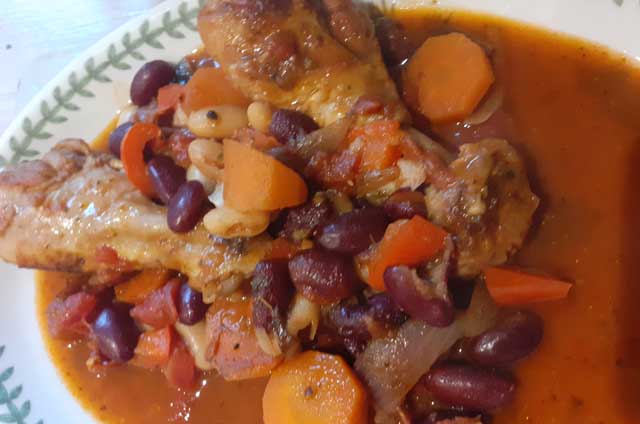 Ingredients
1 tablespoon

olive oil

8

chicken drumsticks (or chicken thighs)

1 onion

peeled and sliced

1 garlic clove

peeled and crushed

2 carrots

peeled and sliced

1 x400g tin

kidney beans

1 x400g

cannellini beans

1

pepper, deseeded and chopped

2 teaspoons

fajita seasoning (or 1 teaspoon each of chilli and paprika)

1x400g

chopped tomatoes

200ml

chicken or vegetable stock

2 teaspoons

mixed herbs
Cooking Directions
Preheat the oven to 180 degrees C, Gas Mark 4
Heat the oil in a large frying pan
Add the chicken pieces and cook for about 5 minutes, stirring frequently to turn the pieces over until browning on the outside
Place the chicken pieces in a casserole and set aside
Put the onion, garlic and pepper in the pan and fry for 5 minutes until soft
Drain the water from the beans and add to the onion and pepper, stirring while heating through
Add the spices and stir to coat the other ingredients cooking for a couple of minutes
Place the beans, vegetable and spice mix in the casserole with the chicken
Add the tomatoes, carrot and stock to the casserole, stirring to mix it all up
Add any extra stock if necessary
Cover and place in the oven for 75 minutes