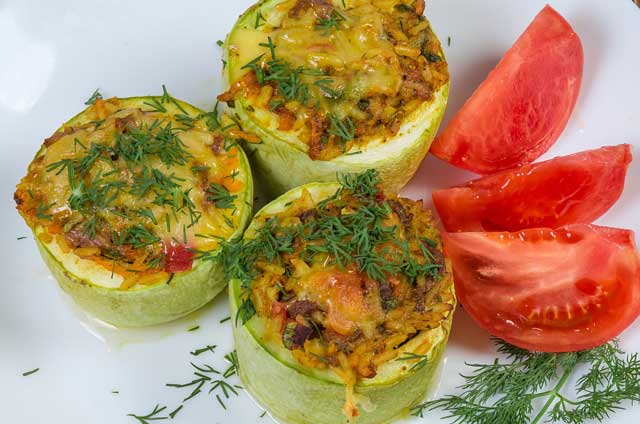 Stuffed Marrow With Mince
With marrows in abundance in the summer, the vegetarian stuffed marrow recipe on this website have proved very popular so a further recipe for a meat option is here for you.
Marrow is a plentiful vegetable in the summer – beloved of village fairs and allotments and probably underated as a great base for many recipes
I think stuffed marrow is most successful when it is cut into slices and each ring is stuffed. It cooks much more evenly, and more quickly than stuffing a whole marrow.
This stuffed marrow with mince recipe, is an easy and delicious option. It is, though, important to point out you can use your favourite mince recipe. You can use a bolognese or chilli (or vegetarian) sauce to stuff a marrow, so do experiment. Cheese is always good grated on the top, too.
You can stretch the mince further by adding some oats or lentils to the mix too. Where possible, buy your vegetables – and meat from local shops.
More Mince Recipes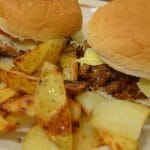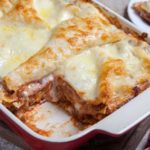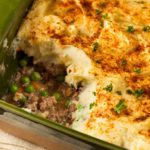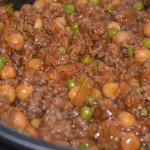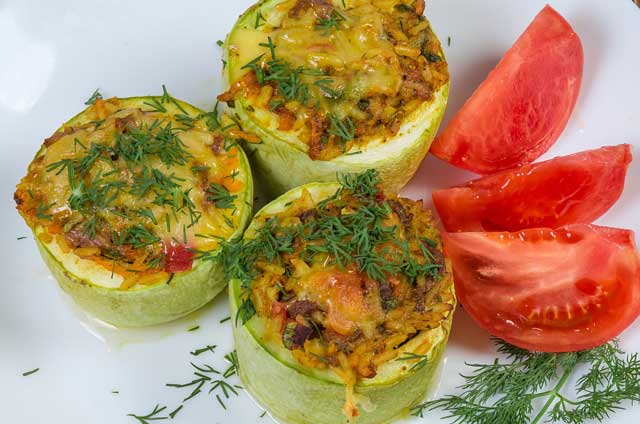 Stuffed Marrow With Beef Mince Recipe
Easy Supper with seasonal vegetable
Ingredients
1

medium

sized marrow

cut into eight slices

2

tablespoons

olive oil

1

onion

peeled and chopped

2

garlic cloves peeled and chopped

500

g

lean minced beef

400

g

can tomatoes

2

teaspoons

mixed herbs

1

tablespoon

tomato puree

2

tablespoons

grated cheddar or parmesan type cheese
Instructions
Heat the oven to 180 degrees C

In a large heavy bottomed saucepan, heat the olive oil

Fry the onion until soft

Add the garlic

Add the beef mince an cook for a few minutes until brown

Add the tomatoes, herbs and tomato puree

Cook for 20 minutes

Meanwhile, scoop out the middles of the marrow rings

Place them in a large baking dish

Spoon a portion of the mince sauce into each

Distribute the remainder over the top of the marrow rings

Cover with foil and bake in the oven for about 30 minutes

Remove the foil, sprinkle with cheese and return to the oven uncovered for 10 minutes
More Than One Way To Stuff A Marrow!
Marrows need a tasty stuffing to make a really good meal as they have a very mild flavour, themselves, especially the larger ones. When selecting your marrow, remember the smaller ones will be sweeter and more flavourful. This is true despite the desire among gardeners to win competitions by growing the biggest possible marrow!!
Some stuffed marrow recipes advise that the marrow be cut down the middle length ways, and then stuffed. However, I think that cutting the marrow into thick rings and then stuffing the 'hole' is more likely to lead to a successful and tasty recipe since the flesh of the marrow will cook through more quickly. I have had experience of cutting the marrow length ways and it took such a long time to cook. I ended up giving up and just eating the stuffing! It is also easier to serve one or two 'rings' per person.
On the younger more tender marrows, the skin is edible but if you find it tough – as it will be with older larger marrows, the flesh easily falls away from the skin, and it can be discarded.
This recipe for a beef mince and tomato filling for the stuffed marrow can be adapted to your favourite way of cooking beef mince. You could also add other vegetables such as mushrooms, peas, chick peas, runner beans – whatever you have and what ever you like. Do try to buy your mince from a local butcher if possible.
Stuffed Marrow For Vegetarians
For any vegetarians, or for another alternative try the cheesy Stuffed Marrow recipe, or try Marrow with Tomatoes. What ever you do, make the most of this fabulous seasonal and economical vegetable.
This dish goes well with potatoes or some boiled basmati rice. You could bake some potatoes in the oven along with the marrows. Either put the potatoes in a bit earlier, or give them a quick blast in the microwave oven.
This website is all about sharing tried and tested recipes that are practical and economical. If you have any great own marrow recipes or any other favourite recipes, that you would like to share on this website, please do so by the Contact form.
If you make this recipe please feel free to say what you thought, or make your own suggestions in the comments box below.