Welsh Sausage Dish
I am writing this on the 1st of March and thought it would be good to do a Welsh recipe as it is, of course St David's Day. St David, who was a celtic monk in the 6th century, is said to have led a frugal life and ate very simply on bread and herbs. Glamorgan sausages may have been a bit too extravagant for him but they are made from basic ingredients including the all important Welsh vegetable, the leek.
Easy, low cost and tasty vegetarian alternative to meat based sausages
This is a great recipe for vegetarians and meat eaters alike. It can be made with as part of a sausage dinner, when some will be having meat based sausages and others vegetarian.
I tried some Glamorgan sausages on a holiday to Wales. It was served as part of a Welsh themed evening. They were indeed very delicious and much better than some commercially made frozen glamorgan sausages I have tried in the past.
Easy Vegetarian Sausage Meal
There is a continuing need for meat substitute dishes in the Vegetarian repertoire of recipes – such as vegetarian burgers, vegetarian sausages and vegetarian versions of meat dishes such as Lasagne, Shepherds pie and Chilli con(non) carne.
This gives cooks who have never cooked a vegetarian meal before, a place to start to work out what to give their vegetarian friends, and it also increases the range of dishes available for a new vegetarian. It probably make the transition easier, instead of having to learn a whole new menu. It is also very useful for people cooking for meat eaters and vegetarians simultaneously, where some members of a family are vegetarian, whilst others are not. It means the two different meals have a common theme without the poor cook having to make two completely different meals!
These sausages are easy to make and tasty. I actually made mine into rissole shapes, but they can just as easily be made into sausage shapes. They contain leeks, of course the very symbol of St Davids day, and Wales and you can ensure the cheese you use is Welsh too – such as Caerphilly – if you want to be truly patriotic, or indeed if you live in Wales and are buying local!
There's More Than One Way To Cook A Sausage
Many recipes for Glamorgan sausages advise you to shallow fry them but I prefer to bake them in the oven as it saves the extra fat – and they require less attention! I usually bake meat sausages in the oven too.
Apart from frying the leek to soften it, this recipe is just about putting the ingredients together and forming them into a shape. You can add your own flavourings or herbs of choice. I also put in a spoonful of grainy mustard for flavouring. You can use any type of mustard or mustard powder. I used wholemeal bread but you can use white bread – it just depends what you have available.
According to Wikepedia, the Glamorgan sausage has been around since the 1800s and was once made with Glamorgan cheese – now no longer made.
Glamorgan Sausages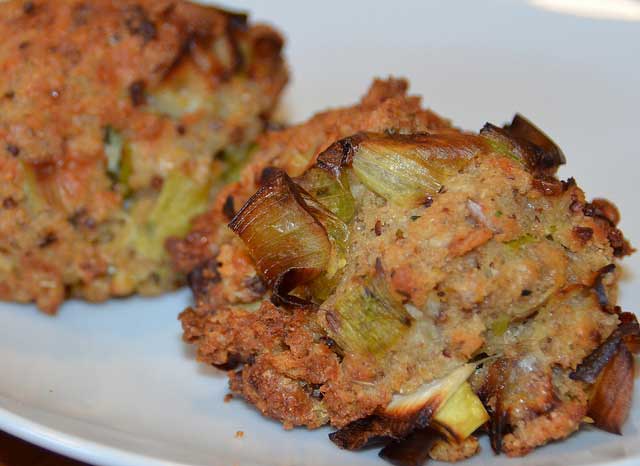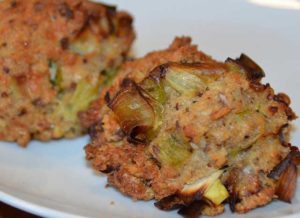 Makes 8 sausages
Ingredients
1

leek, halved length ways, then sliced

25g /1oz

butter or margarine

1

garlic clove, peeled and crushed

140g / 5oz

breadcrumbs

140g /5oz

cheddar (or other hard cheese) cheese, grated

1 teaspoon

mixed herbs

1 teaspoon

wholegrain (or other) mustard

2

eggs, beaten
Cooking Directions
Preheat the oven to 180 degrees C
Heat the butter in a frying pan
Cook the leeks for about 5 minutes, until soft
Ad the garlic and cook for another minute
In a large bowl mix the leeks,breadcrumbs, cheese and herbs
Add the leeks, eggs and mustard
Stir thoroughly
Make the mixture into sausage or ball shapes
Place on a lightly greased baking tray
Bake in the oven for 20-25 minutes
Serve with mashed potato and vegetables of your choice.