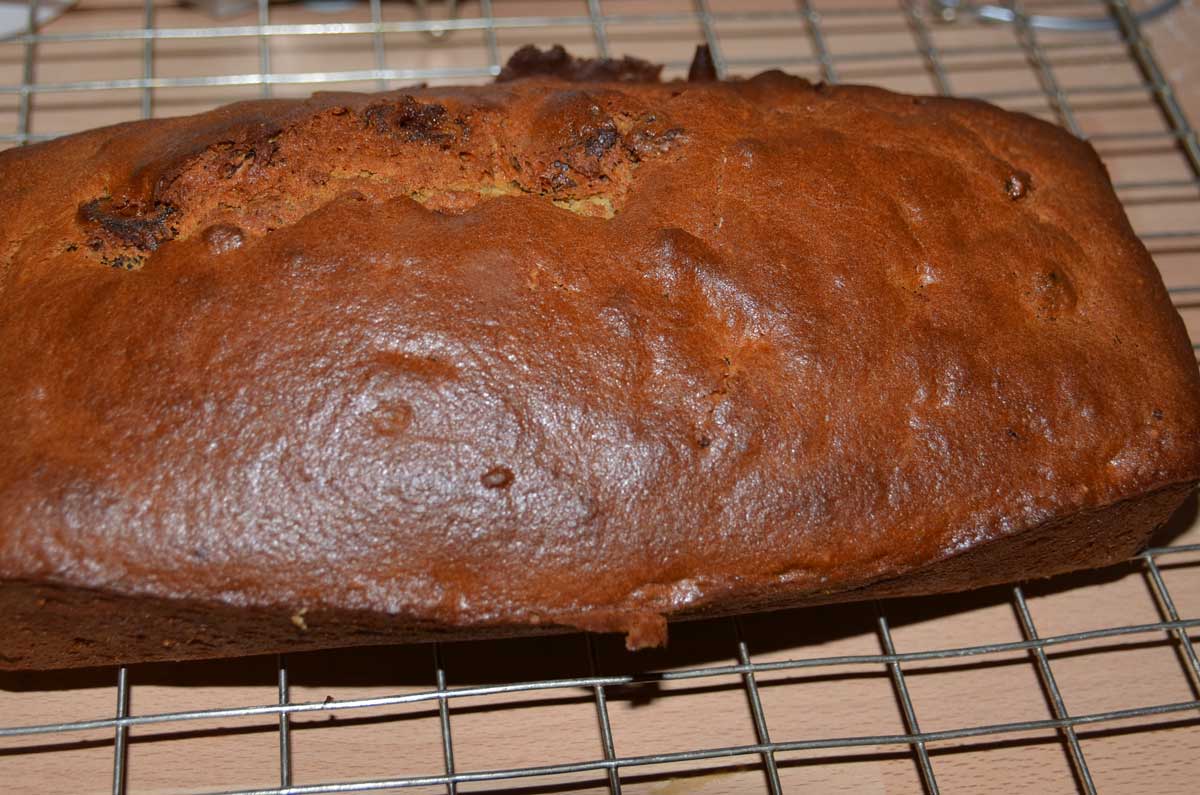 Date And Walnut Cake Recipe
This date and walnut cake recipe was discovered in the archives! On a visit to my parents house a few years ago now, I was to help them 'declutter' and to sort through some old photographs and documents. Of course I enjoyed doing it and loved to hear some stories my Mother would tell of relatives and friends from long ago as she picked through the images, captured all those years ago.
This could be the best ever recipe for date and walnut cake – from my Grandmother's recipe book. It is really easy and delicious. Good old-fashioned baking!
Amongst the documents found was my Great Grandfathers apprenticeship contract which included clauses about him not gambling, or visting pubs or marrying during the duration of the training which lasted for 5 years. Rather different from an apprenticeship agreement today, thank goodness!!
He must have obeyed, or at least not got caught for any breaches, because he did successfully complete his instruction and went on to have his own blacksmith business.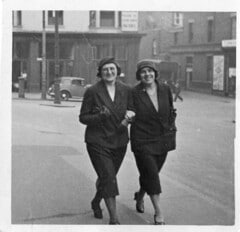 There is also this wonderful photograph of my Grandma and my Auntie walking down the street in Scarborough – full of energy and fun! It is a picture of its time!
The old car in the background helps to date it – and the lack of traffic!
They seem to be wearing matching suits too and I do wonder where they were off to!
Old photos are quite wonderful, aren't they? I guess it is all part of knowing who you are and where you came from. I suspect we all like to discover our links to the past every now and then
Grandma's Handwritten Cookery Book
Perhaps the most wonderful, and unexpected thing I found, was the handwritten collection of recipes in a notebook which was my Grandmother's. Inside the notebook as well as the carefully copied cooking instructions -(didn't people have good handwriting 60 years ago?), were newspaper and magazine cuttings and even some awards from WI competitions.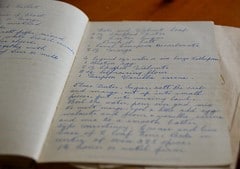 It is a true treasure of family history and a record of the time. There are austerity recipes following the war (Mock Cream, Almond Paste without almonds – flavoured with almond essence) and traditional recipes such as malt loaf, gingerbread, brandy snaps – and Walnut and Date cake. Coconut features in quite a few recipes. I don't know if it was used a lot in baking – or may be my Grandmother just liked coconut! There are a lot of recipes using dried fruit too.
What strikes me about the book is that the recipes are straight forward and no nonsense. This is real, normal day to day cooking, like, well, our Grandmothers did. It's amazing that there are so many baking recipe books always being published, as if its something new! Of course there are always endless variations on recipes that people want to share and there are fashions in cooking like the present love of Cupcakes.
Recipes – A Link To The Past
These basic recipes have been around for a long time and will be repeated by my descendants. But what I did love when baking this really simple and delicious cake is the connection I felt to my Grandmother through the books and the recipes.
I had read about people feeling that before but had never really experienced it. It was strange thinking I was following an exact recipe that she had many, many years before. It made me think of her, and the time I spent with her as a child. I was lucky enough to know her well into my twenties.
As a child I remember traditional tea times with a real fire and a tea of sandwiches, ham, malt loaf and cakes – may be a date and walnut cake.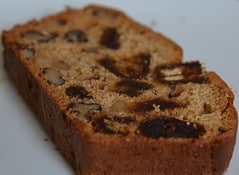 I remember staring into the fire as the adults talked and imagining other worlds – far away from this mundane scene. I don't ever remember cooking with Grandma – I don't think she considered herself much of a baker. This sort of cooking was just run of the mill normal in those days. See also Easy Spice Loaf for another recipe from this recipe book.
My main food memory is teatimes and going done the garden to forage some peas grown by my Granddad, with my sister. We were allowed to pick some and eat them straight from the pod – how sweet and delicious! I remember the tomatoes too – I expect that is where my love of tomatoes came from and why I value home grown or organically grown rather than some of the tasteless supermarket offerings.
Easy Date And Walnut Cake Recipe
This date and Walnut cake is so easy to make – it just takes minutes to prepare. It uses surprisingly little fat too! Whilst not the cheapest cake to make it is very tasty and has lots of goodness in. It probably costs about £3.50, depending on where you buy your dates and walnuts. It makes a tasty, wholesome addition to the lunch box or is lovely at teatime or an elevenses snack!
I made this cake in a loaf tin so to be precise it is really a Date and Walnut Loaf.
Make The Cake Vegan
Make a vegan version of this cake by substituting the egg with 1 tablespoon of milled flaxseed mixed in with 3 tablespoons of water and left to thicken. Just add at the same time as you would add the egg and proceed as normal! Of course you will nee dto make sure the fat you use is vegan too!
More Cake Recipes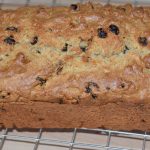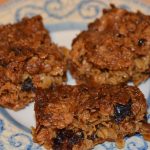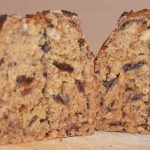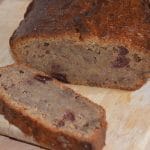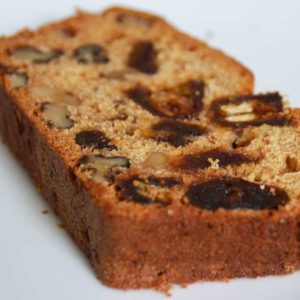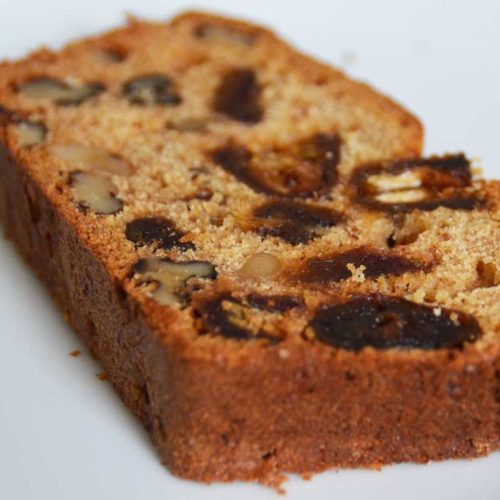 Date And Walnut Cake Recipe
Delicious, tradditional classic recipe from my Granmother's handwitten recipe book
Ingredients
250

g

dates, chopped

125

g

caster sugar

1

teaspoon

bicarbonate of soda

55

g

butter or margarine, cut into small cubes

170

ml

6 fluid oz boiling water

1

egg

beaten

55

g

chopped walnuts

250

g

self-raising flour

1

teaspoon

vanilla essence

optional
Instructions
Pre heat the oven to 160 degrees C

Place the dates, sugar, bicarbonate of soda and butter/margarine into a mixing bowl

Pour the boiling water over and mix to melt the fat

Allow to cool a little

Add the egg

Add the walnuts, flour and vanilla essence if using and mix to a smooth batter type consistency

Grease and line two small or one large loaf tin

Bake in the oven for about 75 minutes or until firm
Notes
To make this cake vegan use vegan friendly margarine. For the egg use 3 tablesppons of milled flaxseed mixed in with 3 tablespoons of water and leave to thicken. Add instead of the egg.