Sharing Recipe Ideas
The lovely thing about sharing recipes is that the ideas can be so simple and delicious – and you wonder why you didn't think of cooking it yourself. But really it is no surprise that there is always something new to learn. There are an infinitessimal number of ways to cook ingredients – and a finite number of meals to cook each day, week or year.
We all know the simplest ideas can be the best – and this cheese, onion and egg dish is very easy to make and really delicious!
I love to be inspired by what other people cook and find new quick, easy and low cost dishes to enjoy.
Many people have their favourite recipes that are loved by their family and but are often modest about how good they are and so never think they are worthy of sharing.
In fact sometimes when I ask for a recipe, people say that well it isn't really a recipe – but if you write down what you do – well I think that is a recipe!!
Dictionary Definition of recipe: a set of instructions for making or preparing something, especially a food dish
And the easier to cook the better. I am sure in the light of recent ready meal scandals more people than ever are scouring the internet to find easy and low cost recipes they can cook for themselves!!
Rhona has shared three recipes, all of which have three ingredients and all of which are wonderful.
Cheese And Onion Lunchtime Treat
This combination of cheese, onion and egg can be served on toast or with a jacket potato or maybe alongside bacon and beans or with a salad
We all know cheese and onion tastes really good together and is familiar in flans and of course in crisps. But this delightful recipe is ideal for lunch when you want a bit more more than a sandwich, or as quick bite when you don't have time to cook. Plenty of nutrition as well as being warm and filling and it can be served with whatever you have in your cupboards.
It could be for breakfast, lunch or dinner depending on how much you make and what you have with it.
I served it with potato wedges, for lunch
The quantities below are for one person, so just multiply by the number of people you are serving.
Cheese And Onion Treat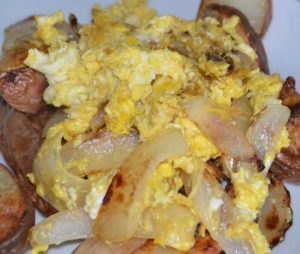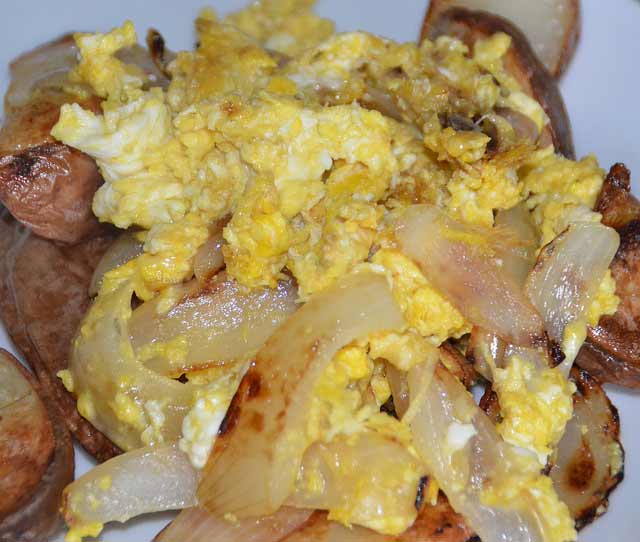 Ingredients
1 small or 1/2 large onion

peeled and chopped

25g / 1oz

cheddar cheese, grated

1 egg

beaten

1 teaspoon

sunflower or groundnut oil
Cooking Directions
Heat the oil in a pan – non-stick is more convenient (but for whatever reason other finishes make it taste better.
When the onion is 'see-through' add the cheese and stir for a couple of minutes until the cheese is melted
Add the egg and stir quite fast so the egg is evenly distributed – and doesn't look like an egg.
Serve immediately