Treacle Tart – Delicious Dessert!
It's funny isn't it that sometimes there is dish that you don't eat for years – in fact you may have completely forgotten about it and then something triggers the memory of how much you like something and well – you just have to have it. Well that happened to me just last week with Treacle Tart – or more acurately to my husband.
We were walking back from a breezy stroll and considering what to have for dinner. As cooler Autumn days are rolling in I was wondering about comforting – and easy desserts. And my husband suggested Treacle Tart. I last made it years ago and couldn't wait to make it once it was suggested! It was one of the puddings that I loved at school with the ubiquitous lumpy custard!
Easy, Low Cost Dessert
I have made it for my children in the past so I knew how easy it is to make (and of course it is a bit naughty too!) It is however low cost – and a great way to use up any stale bread!
Researching recipes on the internet there are many variations and some are bit too fussy for me, so this is a plain, basic recipe! The proportion of syrup to breadcrumbs varies too – but I do think the proportions in this recipe are just perfect. I used wholemeal breadcrumbs because I think they give a better flavour and more robust texture – but you can use white or a mix of both – really whatever you have!
Make your own pastry – wholemeal or white – or even use ready made pastry if you want to be extra quick to make the dessert.
Store Cupboard Dessert
This is a dessert that is made with store cupboard ingredients so can be put together when you get a fancy for a pudding or something sweet but don't have much in the house! If you need to go to a shop – the ingredients are so simple any corner shop will have them.
Now I have made one again – it may well not be very long until I make another one!
Serve with custard (the best option in my opinion), cream, yoghurt, ice cream or evaporated milk. Enjoy hot and then have any leftovers cold – or re-heat it.
Treacle Tart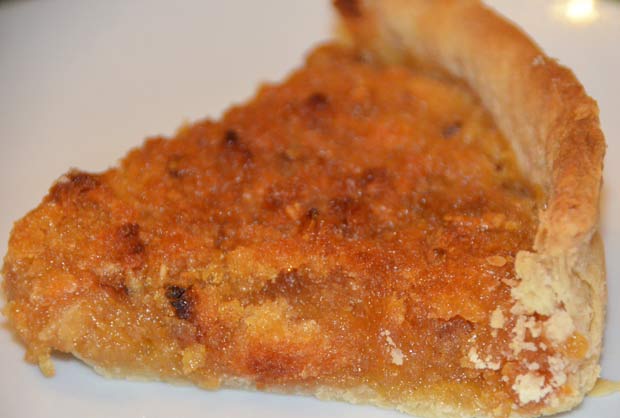 Ingredients
140g / 5oz

plain flour

35g / 1.25oz

butter

35g /1.35oz

solid vegetable fat

2 tablespoons

water

454g / 1lb

golden syrup

150g / 5.2oz

bread (stale, wholemeal, white)
Cooking Directions
Make the Pastry:-

Place the flour in a bowl
Rub in the fat gently and quickly using your fingertips until it looks like crumbs
Add the water and using your hand pull the mixture together into a ball
Place in a box or bag and put in the fridge for 30 minutes or longer
Grease a cake tin or quiche tin well
Roll out the pastry
Place in the tin and trim the edges
Place back in the fridge
Heat the oven to 180 degrees C or gas mark 4

Make the Treacle Filling:-

Place the golden syrup in a saucepan
Gently heat the syrup until it is runny, but do not boil or overheat
Stir in the breadcrumbs
Pour into the pastry case and flatten out with the back of a spoon
Bake in the oven for about 30 minutes
Serve hot or cold