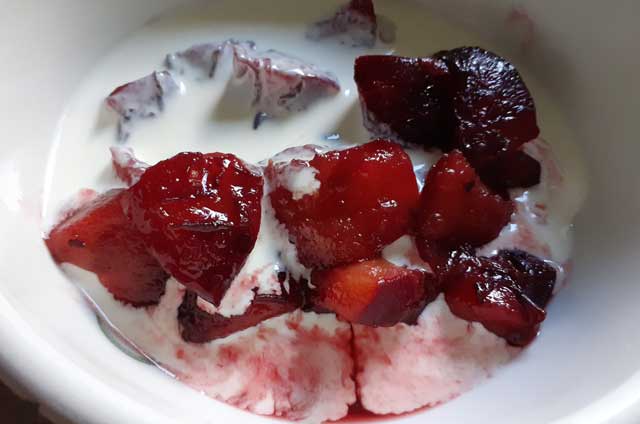 Plums
Plums are in season from the end of May through until the end of October – so you have plenty of time to enjoy them! They can look so delicious and it is very tempting to buy them, especially as they are a traditional British fruit. If they are sweet enough to eat by themselves, placing a few in a well placed fruit bowl for people to help themselves, is a great way to enjoy them. Enjoy them at any time of day, or after dinner.
Plums are a wonderful, traditional British Fruit and their are several ways you can eat the,m. Stewing Plums is the easiest way to cook them
If they are a little too tart to eat as they are, or you have such a profusion of them that you need other ideas, you can simply stew them or roast them. They are also fabulous in many dessert recipes
Simple Plum Recipes
There are many quite complex pudding recipes for plums, but if you want to keep things simple, and keep the calories low, cooking them with sugar and serving by themselves or with some well chosen ice cream or cream can be a delicious and easy dessert. It is also the best way to get the full flavour of the plum.
To make a plum into a bit more of a 'pudding', there is always the crumble to rely on. See the recipe here for Plum Crumble.
Stewing Plums Tips
How long you will need to cook the plums for depends partly on how ripe they are and the type of plum so you will need to keep an eye on them and make your own judgement
Allow about 15 to 20 minutes cooking time
It also depends on how soft you want them to be
Just use a little water in the pan to start with and gradually add a bit more if necessary
I find that starting off by scoring the plums around the middle with a sharp knife helps to let the heat in and start the cooking process
As they cook, discard the stones as the plums soften so you don't get any unexpected surprises in your bowl!

Stewed Plums

Ingredients

500g /1lb

plums

2-3 tablespoons

sugar

2-3 tablespoons

water

Cooking Directions

Score the plums around the middles with a sharp knife
Place the plums in a large saucepan and add 2-3 tablespoons of sugar and water
Gently heat and stir until the plums are soft adding more water as necessary
Pick out the stones which will have fallen away from the flesh

More Plum Recipes