Plum Cake Recipe
If you are seeking plum recipes I would recommend this delicious plum cake. I made the recipe after being lucky enough to gather many plums from a plum tree that would otherwise have gone to waste. Stewed Plums is an easy delicious dessert and Plum Crumble is lovely for a Sunday dinner pudding – so I needed a Plum Cake for afternoon tea!
This recipe for plum cake is a straightforward cake recipe made with fresh plums and with some ground almond in the mix too as almonds go so well with plums. Ideal for tea time or as a packed lunch treat!
Plum Cake is a delicious tea time treat with the extra nutritional benefits of juicy plums. Easy to make too!
Plums
There are many different types of plums. Wikipedia tells us that it may have been one of the forest fruits cultivated by humans. I tend to think of plums as very British and I tend to use locally harvested but the biggest producer of plums is China.
Plums have many health properties. They are renowned for their fibre content – especially in their dried form as prunes. They are also high in vitamin C. They are low GI and are even said to lower cholesterol and blood sugar (but possibly not when eaten in a cake!) They are of course at their healthiest when eaten just as nature provided them.
I also looked up why Christmas pudding is often called plum pudding and discovered it is because the Victorians used to call raisins plums. I guess it must be the association with dried fruit as in prunes being a bit like really large raisins (I am of course guessing here)
Making Plum Cake
I cooked the plum cake in a 2lb loaf tin. It seems more appropriate to do it as a loaf but you could do it in a round cake tin. I have a silicon loaf tin – like this WellBake Large Loaf Pan, 21cm x 10cm (2lb). Heavy Duty Non-Stick Silicone Bakeware + 10 Year Guarantee
which means there is no need to grease the cake – and it pops out with no problem. Great for bread-making too!
I just put all the ingredients – apart from the plums – into a big bowl and mixed together all at once.
Plum Cake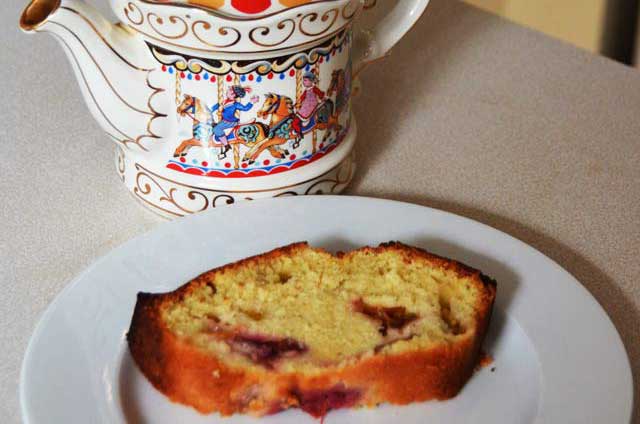 Ingredients
175g / 6oz

self-raising flour

55g / 2oz

ground almonds

175g / 6oz

butter

150g / 5oz

caster sugar

3

eggs

300g /10oz

plums, stoned and chopped
Cooking Directions
Preheat the oven to 180 degrees C
Grease a 2lb loaf tin (unless using a silicon tin that doesn't need greasing)
Place all the ingredients in a large bowl
Beat with a wooden spoon or use an electric hand mixer
Once the mixture is soft and thoroughly combined, fold in the plums, gently
Transfer to the loaf tin
Bake for 45 minutes or until a skewer comes out clean when place din the centre of the cake
Allow to cool then remove from loaf tin and place on a baking rack
Serve when cool
Store in an air tight container
Eat within 3-4 days