Cracking Eggs
Well everyone knows you can't make an omelette with out breaking eggs….! The origin of this phrase is unclear – may be Lenin, may be Robert Louis Stevenson – but it basically means that you can't make something wonderful without possibly spoiling something else!
The Easiest Supper Of Them All?!
An omelette must be one of the easiest suppers of them all – anyone can do it – and at under £1 per person they are very low cost too! Eat them plain, stuff with filling or serve with potatoes and salad, it is a meal that is ready in minutes – from fridge to table! Great for students, families on a budget, people in a hurry, very hungry people who need something to eat straight away!
The Quest For The Perfect Omelette
Because making an omelette is so easy, chefs tend to put their slant on it by suggesting the secret thing you must do to make the perfect omelette – whatever that is. And that tends to make cooking a simple omelette more complicated than it should be.
The Basics For a Good Omelette
Having said that, there are few pointers to cooking a good omelette – and these are mine.
Use tasty eggs – the best eggs are locally produced, free range eggs and ideally organic. If you know of a local supplier who produces the tastiest eggs – make your omelettes from these. They are often no more expensive than the supermarkets free range eggs. It also means you can find out how the hens are kept too.
Use the right size pan – 7 to 9 inches. I am not suggesting you have a pan especially for omelettes. A small frying pan is useful for many things such as frying eggs and bacon, or fried onions or a whole host of things. Just if your pan is too large your omelette will be too thin. And it should be non-stick or cast iron. Something like this one is ideal – Tefal Specifics Omelette Pan, Non Stick, 20cm
Prepare your fillings so you have them to hand ready before you cook the omelette – grated cheese, chopped tomatoes, cooked bacon pieces, chopped ham, etc.
Have any accompanying salad, or vegetables all ready to serve as soon as the omelette is ready
Whisk the omelettes well to get a bit of air into them (well that is how I like them – may be not for everyone) – but do not overwhisk or the eggs become tough – maximum 20-30 seconds
Use butter – that is for the best taste but of for health or other reasons you do not want to use butter, sunflower oil or similar is, of course fine
If you are cooking more than one omelette and you want eat them all at the same time, have the oven on (about 120 degrees C) to keep the cooked ones warm while you cook the others – but don't leave it too long. Omelettes are definitely best fresh from the pan!
Have some back pepper and a little salt ready for some simple seasoning that is the making of the perfect omelette!
So get ready to make your delicious, simple supper!
Recipe For Making An Omelette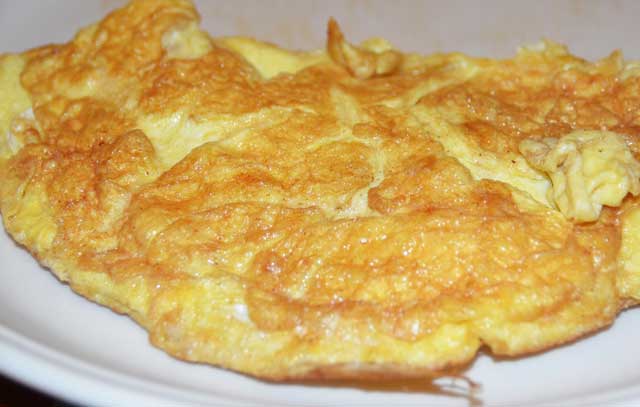 Ingredients
3

eggs

1 knob butter

or teaspoonful of oil

Filling of your choice

tablespoon of grated cheese/ chopped fresh tomatoes, sweetcorn, cooked bacon bits, ham
Cooking Directions
Break the eggs into a medium sized bowl
using a fork or whisk, beat the eggs well for about 20 seconds until all the yolk ad white is incorporated
Place the butter (or oil) in a 7- 9 inch (20cm) pan
Heat until melted and hot (test if hot by seeing if a couple of drops of water sizzle on contact)
Pour in the eggs – they will immediately start to solidify
With a wooden spatuala or silicone fish slice gently move the cooked egg to the middle to allow the liquid egg to reach the pan to cook
Continue until almost cooked
Add your filling to one half of the omelettes
Flip over the other half using the spatuala
Cook for another 10-15 seconds to allow the filling to warm through, flipping it over halfway through
Serve immediately