Perfect Comfort Food
What could be better when you are hungry than an Irish stew with tender meat and gorgeous vegetables. It is an ideal meal to prepare in advanc ein your slow cooker but you can cook it in the oven.
Although it is a long cook, it is quick too prepare. Just fry all the meat for a few minutes a small batch at atime and then place in the casseole or slow cooker with all the other ingredients – and leave to cook until you are ready to serve
In the slow cooker it takes about 8 hours. In a slow oven (150 degrees C) it would take 2 hours
Easy To Cook Meals
For easy-to-cook meals this winter, a great place to start is Irish cuisine. Irish food is known for being simple to cook, with very few ingredients that meld together perfectly.
Today we take a look at a simple, tasty Irish beef stew recipe that serves as the perfect comfort food in this chilly weather.
According to About.com's Home Cooking team, the simplicity of Irish beef stew stems from the traditional approach that the stew was made with just about whatever ingredients were available.
Lamb or Beef
Traditional Irish stew was made with lamb, but it evolved to use beef, as it's more readily available.
NB You can add different vegetables but the Irish stout beer is essential in this recipe, as it adds that distinct flavor that distinguishes Irish beef stew from other slow-cooked stews. It takes six hours for the stew to thicken into a hearty delight. The long cooking time tenderises the beef and the vegetables, giving the stew a melt-in-your-mouth texture
Irish Stew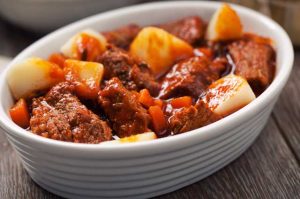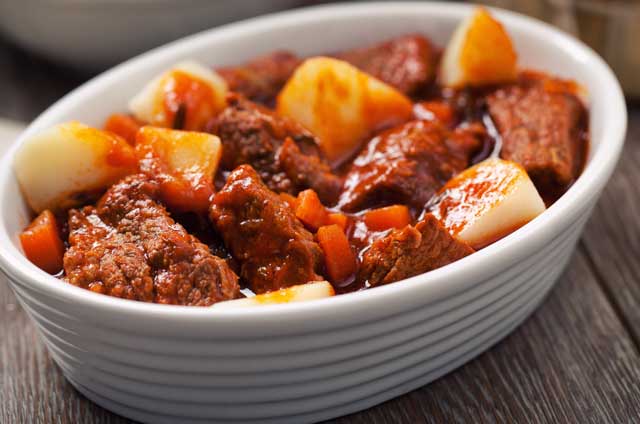 Ingredients
2 tablespoons

olive oil

2 cloves

garlic, minced

3 tablespoons

plain flour

500ml

beef stock

1 can (6oz)

tomato paste

1 tablespoon

cornflour

1 tablespoon

cold water

2lb / 1kg

beef chuck steak cut into cubes

1lb / 500g

carrots, peeled and sliced

6 large potatoes

peeled and cut into bite size chunks

1 onion

peeled and sliced

1 can or bottle

Irish stout

1 tablespoon

cornflour

1 tablespoon

cold water
Cooking Directions
Coat the beef cubes in the flour
Heat the oil in a heavy bottomed frying pan
Doing a few at a time, brown them in the hot oil
Add the meat and the vegetables to your slow cooker.
Mix the beef stock, tomato paste and Irish stout beer and add to the slow cooker.
Cook for eight hours until the meat is completely tender (or for 2 hours in the oven at 150 degrees C)
At the last hour of cooking, dissolve the cornstarch in cold water
Add this mix to your stew, stirring well and then put on a High setting for 20 minutes for the broth to thicken.