Favourite Carrot Pie Recipe
There are some recipes that its good to go back to time and time again and this Carrot and Onion Pie adapted from the Cranks cookbook which is definietely a winner! Apart from being a fabulous way to use up any extra carrots, it is really tasty and really low cost!
This is a really simple and low cost meal and yet is so tasty and easy to prepare too! If you like carrots, you will love this recipe!
Who would have thought that you can make an amazing pie with just carrots and onions. In the Cranks book it is called 'Crecy Plate Pie'.
I have discovered that Crecy can mean 'with carrots' but is only used as a culinary term and does not seem every common. It may come from the name of a french town – Crecy – where the carrots are supposed to be particularly tasty!
I would certainly recommend that you use really good carrots to get the best taste. Use home grown or locally grown carrots rather than the supermarket offerings, as they are always tastier and may not be any more expensive.
I think this recipe is best made with wholemeal pastry too, or at least half white and half wholemeal pastry. Wholemeal pastry has a more robust texture and nuttier flavour which all contrasts well with the sweet carrot and onion filling. Making the pastry half and half makes the pastry easier to handle, whilst still getting the benefit of the nuttier flavour.
If you would like some tips on making pastry see How To Make Pastry. Just remember to keep the pastry cool and handle gently. 'Resting' the pastry for half an hour makes a huge difference too, when it comes to rolling out the pastry.
Cranks Recipe Book – Still Popular
If you are a vegetarian and remember some of the Cranks recipes, you may like to know that you can still buy the Cranks recipe book as well as a more updated version. The Cranks Recipe Book
I still have my copy from the 1980s although it is certainly looking well worn and pages can fall out if I am not careful.
Low Cost Family Meal
The total cost of the pie is about £1.50 so with a few vegetables, you can feed a family of four for less than £3! Green vegetables are good with this, and make a good contrast.
Carrot And Onion Pie Recipe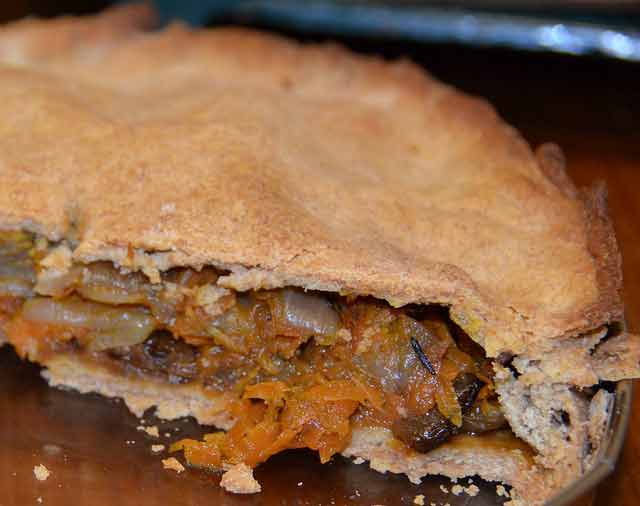 For The Pastry
Ingredients
200g /7oz

wholemeal flour (or mix wholemeal and white)

100g /3.5oz

margarine

3-4 tablespoons

cold water
Cooking Directions
Rub the fat into the flour with cold fingers
When it looks like breadcrumbs, add the water
Gently store and bring the dough together to form a ball
Place in a polythene bag to 'rest' in the fridge for at least 30 minutes
For The Filling
Ingredients
350g / 12 oz

carrots

350g / 12oz

onions

50g

margarine

1 teaspoon

yeast extract

1 teaspoon

mixed herbs
Cooking Directions
Peel and chop the onions
Peel and grate the carrots
Melt the margarine in a frying pan
Fry the onions until just transparent and soft
Add the carrots
Add the mixed herbs and yeast extract
Stir and cook gently for 10 minutes
Preheat the oven at 200 degrees C
Roll out half the pastry and line a 20 cm flan tin
Fill the pastry case with the onion and carrot mix
Roll out the second half of the pastry and place on top, nipping it to meet with the bottom half
Bake in the oven for about 30 minutes
Serve hot or cold