Lemon Curd Recipe
This lemon curd recipe, for me just epitomises the joy of cooking. It uses simple and fragrant, fresh ingredients to make something that gives joy and delight. Many things baked or cooked disappear on the very same day, so it is lovely to create something that can give delight over a much longer period of time! And can even be a gift to someone!
And lemons are so lovely to cook with – their colour and smell being full of brightness and joy! Your kitchen will smell lovely when you have finished.
Lemon curd is quick and easy to make and tastes so much better than shop bought! And you will have a lovely smelling kitchen!
Home made lemon curd is, perhaps surprisingly, a very easy recipe to make and so much nicer than shop bought. I have realised that with some things, I have got so used to automatically buying things from the supermarket, that I haven't always stopped to consider if I could make something myself. So when I learnt how easy it is to make lemon curd, I was amazed.
Low Cost And Luscious Lemon Curd
From now on I shall be investigating making more preserves, chutneys and sauces before I automatically buy them. For some time now I have been keeping jam jars when they are finished with. So now I have a whole batch in my cupboard as they are useful as storage jars as well as being ready when I make jam, apple chutney or indeed Lemon Curd.
This home made lemon curd recipe costs just under £1 for a jar. You can buy lemon curd cheaper than that from the supermarket, but not containing fresh eggs and the juice and rind of a whole lemon. Only the premium lemon curd – at a premium price – can hope to begin to compete with your homemade lemon curd.
Make in Small Batches
Your lemon curd will keep well in the fridge for a couple of weeks, so just make up the amount you think you will use. The recipe given makes enough for about 3/4 of a jar – so just double the quantities if you require more. Traditionally lemon curd has always been made in small quantities because it doesn't have the shelf life of jams and marmalades – especially before fridges were common.
Lemon curd was often served with scones and bread for 'afternoon tea' in the 19th and 20th centuries. It takes just 20 minutes to make and is much easier than marmalade or jam, so don't be put off even if you have never been keen on making preserves.
Buying Lemons
If you can, buy unwaxed lemons. Unless they say they are unwaxed, they will almost certainly have the waxy coating on them which gives them a longer shelf life. If you do buy them waxed, give them a good scrub before you grate the zest.
Lemon curd is great spread on toast but don't stop there. A swirl in natural yoghurt will give you an instant lemon dessert or how about a dollop on top of ice cream and meringue! Lemon curd can also be used to make Lemon Tarts – small ones or one large one.
For 1 jar you will need:-
Lemon Curd Recipe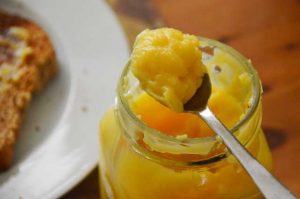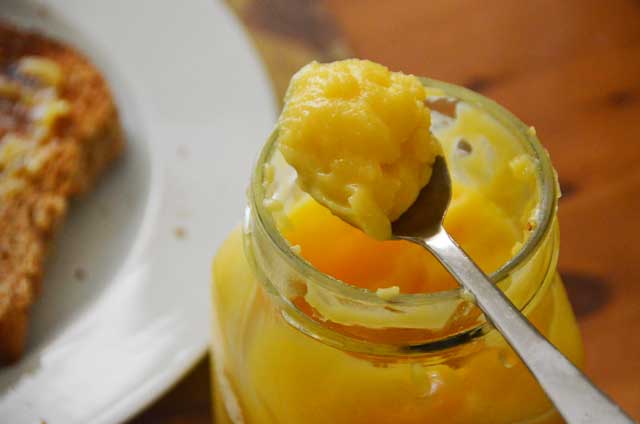 Ingredients
2

large lemons

100g / 3oz

caster sugar

2

large eggs

1

egg yolk

50g/1.75oz

unsalted butter
Cooking Directions
Finely grate the zest of the lemons into a bowl
Add the juice of the lemons and the sugar and mix together
Mix in the eggs and egg yolk and whisk until thoroughly combined
Cut the butter into small pieces and add
Heat a large saucepan of water to simmering level and place the bowl over it to heat, stirring the mixture
Continue stirring frequently until the curd thickens for about 10 minutes
Remove from heat and allow to cool
Transfer into a jar and keep in the fridge