Easy Homemade Stuffing
Sage and onion stuffing is one of those things that for years I simply bought off the shelf in a packet. I guess it is what I knew as I grew up and carried on buying whenever we had a roast dinner. And I probably didn't really think about what is made from.
Sage and onion stuffing is very easy to make and makes a great addition to any roast dinner
Simple Ingredients
So it was quite a discovery to find out that stuffing at its simplest is onion, breadcrumbs and herbs – ingredients you are like to nearly always have in your cupboards. And it is very low cost too! Of course there are many, many variations on this and once you have made this simple recipe a few times you can try different herbs and maybe nuts added too.
There are a whole other batch of stuffings that include sausage meat too – but this stuffing can be used for vegetarian roast dinners as well as meat. And of course it doesn't just have to be for a roast dinner – it is great with sausage and mash and other comfort type meals.
Stuffing is also a good way to use up leftover breadcrumbs.
Great With Traditional Roast
Producing some good stuffing can make the meat go a little further at it fills people up, a bit like Yorkshire puddings!
Whatever its origins it is now a requirement if you are making a traditional Sunday roast. Although originally it might have been used for chicken or turkey it is often served with beef, pork or lamb too even though they cannot be stuffed in the way a bird can. It is also recommended now not to put the stuffing in the cavity of the bird since it may prevent the meat from being cooked all the way through.
Cooking Notes
It is just as easy to make the stuffing up then bake it in a dish in the oven along side the meat. I used a retro style pie dish for the stuffing great for individual pies too and they come in 3 different sizes.
Sage And Onion Stuffing Recipe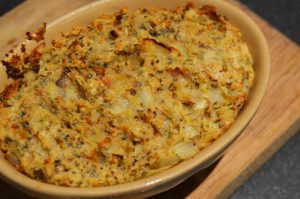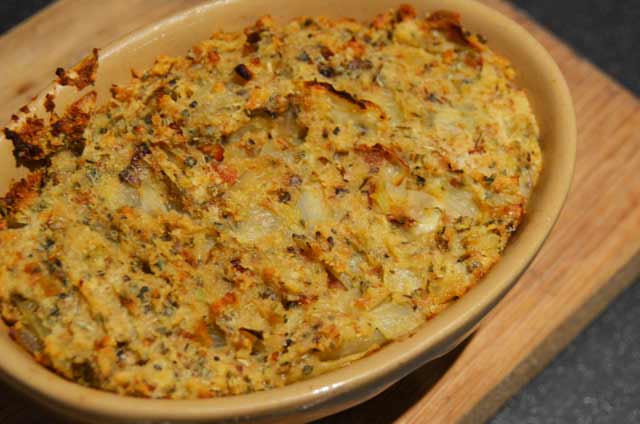 Ingredients
1 onion

peeled and finely chopped

1 clove

garlic, minced or crushed

100g / 3.5oz

breadcrumbs

1 teaspoon

dried sage or a few fresh sage leaves chopped

1 egg

beaten

2-3

tablespoons milk

30g / 1 oz

butter
Cooking Directions
Melt the butter in a frying pan
Add the onions and cook until soft
Stir in the garlic and cook for another couple of minutes
In a bowl add the onions, breadcrumbs and herbs and stir to mix thoroughly
Add the egg and stir
Add the milk gradually so the mixture is soft and firm but not soggy
Place the stuffing in a baking dish
Bake in a preheated oven at 180 degrees C for about 30 minutes until brown on top