Sausages Wrapped in Bacon
Traditional with roast dinners and especially at Christmas time, Pigs in Blankets (or sausages wrapped in bacon) is an occasional treat as an added extra to any dinner. Very easy to make, it's just a case of remembering to put them in the oven at the right time. They are also excellent in a buffet as they can be speared onto a cocktail stick or even eaten with fingers
A festive treat and a lovely extra to a buffet or roast dinner at any time of year
Origins Of Terms
The first question that came to mind when writing this was who coined the phrase pigs in blankets. I learned from Wikepedia that they are know as Wesley Dogs in the US and as kilted sausages in Scotland. There are also variations of this in many other parts of the world.
In the UK the 'blanket' is always bacon but in other parts of the world it can be other things such as a pancake or some kind of dough or pastry. The blog, Foodimentary suggested it may have been first used in the 1600s although the first recorded
mention is in 1957
Devils On Horseback Too
Like many of these things there is much argument and no definitive answer. This becomes even more true when we talk about the related dish Devils on Horseback – dates or prunes wrapped in bacon. These are sweet buffet snacks – absolutely delicious as the sweetness of the dates permeates the bacon making it sweet and savoury all at once.
The Hindhead at Bray says the name dates back to 1066. You can read their explanation here. I do of course have no idea how true the story is…
Dates or prunes are sometimes stuffed with mango chutney and / or cheese to make more flavours but I like mine simply done as bacon wrapped around dates
Make At Home
It is usually easy to buy pigs in blankets ready made but it is teh easiest thing to make them up from scratch – and you can buy exactly the quantit you need from the butcher. Generally I would be buy about twice as many chipolatas as bacon. Even then you may have some bacon rashers over but you can always have them for breakfast or in a brie and bacon butty!
Streaky bacon is best for this and it is your choice if you have smoked or unsmoked. My preference is definitely for unsmoked bacon.
Pigs In Blankets Recipe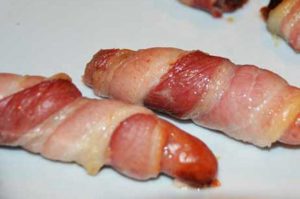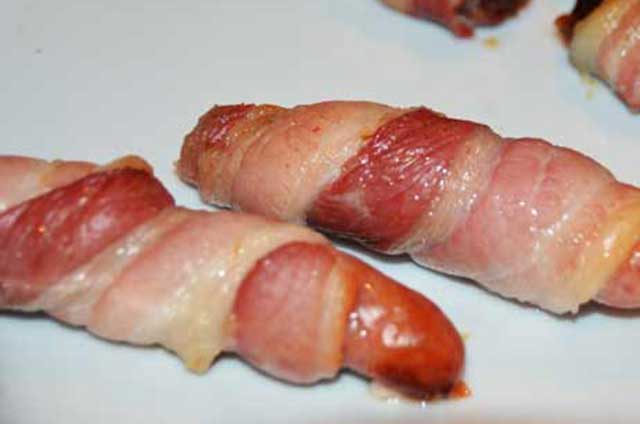 Ingredients
8

chipolata sausages

4

rashers streaky bacon
Cooking Directions
Preheat the oven to 180 degrees C
Cut the rashers of bacon in two lengthwise
Wrap the bacon around each chipolata twisting moving accross diagonally to cover all the sausage
Place on a baking tray
Bake in the oven for about 30 minutes until well cooked.
Serve hot or cold.
Devils On Horseback Recipe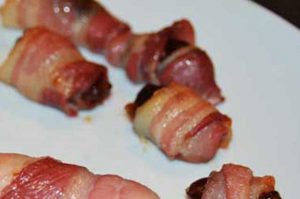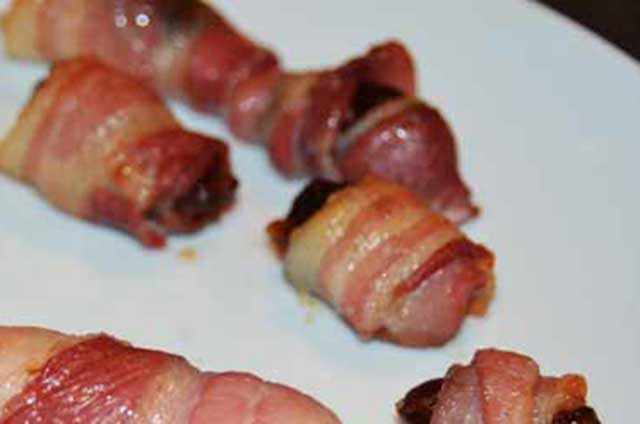 Ingredients
16

stoned dates

4

rashers streaky bacon
Cooking Directions
Pre-heat oven to 180 degrees C
Slice the bacon in half lengthwise
Cut easch in half in the middle (creating 4 pieces from each rasher
Wrap each date in a piece of bacon
Secure with a cocktail stick if desired
Place on a baking tray
Bake for 30 minutes
Delicious hot or cold