Apple Strudel
I had always thought of Apple Strudel as complicated to make. Well I think it can be if you do a really proper one with layers of pastry. So perhaps this is a bit of a cheat one – but it is easy and it is really delicious. This version is made with ready made puff pastry – which means that it is just the filling that you need to really make.
It could be made with a few layers of filo pastry instead of the puff pastry.
This may not be quite a proper apple strudel – but it tastes good and makes a lovely hot pudding as well as a cold pastry to have at a picnic or packed lunch
This is a lovely desert to make at Christmas time too as an alternative to mince pies. yo can always spice it up a bit with nutmeg, cinnamon, ginger whatever you like you could add some homemade mincemeat in amongst the fruit too!!
Origins of Apple Strudel
If I am making a dish like this, I like to know its origins as it is such a well known and well loved pudding. Was it Germany or Switzerland it came from? On reading Wikepedia I discover that it was from the Hapsburg Empire in the 1700s that it gained popularity with influences from several traditional cuisines. However it seems it is most commonly associated with Vienna in Austria
The pastry of an apple strudel should be made very thinly – a bit like filo pastry and made up of layers. Well one day I may try to do a 'real' apple strudel but for now this version I made will keep me – and my family – very happy. However, I suspect it feels pretty satisfying to do a real apple strudel pastry.
What Sort Of Apples?
There is some argument amongst chefs whether you should use eating or cooking apples. I used eating apples – Russets – as it was what I could easily get and my favourite type of apples – and they cooked up beautifully. Any apples will work – if you so it often you may find that your prefer some type of apples to another.
Puddings – Happy Endings
The Apple strudel makes a change from apple pie or apple sponge and is great if you don't have enough apples for a pure apple pudding. The amount of dried fruit you put in can vary and you can also add other fruits to your liking too. If you would like to – you could presoak the dried fruit in some brandy before adding to the apple.
Apple Strudel can be eaten cold too, and could be part of a picnic or packed lunch or a snack. If you serve it hot as a pudding then add cream, ice cream or custard.
Apple strudel keeps well and can be frozen too – so you can always make two!
Apple Strudel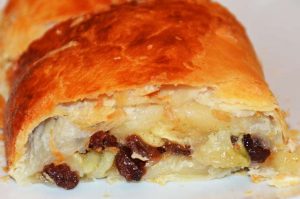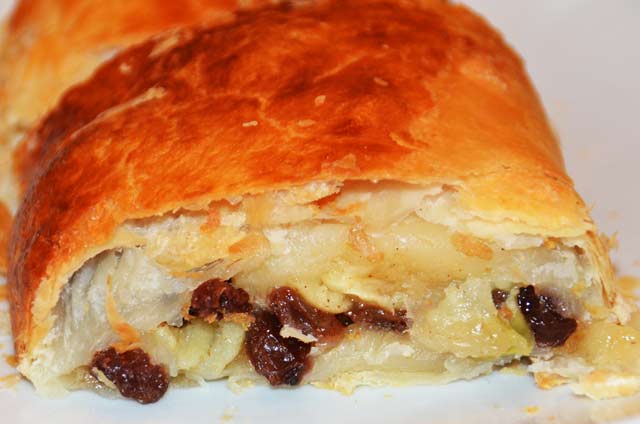 Ingredients
500g / 1lb

eating apples – Russets, coxes, braeburns

3 tablespoons

sultanas

100g / 3.5oz

brown sugar

1/2 lemon

juice and zest

1/2 teaspoon

nutmeg

350g

ready made frozen pastry

1 egg

beaten
Cooking Directions
Preheat the oven to 180 degrees C
Grease a large baking dish and line with baking parchment
On a floured surface, roll out the pastry to around 20cm wide by about 25cm long
Place it on the base of the baking tray
Peel and core the apples into small pieces and place in a bowl
Pour the lemon juice over and add the zest
Add the sultanas and stir
Sprinkle on the nutmeg and sugar and stir well
Place down the middle of the pastry
Fold over the pastry to meet in the middle
Brush the edges with egg and stick together
Turn the strudel over so the seam is underneath
Brush all over with the remaining egg
Place in the oven for about 30 minutes until brown
Serve in slices