Leftover Chicken Pie
There are times when the leftovers can be better than the main event – or at least seemingly so – and a chicken pie must rate as one of the best comfort foods as well as being nutritious! Using leftovers can bring out your creative side – and it is fun to bring together the leftover food – so much better than throwing it away!
Leftover meals can be just as good, if not better than the original meal – and bring out your creative side!
Roast meat can produce a lot of leftovers to work with and can even produce several meals. Make it go further by adding vegetables (leftover or freshly cooked). One of the joys of cooking a roast dinner is knowing there will be plenty for another day.
Chicken Risotto is another easy leftovers recipe
Chicken And Vegetable Pie
For a chicken pie clearly you will need some cooked chicken. But you can use this recipe for any leftover meat such as turkey. You can make individual pies or one big one depending on how much leftovers you have and how many people you are feeding.
Make only enough that will be eaten to avoid any food waste as the general advice is not to reheat cooked chicken more than once.
Your Pie – Just As You Like It
The pies I made were individual chicken pies. The quantities in this recipe are rough for a guide (except the pastry!) you use can use just what you have – or what you fancy! If you have less meat, add a few more vegetables to make up the quantity. I seasoned the pie with some dried tarragon but you can add whatever seasoning you like.
The pie can be made with any leftover pastry you have in the fridge, make some up especially or use ready made pasty. I only use pastry as a topping, not underneath
I make the individual pies using some vintage type pie dishes I found in a charity shop. You can however buy similar ones new like these Traditional Brown Oval Pie Bowls
Serve the pie with some mashed potato, bubble and squeak or any vegetables you like.
Chicken Pie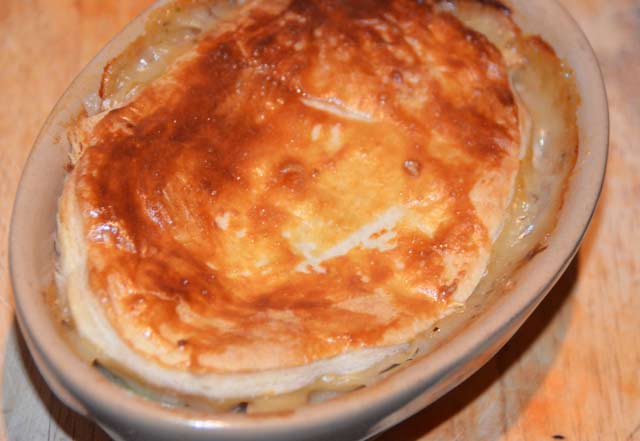 Ingredients
140g / 5oz

plain flour

70g /2.5 oz

butter or margrine

2-3

tablespoons water

1 tablespoon

sunflower oil or similar

180g / 1oz

Leftover chicken, shredded

1 onion

finely chopped

6

mushrooms sliced

2 tablespoons

cooked vegetables

1 dessert spoon

(heaped) plain flour

200ml

milk

1 teaspoon

tarragon

salt and pepper

to taste
Cooking Directions
Make the Pastry
In a large bowl, rub in the flour and butter lightly with your fingertips until the mixture looks like breadcrumbs
Add the water and draw together the flour and water until it forms a dough
Refridgerate in a covered container or polythene bag for at least 30 minutes

Make the pie filling

Heat the oil in a large frying pan
Add the onion and cook for a few minutes until transparant
Add the mushrooms and cook until they have changed colour
Add the chicken and stir to heat through
Add any further cooked vegetables you are using
Add the flour and stir for a minute
Add the tarragon and the milk
Stir as is it thickens
Leave to cool
Preheat the oven to 180 degrees C
Roll out the pastry
Place and upturned pie dish and mark around the outside with a knife.
Repeat for as many pies as you are making
Divide the chicken mixture evenly among the pies
Place a top on each pie
Brush with beaten egg for a glaze finish
Bake in the oven for about 25 minutes until the pastry is brown
Serve immediately