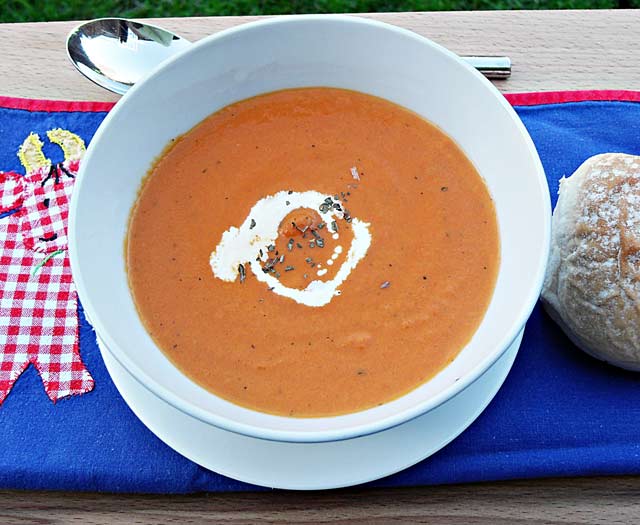 Tomato Soup – Guest Post
This Tomato Soup recipe is a welcome guest post from a fellow blogger – Camilla from FabFood4All and a reader of Penny's Recipes. People cooking at home often have some amazing recipes they cook for the family. It is very generous to share your recipes with everyone else!
Low Cost Soup Recipe
I love this recipe as I too have enjoyed Heinz tomato soup in the past. It is one of those easy comfort foods and reminds me of being off from school with flu or of coming home after being out for a winter walk. This soup recipe costs under £1 for four people. Superb for lunch either at home – or take some to work in a Thermos flask!
I think once you get into home made soup, canned and even the 'fresh' soups from the chill cabinet never taste quite the same again – even the more expensive ones!
Tomato Soup from Camilla of FabFood4All
Camilla says:-
I'd like to thank Penny for inviting me to send over a guest post as we have a lot in common when it comes to good home cooked food that doesn't cost the earth. It's a real pleasure therefore to share my recipe for Cream of Tomato & Basil Soup
If you're like me you will have been brought up on Heinz Cream of Tomato Soup as it is a firm favourite with children and adults alike. So when my husband was foraging through our cupboards one day protesting that there were no tins of soup, I came up with this recipe which is a pimped up version of the Heinz one.
I've added carrot, garlic and basil to give it super rich flavour. This soup is quick to make and you can be eating it within about 20 minutes plus it's very thrifty as the main cost is the tin of chopped tomatoes which is about 31p.
I've made this soup to serve 3 good portions (though we did stretch it to 4) but you can easily double the recipe to serve more. Enjoy it with some good crusty bread or rolls
Cream of Tomato & Basil Soup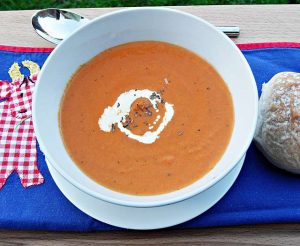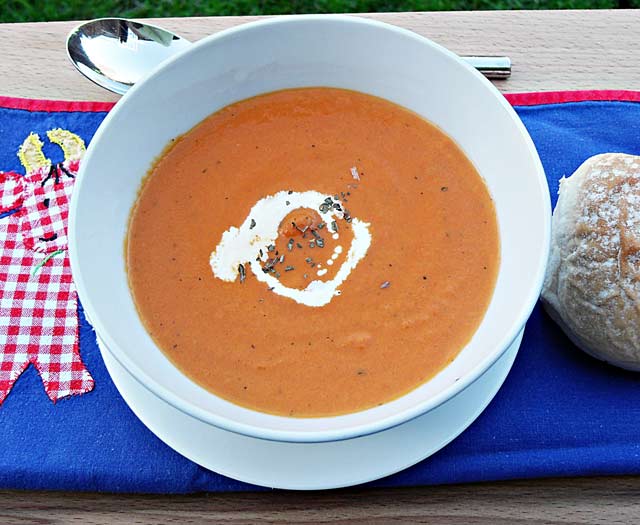 Ingredients
1 tablespoon

rapeseed oil

Large knob

butter

1 medium

onion, finely diced

1 carrot

finely diced

3 cloves

garlic, crushed

1 x 400g

tin chopped tomatoes

350 mls

chicken/vegetable stock made with a stock cube

75 ml

single or double cream

dried basil

pinch

each salt and pepper

Extra cream

to decorate

Extra basil

to decorate
Cooking Directions
Sweat the onion, carrot and garlic in the oil and butter under a lid until softened, about 10 mins (stirring occassionaly).
Add tinned tomatoes, stock, basil, cream and seasoning.
Heat through and then blend.
Serve with a swirl of cream and a pinch of dried basil.
About Camilla and FabFood4All
Camilla is a half Danish, Surrey based food writer and recipe developer, who has been passionate about cooking ever since her school days where she won the prize for Home-Economics. She loves the culmination of art and science involved in cooking and enjoys making fabulous food, simply and cheaply; more time eating, less time cooking is her ethos!
Her popular blog Fab Food 4 All was started in March 2012 and each recipe she posts has to meet the scrutiny of her husband and 2 children!
www.fabfood4all.co.uk
Twitter: @FabFood4All
Connect on Google+
Follow on Facebook