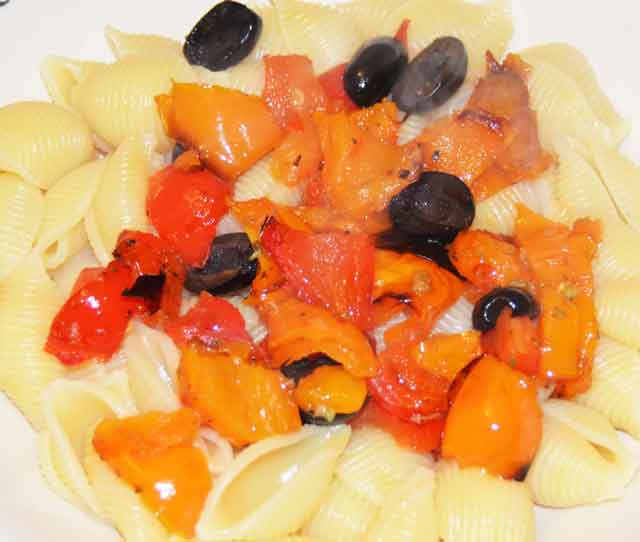 Pasta With Roasted Pepper Recipe
Pasta with roast peppers makes a good low cost base for a simple supper. This pasta sauce dish was born out of my love of peppers and picking some up in the supermarket at a very low price near their use by date but were of course perfectly edible.
A pasta and pepper easy supper is really tasty and very low cost. Add garlic, olive and a bit of Italian hard cheese and a dash of pepper – perfect meal!
Red Pepper, Yellow Pepper
Peppers are lovely raw and added to stir frys and pasta sauces, but they are probably at their very best when they are roasted as that brings out their flavours and their sweetness. I enjoy stuffed peppers very much as they are roasted and then further baked. Serving the peppers with pasta is just a simpler way of getting that flavour.
It really doesn't matter what colour pepper you use – it is a matter of personal preference. The red and yellow ones tend to be the sweetest but I also love the taste of the green pepper. Just buy the ones you like best or that are available. However red peppers are said to have more of the nutrients that peppers are plentiful in – vitamins C and A. Red peppers are simply ripened green peppers.
An All Year Round Vegetable?
Peppers are in the shops all year round and have become a staple of our diet now. English grown peppers are in season in the summer so much of what you buy comes from outside the UK. The ones I bought for this dish came from Israel and Spain. The season is elongated in Britain by companies such as Thanet Earth
Peppers go great with garlic and olives so these were the only other ingredients I uses apart from a sprinkling of dried mixed herbs and some olives. Add a bit of ground pepper and a spoonful of grated parmesan (or your favourite Italian style hard cheese) and you have a really tasty meal for around £3.50 for four people and very easy to make.
How To Roast Peppers
The flavour of peppers are at their best when they are roasted. And it is so simple to do!. Just preheat the oven to 180 degrees c. Cut your peppers in half and remove the pith and seeds. Lay them insides facing down on a baking tray and brush the skins with some olive oil. Bake until slightly charring – about 20-25 minutes. You can always add some sliced red onion to the mix too.
Pasta – However You Like It
Use whatever pasta shapes are your favourite. Get whole wheat for extra fibre. If pasta is on offer, it is one of those things that is well worth taking advantage of as it keeps for along time and you know you are going to use it. It is such a good food for people on a budget – especially as supermarkets often do a low cost one in their basics range.
Is there a difference? Well only you can really decide – sometimes the difference in price can be that there is little money spent on marketing. This discussion on the merits of different pastas is interesting and people definitely differ in their views. If you have a favourite pasta that you always buy, or if you buy the basics range – do put a comment after the recipe.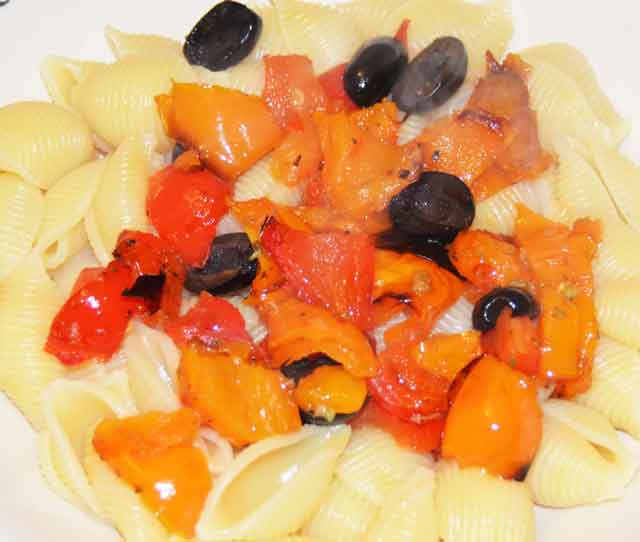 Peppers With Pasta
Easy and delicious supper recipe with roasted peppers and pasta
Ingredients
4

whole peppers

any colour

12-16

black olives

halved

2-3

garlic cloves

peeled and crushed

100

g

parmesan cheese

or similar, grated

1

tablespoon

olive oil

1

teaspoon

dried mixed herbs

or oregano or basil

400

g

penne pasta
Instructions
Preheat the oven to 200 degrees C

Cut the peppers in two

With a sharp knife remover the pith, seeds and stalk

Place on a baking tray outside skin, up

Brush well with olive oil

Roast in the oven for about 20 minutes until soft and beginning to char

With a sharp knife chop into small pieces

Add crushed garlic cloves and halved olives and herbs

Stir and return to the oven for 15 minutes

Meanwhile cook the pasta in plenty of boiling water according to pack instructions, to be ready at the same time as the pasta

Stir the pepper mixture into the pasta and serve

Sprinkle with parmesan and black pepper to serve