Soup – Healthy Dish Of The Day?
Soup must be the ultimate food where you can always make use of seasonal vegetables. If you have an abundance of something, Leftovers, bought too much because of an offer or decided not to cook the complicated recipe you were going to do, you can always use ingredients up – in soup.
Soup can be made from many vegetables. Use a recipe as an idea and combine your favourite flavours. This soup is pepped up with ginger and rosemary
If you want to eat seasonally, making soup is a great start. If you want to eat healthily and get your vitamins and your 5 A Day you can eat soup every day.
Make loads and put it in the fridge or freezer in portions. Heat it up in the morning and take it to work in a thermos flask to give you a low cost, warming and nourishing lunch
Don't be afraid to experiment with different ingredients, use what you have. If you search online you are bound to find a soup recipe roughly using the ingredients you have to hand. Or browse through the soup recipes on this website for ideas.
Don't feel you have to use the exact ingredients – try substituting other vegetables or seasonings to your own tastes and what you have in your cupboards
Squash
There are many different squashes available but possibly the butternut squash is the most commonly found. It is probably the easiest to peel and handle.
Squash is versatile as it can go in stews, risottos, flans and bakes and of course soup. It has a sweet, rich flavour that goes well with green vegetables.
It can be roasted or simply added to stews as and extra vegetables. Squash Risotto is probably one of my favourite risottos
Colourful Soup
This is a very orange soup! With butternut squash, carrot and red lentils it couldn't be anything else! Add a bit of spinach if you would like a bit of greenery. The vitamin content must be pretty good and the taste is lovely! The lentils add some protein and some added texture.
It is flavoured with ginger and roesmary. You could also add a bit of chilli for some extra 'bite'
Soup is best served with some good bread – homemade if you can. A good way of good quality bakery bread at a lower price is to visit the supermarket – or possibly your local bakery – at near closing time when the fresh produce of the day is greatly reduced.
Bread freezes so well and it is also useful for filling up gaps in your freezer. A full freezer uses less energy than an empty one.
Squash And Lentil Soup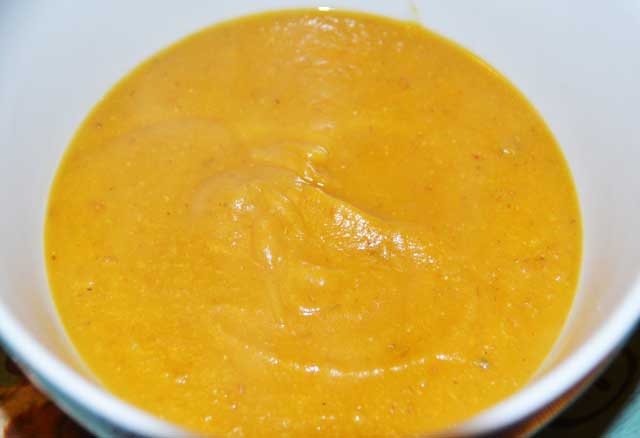 Ingredients
1 tablespoon

olive oil

1/2

butternut squash, peeled and cubed

1

onion, peeled and sliced

2-3

carrots, peeled and sliced

125g / 4oz

red lentils

1 litre

stock

1 teaspoon

ginger powder

1 teaspoon

rosemary

1 teaspoon

cumin seeds

2-3 garlic cloves

crushed
Cooking Directions
Heat the oil in a saucepan
Add the onion and cumin and cook for a few minutes until the onion is soft
Add the butternut squash and sweat for a few minutes until beginning to soften
Add the garlic
Add the carrots
Stir and cook for 5 minutes
Add the stock with the ginger and rosemary
Add the lentils
Stir, bring to the boil and simmer for about 30 minutes or until the vegetables and lentils are soft
Puree with a hand blender or in a processor.
Return to the pan to reheat adding a little extra water or stck if it is too thick