What is Parkin?
When I asked my husband what cake he would like me to bake and he replied Parkin. He used to have Parkin quite often as a child and so had fond memories of it. I have only had parkin occasionally and was never clear exactly what it was so I thought it was time to for some investigation.
Of course the answers to these sorts of questions are never as straightforward as you might think – since the exact origins of the cake or the name are unknown, and there is no definitive recipe.
A traditional ginger cake with a sweet stickiness, it can be served with tea or warmed up as a pudding served with custard
It is basically a ginger cake made from oats and treacle but recipes vary from using oatmeal and black treacle, to using oats and golden syrup. The textures vary depending on the recipe but basically you have a spicy, sticky cake that can be eaten cold as it is, and is popular for bonfire night – or can be eaten as a pudding, warm with custard. It is certainly a warming cake – ideal for the winter months.
Traditionally parkin is left to mature for a few days but you may find it won't last that long!
Black Treacle and Golden Syrup
There is a distinct difference in flavour between golden syrup and black treacle and for the most part I prefer golden syrup as it is lighter. Golden syrup is made from the liquid that is left when refining sugar and black treacle is made from further boiling of that liquid and has less sugar in it. Molasses is made when all the sugar has been extracted and tastes quite bitter
I have used golden syrup only in this recipe but you can try it with half golden syrup and half black treacle for a less sweet, deeper flavour.
I think traditionally Parkin is served in squares – so if you do have a square tin – use that. The size will be approximately 23cm x 18cm.
Lancashire Parkin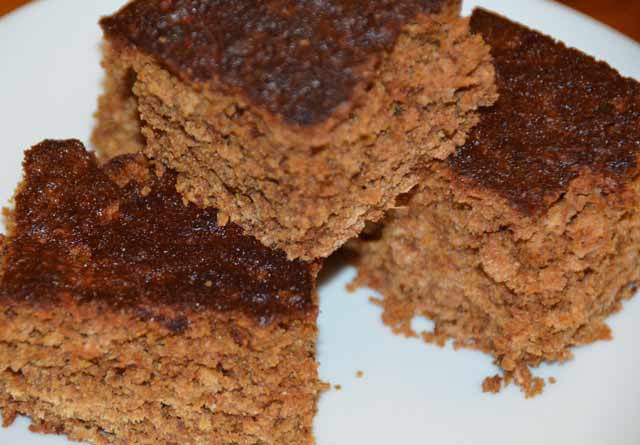 Ingredients
300g / 10oz

golden syrup

125g / 4oz

butter

125g / 4oz

sugar

225g / 8oz

plain wholemeal flour

225g / 8oz

porridge oats

2 teaspoons

ground ginger

1/2 teaspoon

bicarbonate of soda

150ml

milk
Cooking Directions
Preheat the oven to 180 degrees C
Grease and line a tin of around 23cm x 20cm
Place the syrup in a small saucepan
Add the butter and sugar
Heat gently until the butter is melted, stirring all the time
In a bowl mix the flour, oats and ginger
Pour in the butter and sugar mixture and mix well
Add the bicarbonate of soda and milk
Str well to ensure everything is thoroughly blended
Pour into the prepared tin
Bake for about 50 minutes until brown on top and firm to the touch in the centre
Remover from th tin to cool on a cooling rack
Slice into squares