Lentil And Beans
This was a recipe I did when I didn't know what to cook and I wasn't feeling very inspired. But don't let that put you off – it came out really well – very tasty and low cost
I had a tin of kidney beans I was going to use for another recipe – and plenty of lentils. That is always a basis for a good meal. With an onion and a pepper I was ready to go – just need to decide on the flavourings
Lentils and beans plus a few basic ingredients plus some spices and a lovely, easy low cost meal is made!
Ras El Hanout
A month or so ago I bought a spice mix – ras el hanout because it sounded so good. I had used it in a soup or two but had plenty left and decided this was a good opportunity!
It is a special spice mix from Northern Africa and is used in tagines and Moroccan dishes. The exact composition varies but it mostly is made up of chilli powder, ginger, cinnamon, coriander, cumin, paprika, tumeric. If you don't have it you can just make a small mix of these spices to make up a teaspoon. You can get it from some major supermarkets and from Amazon – Moroccan Ras El Hanout tajine spice 100 grams tagine herbs mix 100g
. If you do buy some, make sure you use it up in Morroccon style recipes or even in a dhaal type recipe or soups. The spice mix gives warm spicy kick to any meal.
This is a one pot meal that can be made in about half an hour. Serve with rice which you can cook along side or with nan bread or other flat bread.
The cost of the meal for four people is about £2 – £2.50 excluding spices – and full of nutrition and flavour. Who says eating on a budget has to be dull??
Lentil And Beans With Rice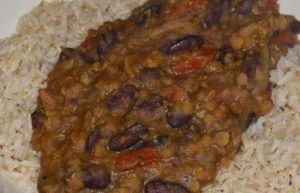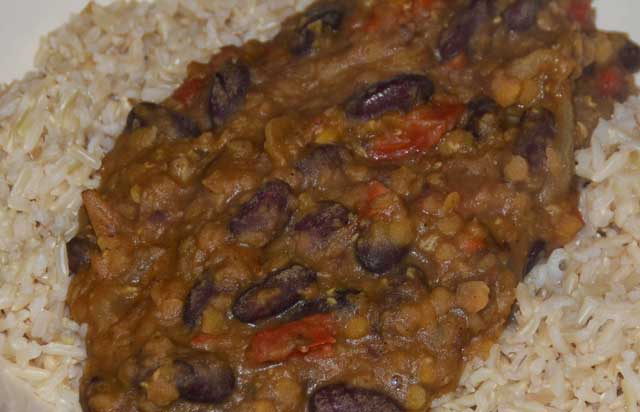 Ingredients
1 tablespoon

olive oil

1 onion

peeled and chopped

2 teaspoons

cumin

2 garlic cloves

peeled and sliced

1 red pepper

deseeded and chopped

250g / 8 oz

red lentils

600ml

stock

1 teaspoon

ras el hanout

– or –

1/4 teaspoon

each of ginger, chilli, cinnamon and coriander

1 x 400g

kidney beans, drained
Cooking Directions
Heat the oil in a large frying pan
Put the onion slices and cumin in the hot oil and cook for a few minutes
Next add the garlic and cook for a further 2 minutes
Then add the chopped pepper, stir and cook for a 2 minutes
Add the lentils and stock
Stir in the ras el hanout or equivalent – quarter teaspoon each of ginger, chilli, cinnamon and coriander
Add the kidney beans
Cook for about 20 minutes or unti the lentils are soft
Meanwhile cook some rice to accompany or prepare the nan bread