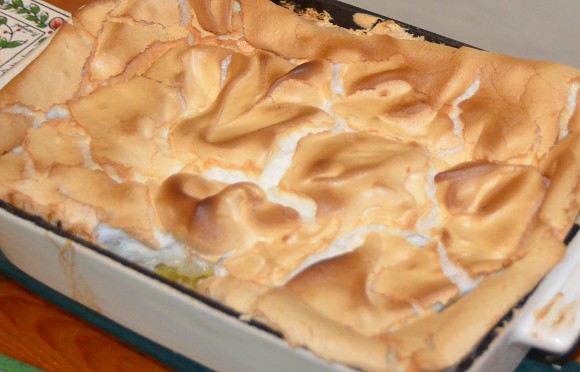 Apple Dessert
Apples are in available all year round. When apples are in season in the Autumn months, its wonderful to make the most of them, especially when it seems there is a glut of apples. There are so many apple varieties in the UK that it is a shame if we don't celebrate this amazing fruit that not only tastes good but is good for us too.
Apple Crumble is the obvious apple recipe, but delicious though it is, there are many other options to make a sweet success out of apples! There are savoury possibilities too such as Apple And Parsnip Soup.
When apples are in season it is fun to find different ways to cook them. This Apple Meringue makes an easy, yet impressive, dessert
Many Apple Recipes
There are so many ways to cook apples and most of them are very simple. Bramley apples are of course, the obvious choice for any recipe requiring cooking apples, but you can look around in local shops and find other cooking apples. Whilst there you may discover some local eating apples too. Many apples will keep well to if stored correctly. Alternatively you can stew some apples ready to freeze to use in apple puddings throughout the winter!
You can make this recipe with dessert apples too, the apple mixture may just be a bit more mushy – it will still have plenty of flavour.
Apple Recipes For Autumn
England is abundant with apples from August onwards when the early apples start to ripen. So try your local farm shop, farmers market or local shop and see what varieties you might discover. You can use any variety for Apple Meringue, or any apple pudding. Bramley is often chosen because it is too tart to eat alone and because it holds its texture well when cooked, unlike some apples which go very mushy once cooked.
If you do use a less well known apple variety – do get in touch via the comments box below to let other people know about it.
This Apple Meringue sweet is often cooked with a base, but I find that unnecessary. Without a base the dessert is fairly light and also very easy to make.
Separating Eggs
There aren't many recipes that require separated eggs that use both the egg yolk and the egg white in the same recipe. So often when you make meringue you are left with egg yolks that need to be used up. There are, of course, recipes calling for egg yolk (real home made custard is one) but this recipe avoids that question altogether.
I usually separate eggs by cracking them and gently letting the white fall away while keeping the yolk in the shell. However it is probably best to buy an Egg Separator.
Easy Last Minute Pudding
Apple Meringue is a recipe you could easily rustle up at the last minute as it has so few ingredients and takes only a few minutes to prepare. All you need are apples, eggs and sugar – all ingredients you may have already or are easy to source at a local shop.
The Apple meringue can be served hot or cold, with cream or ice cream – or just by itself
Cooking Tips
You will need a medium size Lasagne dish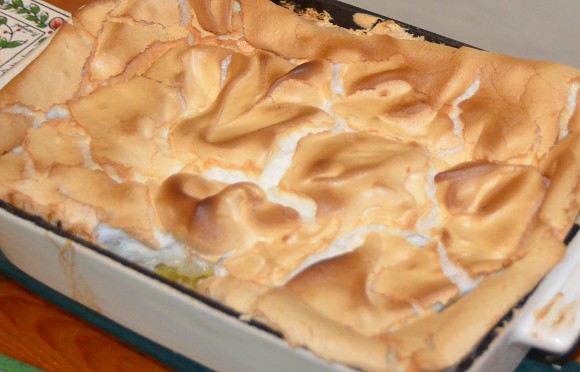 Apple Meringue Recipe
Ingredients
450

g

cooking apples

peeled and sliced

1-2

tablespoons

water

1-2

tablespoons

sugar

3

eggs

separated

150

g

caster sugar
Instructions
Pre-heat the oven to 180 degrees C

Place the peeled and slice apples in a saucepan

Add the water and sugar

Over a medium heat, gently cook the apples until soft

Remove from heat

Gently stir in the egg yolks

Set aside to cool

Whisk the egg whites until stiff

Add the sugar a little at a time whilst still whisking until smooth and stiff

Grease a baking dish

Place the apple mixture on the bottom

Spoon the meringue on top

Bake in the oven for about 30 minutes, until the meringue is brown.