Rice And Peas
I have always liked the idea of Jamaican rice and peas – it's so good and simple. I am unsure of the authenticity of this recipe but it certainly tastes good, is really easy to make and very low cost. It is traditionally made with red kidney beans or black-eyed beans – which is what I have used in this case.
I have flavoured it simply with chilli and coconut milk. Some recipes call for more spices, but I like the simplicity of this recipe. It is sometimes served with chicken or bacon and you could use this as an accompaniment to either but it also stands alone as an easy, simple, low cost supper dish
This traditional Jamaican dish is easy to cook, with few ingredients and provides a tasty, comforting an nutritious midweek supper
Coconut Milk
Coconut milk is the liquid extracted from the flesh of the coconut and can be bought in tins from most supermarkets. It often comes in thicker and lighter varieties as well as reduced fat.
I used a reduced fat version for this recipe. The price varies a lot in price from under £1 to over £2 for the premium brands – so the total cost will depend on where you buy it from.
Cocunut milk has had mixed reviews as to its health properties. This recent article explains some of them but note the comment at the bottom of the article too.
Coconut milk is very stiff when it comes out of the tin – not very much like milk at all but it soon stirs in to the rice.
Blackeyed Peas
Black eyed peas originated in west Africa but is grown widely in Asia and America now too. It is easy to see that the beans acquired their name from the black dot on the otherwise creamy coloured skin. Black eyed beans, like other pulses, are high in fibre and protein as well as other vitamins and iron
You can use a tin of black eyed peas but I bought a 500g bag and soaked, them overnight and then boiled them for about 1 hour. They can then be divided into portions of around 250g and kept in the fridge for a few days or frozen. This makes them less expensive as it works out at around 25p for this dish or you can buy a 400g tin at around 70p
Low Cost Midweek Supper
Even at its most expensive this dish should cost no more than £3.50 for four people – and could be less.
I used chilli flakes for the spiciness but you could use 1-2 whole chillies finely chopped if you prefer. I use brown basmati rice but you could use white basmati or long grain rice. I enjoy the extra texture of brown rice and like that it is a little better nutritionally.
Jamaican Rice And Peas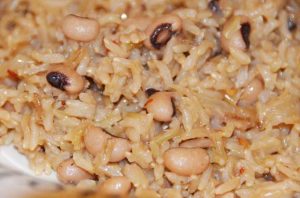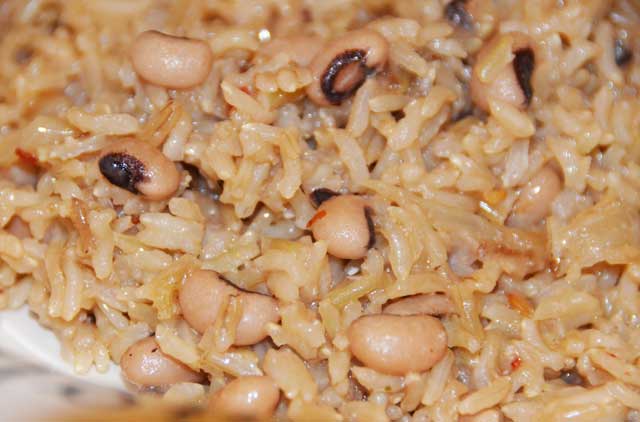 Ingredients
2 tablespoons

sunflower oil

1 onion

peeled and chopped

2 cloves

garlic, peeled and chopped

1 teaspoon

chilli flakes

300g / 10oz

brown basmati rice (use white if preferred)

1 x 400g tin

coconut milk

1 x 400g

blackeyed beans, drained or 250g / 8oz cooked from dried

450ml

vegetable stock
Cooking Directions
In a large frying pan or saucepan, heat the oil
Add the onion and cook for a few minutes until soft
Add the garlic and chilli flakes and cook for a minute, stirirng
Add the rice, stir to cover in oil and cook for a couple of minutes
Add the cocounut milk and stir to mix in
Add the beans and stock
Bring to the boil, cover and simmer gently for 35-35 minutes until the rice is cooked
Add a little more liquid if the mixture becomes too dry before the rice is cooked
Serve immediately