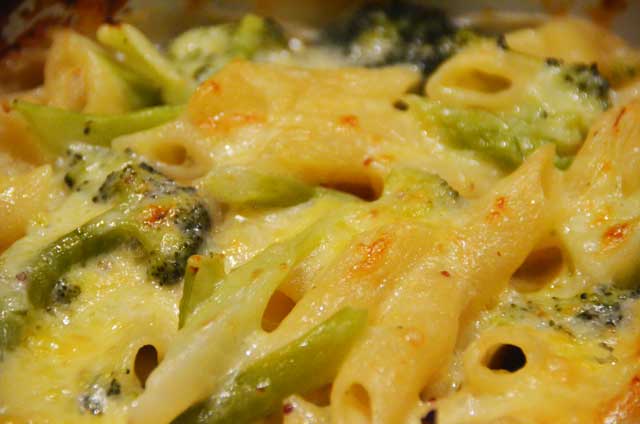 Cheese And Broccoli Bake Recipe
It is fairly well known that broccoli is good for you and it is a good idea to eat quite a lot of it. Personally I do like it as side vegetable just boiled or steamed but if you can make a whole meal from it so much the better. This cheesy broccoli bake will appeal to children too – who perhaps would not be so keen to eat just as a vegetable. What is more you can serve other green vegetables with this pasta bake. I served it recently with brussel sprouts and peas – plenty of greens!
Broccoli is a fabulous food so tasty broccoli recipes are welcome. This pasta and broccoli bake is a real tasty crowd pleaser
Broccoli is good for you for many reasons. It is packed full of vitamins and helps to protect against cancer so it is well worth trying to eat plenty of it!
Purple Sprouting Broccoli
In the Spring purple sprouting broccoli is available and in some respects is higher in nutrients than its green cousin. Purple sprouting could be used in this recipe instead of green broccoli which is in season in the summer months but tends to be available in the supermarket all year round
Pasta Bake Recipes
Cooking pasta and serving with an array of vegetables and cheese is a good way to get a balanced meal for low cost. It is a good way to use leftover vegetables. You can use any hard cheeses or blue cheese that can be stirred into a cheese sauce. It is a filling, comforting and easy midweek supper.
You can use any pasta shape. I like it with penne pasta but any one would work, just use your favourite or whatever has been on offer in the supermarket. There is often pasta in supermarkets value ranges but people vary as to whether they like these and any recommendations would be welcome.
Mustard and Cheese
I added a spoonful of wholegrain mustard for a bit of extra flavour – this is entirely optional but it just adds a bit of extra zing! I prefer to use mature cheddar cheese for a more cheesy flavour but just choose the ones on offer at the supermarket and save the premium cheddars for the cheeseboard.
The cost of this recipe will be around £3 for four generous servings
Cheesy Broccoli Bake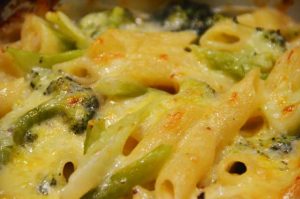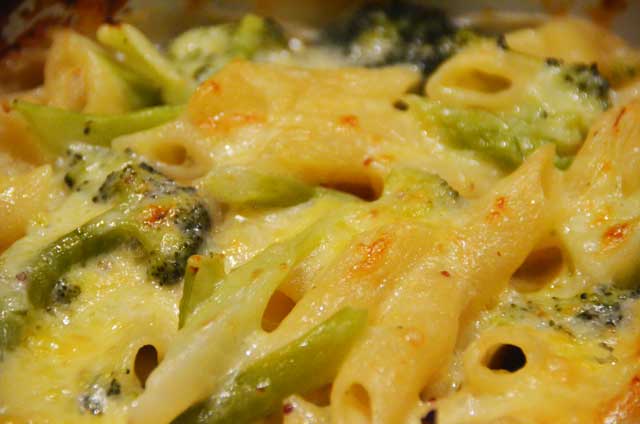 Ingredients
350g / 12oz

penne pasta or other shape

300g / 10 oz

broccoli, chopped into florets

700ml

milk

25g /1 oz

butter or margarine

50g / 2oz

plain flour

1 teaspoon

wholegrain mustard

120g / 4oz

cheddar cheese, grated
Cooking Directions
Preheat the oven to 180 degrees C
Place the pasta in a large pan of boiling water
Boil according to packet instructions
With 5 minutes left, if you have a steamer place broccoli over the pasta
Otherwise put on to boil or steam
Meanwhile, heat the milk in a large saucepan
Add the butter and flour
Heat gently stirring all the time
As it thickens add 2/3 of the cheese and mustard
Stir to mix in
Drain the broccoli and pasta and place in a casserole
Pour the cheese sauce over
Add the remaining grated cheese on top
Place in the oven for about 15 minutes
Finish off by placing under a hot grill to bubble the top