Black Eyed Beans
This vegetarian stew recipe can be made with a tin of Black Eyed Beans or cooked with dried beans.
I recently cooked a 500g of black eyed peas and put them into 5 separate bags of around 225g each to put in the freezer – which is equivalent to a drained 400g tin. Each one costs about 22p excluding boiling cost. I have tried to research the cost by looking for examples on the internet. What has surprised me is how much cheaper a gas oven is to run over an electric oven. It is only a few pennies to boil the beans and is still much cheaper than buying 5 tins of beans which would be about 70p each or so – an overall saving of 45p a meal.
Cooking pulses from dried is much cheaper than the tins and give you a stock in thee freezer, but even buying the tins, still makes a very low cost meal
Buying dried pulses and preparing them in a batch does mean you always have some in the freezer ready to make a simple meal, low cost meal with store cupboard ingredients and a vegetable or two. There are many recipes on this website made from various pulses including chick peas and lentils. Lentils of course do not need any pre-soaking and are one of the easiest ways to make low cost meals.
How To Cook Dried Beans
To prepare dried black eyed beans – soak over night inn lots of cold water. Drain and rinse them and put in a large saucepan of boiling water. Simmer on the hob for around an hour or until soft. Allow to cool then divide into 225g portions, bag up and freeze. They can be used from frozen but it is more efficient on energy and cooking time to defrost them first
Vegetable Casserole
There are many ways to make a vegetable casserole and you can make changes to this recipe using different vegetables. I used sweet potato, celery and carrot along with onion and half a leek. Squashes and root vegetables such as swede or parsnip would all be excellent in this dish. It can be cooked in a slow cooker too – just put all the ingredients into the pot, stir and cook o high for an hour and low for over 5 hours
The stew can easily be frozen or kept in the fridge for 2-3 days for reheating.
Low Cost Meal
A vegetable stew makes a very low cost, low calorie meal. This stew cost about £2 to feed 4 generously. I served it with small baked potatoes that were cooked alongside the casserole in the oven. Who says that eating healthily has to cost a lot?
I used some ginger, paprika and rosemary as flavourings but this stew would be good with just some mixed herbs and black pepper so you don't have to splash out on any extra spices if you don't have what I suggest. The spice combination is very tasty – but other herbs taste good too – and black pepper always adds a zing. (That reminds me of a Trivial Pursuit question that asked what the master spice is – and of course the answer was black pepper!)
Black Eyed Bean Casserole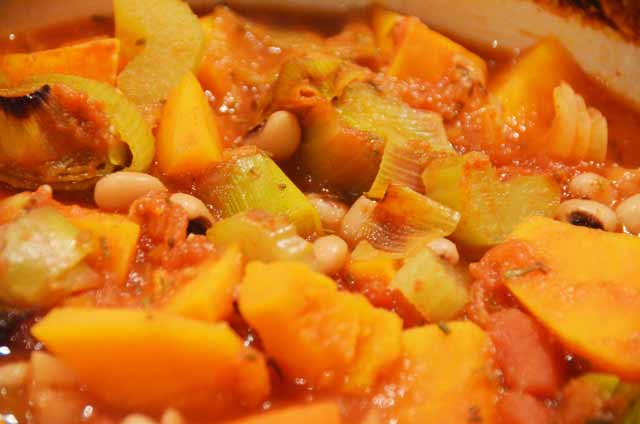 Ingredients
1 onion

peeled and sliced

225g / 8oz

cooked black eyed beans

– or –

400g tin

black eyed beans

1

sweet potato, cubed

2

carrots, peeled and sliced

1

leek, washed and sliced

2

sticks of celery, sliced

400g tin

chopped tomatoes

2

garlic cloves, peeled and crushed

2 teaspoons

paprika

1 teaspoon

powdered ginger

1 teaspoon

rosemary

400ml

stock
Cooking Directions
Preheat the oven to 180 degrees C
Place all the vegetables and beans in a large casserole
Add the paprika, rosemary and ginger to the stock
Pour the stock over the vegetables
Stir in the chopped tomatoes
Stir well and cook in the oven for 90 minutes