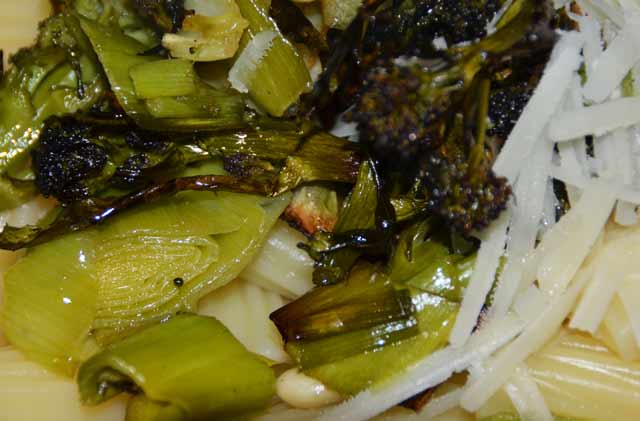 Purple Sprouting Broccoli
In late January or early February that lovely rich coloured vegetable, purple sprouting broccoli is in season. Our Grandmothers ate it as part of their staple diet but somehow it dropped out of favour in the 70s and 80s. More recently it seems to have picked up again mainly through vegetable box schemes and Farmers markets.
Purple sprouting broccoli is gaining in popularity as it is tasty, nutritious and easy to cook. The freshest and cheapest can be found at local markets
It can be bought in supermarkets but it is often prepackaged and treated more like an exotic or rare food and is very expensive. Local vegetable growers, markets and Farmers markets sell it much more cheaply. At the time of writing Sainsburys are selling it online at over £9 a kilo, nearly 3 times the price of local farmers markets.
Cooking Purple Sprouting Broccoli
Purple Sprouting (PSB) is best cooked very fresh so don't keep it too long after buying. It is so easy to cook and so tasty that you won't want to leave it in the fridge for long anyway. Steam, roast, boil or fry if you are using it as an accompanying vegetable – or make this main course supper with pasta.
Not only is it tasty and easy to cook, it is packed full of iron, folic acid, calcium, fibre and vitamins A and C. The jury is still out as to whether it can be regarded as a superfood but it is certainly a welcome addition to a healthy diet.
For other ideas see How To Cook Purple Sprouting Broccoli
Easy Supper Recipe
This recipe can be used as an idea that you can make your own changes too, given the basic ingredients of PSB and pasta. I added leek as an extra vegetable but you could use other leafy seasonal vegetables or even frozen peas or peppers. I added almonds, but pine nuts would be really good too. Spice it up a little with a few chilli flakes and add plenty of garlic.
Try any type of cheese – Parmesan or similar cheeses are good but then so is cheddar. Or try some blue cheese melted on the top – add to the roasted vegetables in the last couple of minutes in the oven. Use up any odd ends of cheese and do a mix. Goats cheese could be really good melted on the top too.
Do comment below to share any variations you try!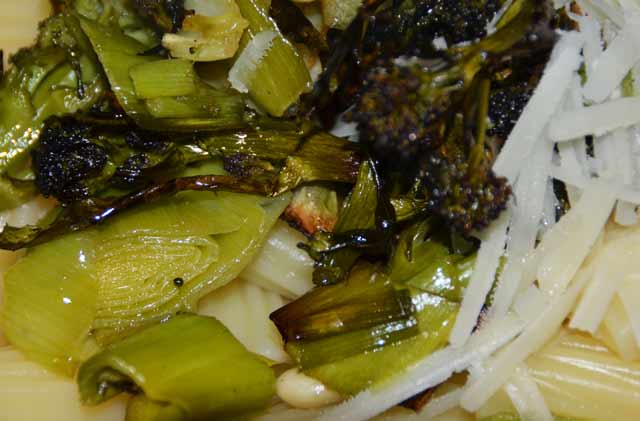 Pasta And Purple Sprouting
Quick Veggie And Pasta Supper
Ingredients
500

g

purple sprouting broccoli

1

large

leek

sliced

25

g

almonds

1

tablespoon

olive oil

400

g

pasta shapes

100

g

parmesan cheese

grated
Instructions
Heat the oven to 200 degrees C

Prepare the purple sprouting by trimming off thick stalks and breaking into small florets

Place in a roasting tray with the sliced leek

Pour the olive oil over the vegetables

Stir to cover the vegetables with the oil

Bake in the oven for 15 minutes, stirring once half way through

Meanwhile cook the pasta in plenty of boiling water, according to pack instructions

Add the almonds to the vegetables

Bake for a further 5 minutes

Drain the pasta

Add the broccoli mix on the bed of pasta

Sprinkle with the grated cheese

Serve immediately