Spanakopita
Spanakopita seems to have become quite popular over the last few years as to be honest, I hadn't heard of it before then. The Greek recipe itself dates back more than 400 years. It has recently become a favourite as an appetiser and as part of a buffet lunch or snack. It is often made into triangles to make a snack for one person.
Sanakopita is an easy, yet impressive supper recipe – and it's a great way to eat spinach – especially if you are not fond of it on its own!
Spanakopita simply means spinach pie and there are several different variations of spanakopita recipes but the basic theme is feta cheese, onion and spinach wrapped up in a parcel of filo pastry. It can be eaten hot as a main dinner or cold with a salad or lunch time snack. It is sometimes made in individual portions which would be great for a lunch box and make a fabulous change from a sandwich or pastie.
This spanakopita recipe was shared by a reader of Penny's Recipes. It is an easy recipe that she regularly enjoys. She also indicates that it is a fabulous way to get the benefit of spinach without actually tasting it! I know what she means but I think it is not entirely true that you can't taste it as the pie would be a lot poorer without the spinach but it is true that you don't get a full on spinach flavour.
In fact I think this would be a good way to get your children eating spinach – or indeed anyone who wouldn't eat it as a standalone vegetable.
Spinach
We all know what spinach did for Popeye! Here's an episode where he tried to teach hos children to prefer spinach over hamburgers. I hope it will make you smile:-


Although spinach may not give you muscles like Popeye it is still regarded as one of the healthiest vegetables, packed full of vitamins and antioxidants helping to prevent cancer. It's benefits are shared with many other vegetables but it seems spinach still comes out tops in certain areas. Read more about it here
Easy Spinach Pie
Whatever the health benefits or the orifins or Spanakopita this easy recipe will delight your family in its simplicity and deliciousness. Serve with jacket potatoes and seasonal vegetables or a great big salad. The pie will serve 4-6 people as a main dinner and 8 people as a starter or lunchtime snack
You can really add as much spinach as you like – a good bunch seems a fair way of allowing you to choose how much. Some recipes say 750g.
Kerry's Spanakopita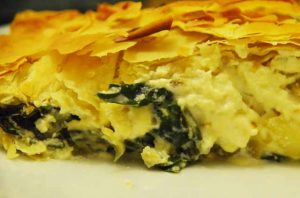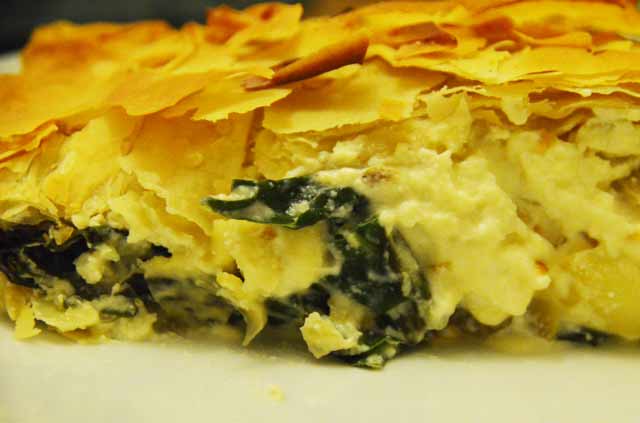 Ingredients
1 bunch

baby spinach chopped

1 pack of frozen

spinach well drained on paper towel(You want it really dry)

150g / 5oz

feta cheese (Greek is great)

250g / 8oz

ricotta cheese

25g / 1oz

grated Parmesan(optional)

1

onion diced

1 bunch

green shallots (optional)

A handful

chopped parsley

2 garlic cloves

minced

2

eggs, lightly beaten

3 tablespoons




melted butter & olive oil mixed

olive oil

spray or melted butter

1 pack

filo pastry sheets

1 tablespoon

oil or butter extra
Cooking Directions
Gently fry diced onion, garlic & shallots if using in extra oil until soft
Toss in spinach & cook gently for 5 mins
Set aside.
In a separate bowl mix ricotta, crumbled feta & Parmesan
Add beaten eggs
Fold in cooled spinach mixture.
Set aside while you assemble the pastry.
Spray a 9 inch x 13 inch (20cm x (30cm) lasagne dish or similar with the oil or grease
Lay 2 sheets of filo lengthwise, lightly brush with the melted butter/oil
Lay 2 more sheets cross wise allowing the excess to hang over the dish
Continue until the base is covered with at least 8 sheets of filo, brushing lightly with the oil/butter mix between every second layer.
Pile cooled spinach/cheese mix onto the filo & evenly smooth it out to cover the base.
Continue layering the filo until you have around 8 layers on top again brushing the oil mix every second layer.
Finish with a length wise pastry layer & then roll the pastry edges into the dish so it forms an edge, gently score the top layer of pastry into squares but careful not to cut thru the layers & into the filling.
Spray lightly with oil & into the oven at 180°C for 40 mins
Let it sit for 5 mins before you slice it…