Vegetarian Version Of Traditional Moussaka
Moussaka is generally thought of as a Greek dish although there are Turkish versions. It is traditionally made with meat, usually minced lamb. This vegetarian version of moussaka does not purport to be particularly authentic, especially as it is vegetarian but is a tasty dish, loosely based on the idea of moussaka which is made from aubergines, tomatoes and with a cheesy sauce topping. But I use lentils to replace the meat.
Vegetarian Moussaka is an easy supper recipe for midweek but good enough to serve with friends for an informal dinner party
A Family Meal
Moussaka has become a popular and standard dish in restaurants and in the home, and I imagine that is partly beacuse it is easy and low cost but at the same time something a little different. It make a very good change from other standard recipes such as Shepherds Pie or Spaghetti Bolognese. It makes a lovely supper whether for the family or it is also perfect as an informal meal with friends
It still has the lovely spicy warmth of cinnamon and nutmeg and the robust unusualness of the aubergines – a vegetable I have grown to like but still find a little bizzare.
Aubergines
Aubergines were orginally grown in India although now is grown in many countries. They were introduced to Europe in the 1500s. They became incorporated into Italian cooking long before they gained any popularity in England. They didn't really become popular in the UK until after the 1960s.
I remember when I first learned to cook aubergines, that you cover it in salt and leave it for a while before cooking it. This was to reduce the bitterness and it also has the effect of reducing the amount of fat it will absorb. Many varieties grow now don't have the bitterness so it is less necessary to do the salting and I didn't pre salt the aubergines for this dish.
Aubergines are readily available in supermarkets and cost around £1 each. One large aubergine is sufficient for this recipe – but it is up to you whether you would like more or less in your moussaka
Serve with salad or some green vegetables.
Vegetarian Moussaka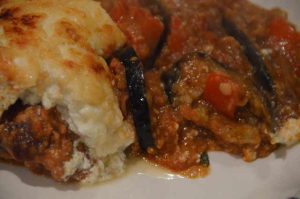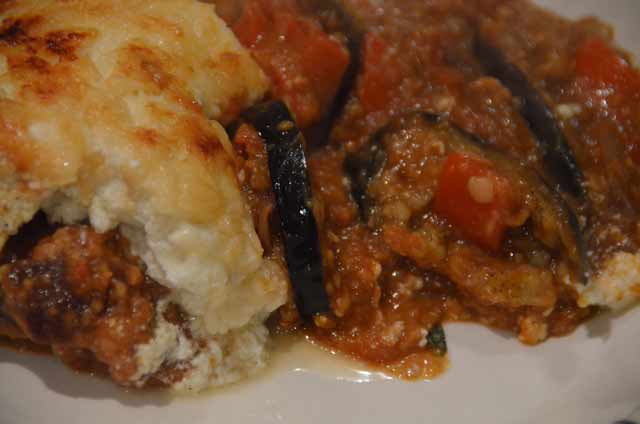 Ingredients
100g / 3oz

red lentils

2 tablespoons

olive oil

1 large

aubergine (about 350g), thinly sliced

1

red onion, peeled and sliced

1

red pepper, deseeded and sliced

2-3 cloves

garlic, peeled and sliced

1 teaspoon

cinnamon

1 x 400g tin

chopped tomatoes

2 tablespoons

tomato puree

125g / 4oz

ricotta cheese

125g / 4oz

Greek yoghurt

3

eggs

1/2 teaspoon

nutmg

75g / 2.5oz

Parmesan or similar

1 large (around 350g)

aubergine
Cooking Directions
Cook the red lentils in plenty of boiling water (around 350ml water )until soft
Heat the olive oil in a an and fry the aubergine slices until brown
Set aside
Fry the onion until soft an the add the pepper and garlic
Cook until soft
Add the lentils
Add the tomatoes
Add the cinnamon
Stir in the tomato puree
Pre-heat the oven at 180 degrees C
Simmer gently for 5-7 minutes
Meanwhile make the topping
In a large bowl mix the ricotta cheese and yoghurt
Stir in the eggs until thoroughly combined
Season with the nutmeg
Place 1/3 of the lentil mix in a pie or lasagne dish
Add a layer of aubergines, followed by a further layer of lentil mix and aubergine and so on
Pour over the topping
Bake in the oven for about 50 minutes until brown
Serve immediately