Sausage Stews
I love sausage stews and casseroles. They are warming, filling and it makes a cheap meal at any time of year. You can add vegetables and pulses to the stew in any combination you like. It is a good way to use up what you have in your cupboards or fridge. And you can serve it with lots of seasonal vegetables so you are well on the way to your 7 vegetables a day recommended requirement!
A good sausage casserole can be filling and delicious and have lots of vegetables now that we all need 7 a day. It makes a fabulous, low cost supper
I had some sweet potatoes that needed using up and as usual I had some cans of pulses in the cupboard as I tend to always keep a stock for standby meals
Best Sausages
If you are lucky enough to have a good butcher near where you live, you might find that they do their own special sausages so you can ring the changes in a sausage stew by trying out different flavours of sausages.
I took a visit down to my local butcher to choose some sausages. There is a wide variety so choosing isn't easy – but it does mean I will have to make more sausage recipes in order to try out some of the other flavours! I was attracted to the piri piri sausages and asked if they were really hot. YES was the definite reply! I had second thoughts and said tentatively – What – really, really hot? – after all I do have my limits even though I do quite like spicy food. The butcher backtracked a little at that stage saying of course that it depends what you mean by really hot.
I decided to buy them and try them anyway. I hoped they would be spicy but not so hot that it spoiled the dinner. Happily I wasn't disappointed. They were really hot but not to hot and were really enjoyable. So I would urge you to try your local butcher's sausages. They will be better than anything in the supermarket.
Spicy Sausage Enough
Below is the recipe for these spicy sausages. Because the sausages carry the day I didn't add any other spices or herbs. Sometimes it is good to just let the food speak for itself!
Spicy Sausage Stew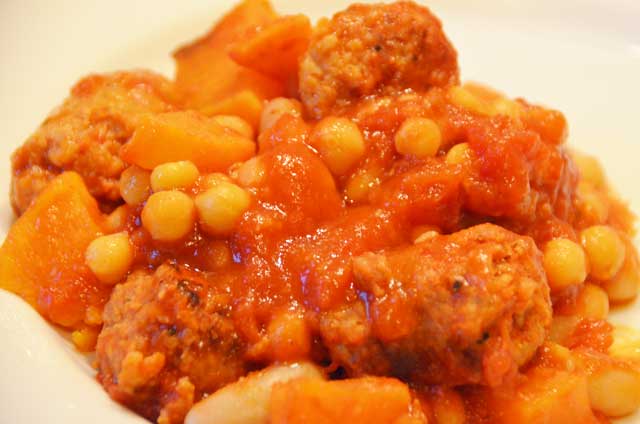 Ingredients
8

Spicy Sausages

250ml

stock

1 x 400g

tin chopped tomatoes

4 medium

sweet potatoes, peeled and chopped

1 x 400g

tin chick peas

1 x 400g

tin cannellini beans
Cooking Directions
Preheat the oven to 180 degrees C
Chop each sausage into 4-6 bite sized pieces
Place the sausages in a heat-proof casserole or large frying pan
Fry the sausages for about 5 minutes to brown, stirring frequently (they shouldn't need any fat but you can add a little if too dry)
Add the chopped tomatoes and stock
Add the chopped sweet potato
Add the beans
Cover and place in the preheated oven for about 45 minutes (Transfer to a casserole if you did initial cooking in a frying pan
Serve with your favourite green vegetables