Pudding With Apples
I was looking for new ways with apples and came across the recipe for this simple dessert. It uses almond flour rather than wheat flour.
I wasn't quite sure how this pudding would turn out when I started cooking this but I loved the simple idea. I was delighted with the result – it is simple enough to put together quickly and good enough for Sunday lunch pudding. It makes a change from Apple Crumble, too!
This delicious dessert is a great alternative pudding to Apple Crumble of Eve's Pudding
I found the idea on Delia Online. It is actually very similar to Eve's Pudding except that the sponge on top is made with ground almonds rather than flour. This is good if you are trying a wheat free diet – or if you simply like the almond taste and crispier texture it creates.
It is very easy to make – just stew the apples first and them mix butter, sugar, eggs and almonds to make the topping. Serve hot or cold with cream or ice cream.
Apples are so versatile to make many low cost desserts – and with a bit of health benefit too! Plus Bramley apples are available all year round because they are put in cold storage after they are harvested.
Apple Almond Pudding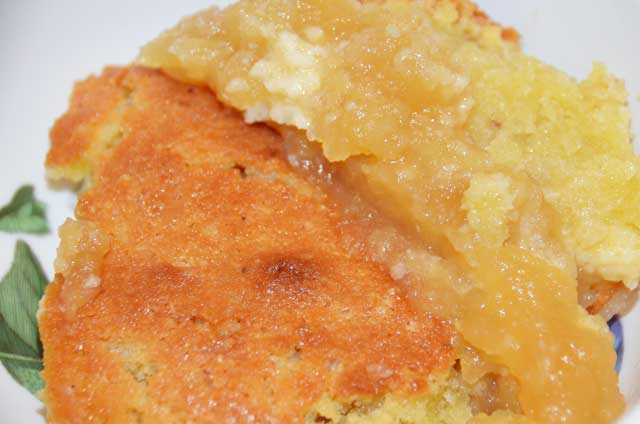 Ingredients
2 large

baking apples, peeled and chopped

2 tablespoons

sugar

2-3 tablespoons

water

110g / 4ozs

sugar

110g / 4ozs

butter

2 eggs

beaten

110g

ground almonds
Cooking Directions
Preheat the oven to 180 degrees C
Place the chopped apple, sugar and water in a saucepan
Heat and gently stir until the apple is soft
In a bowl beat together the butter and sugar
Add the eggs and stir well
Add add the ground almonds and gently stir into the mixture
Grease a small baking dish
Place the stewed apples in the bottom
Cover with the almond mixture
Bake in the oven for about an hour
Serve with cream or yoghurt