Homemade Meals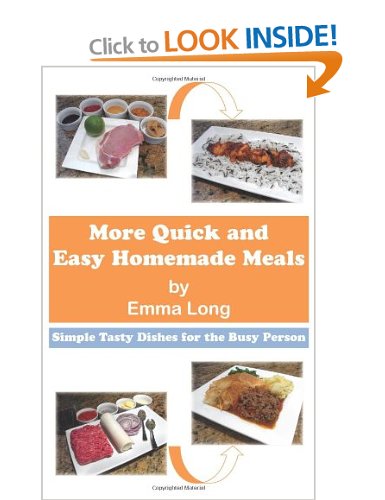 When I was asked to review this cookery book by Emma Long I was delighted because it is a recipe book with similar aims to my website – easy, tasty recipes for the busy cook.
Recipes For One
The almost unique aspect of this cookery book is that all the recipes are for one person – something that I know there is much requirement for with an increasing number of single households. I am often asked if I will do a series of recipes for one person – but for now I will recommend Emma's book. This book would also be useful for students.
And just because the recipes are for one, doesn't mean that they are not suitable for family meals. They are very easy to double, quadruple or more to feed the required number of hungry mouths!
Something For Everyone
The book is presented in a very non-fussy, clear presentation with each recipe having a photograph of the ingredients and then a photograph of the finished product.
The book is divided into Fish Dishes, types of Meat and a vegetarian section, although it is not big enough for this to be a book for vegetarians. I did however try the Cheesy Vegetable Bake which was simple to make and delicious.
There are some traditional recipes such as Shepherds Pie and Lamb Chops but they all have a new way of making them to perhaps make a change from the recipe you normally use, whilst still being straightforward and made with easy to source ingredients (although not always use din the most expected ways! I still haven't tried the Pork, Leek And Apple Pasta Bake but I am defintely going to in the next few weeks because it sounds so good! The meat and vegetables are flavoured with honey and mixed spice.
As well as dinner recipes there are some Alternative Dishes such as the Posh Beans on Toast and Minted Lamb Sandwich Filling sauces and side dishes.
Emma Long
Emma has worked in the hospitality industry and has run a catering business so she should know something about food! This is her second published book – the first being her first collection of quick and easy homemade meals
. The book was so popular that she wrote another one!
If you like straight forward recipes but want your food to taste good there are a plethora of recipes to tickle your taste buds!