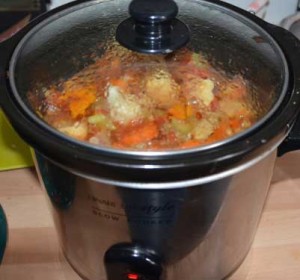 Corned Beef Irish Stew Recipe
I am always delighted when a reader sends in a recipe and this delightful corned beef recipe is no exception. I must admit it is a long time since I tried corned beef and then had it mainly in sandwiches rather than as an ingredient for a cooked meal. Tinned corned beef does make for an economical meal costing around £2 for a 340g can. I would certainly be interested in further corned beef recipe ideas from readers.
The recipe mentions Vegemite as an ingredient. I think it is quite easy to get in the UK now but Marmite or even Worcester sauce might be a good substitute.
Michelle says:-
I would like to share my mother's corned beef recipe. I don't know why it is called Irish stew as there is no lamb in it and it is more of a soup than a stew. However, it is one of the easiest and cheapest dishes to make and nice to eat. You just throw everything into a pot!

Some ingredients do not have any quantities, I just estimate according to the number of people. This recipe also uses Vegemite – very popular here in Australia but I'm sure there is a substitute in the UK.
What Is Corned Beef?
A quick look around the internet reveals what corned beef actually is made from. There are far more detailed histories if you want to know more. It is really quite a simple product being a type of salted beef which is a preserving technique dating back centuries. The term corned comes from the kernels of salt that were laid on the meat in order to preserve it. At one time Ireland was the biggest exporter of Corned beef – hence why this recipe is probably called Irish Stew! The cut of beef used is usually brisket.
A tin of corned beef has surprisingly few ingredients. I must admit I expected it to be a far more processed product with lots of additives. If you cook with corned beef, do please send in your recipes
Corned Beef Stew Recipe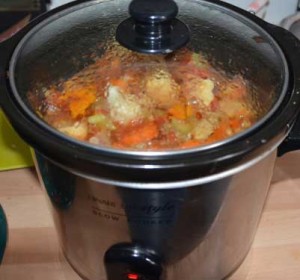 Ingredients
1 can

corned beef

Lots of potatoes

chopped into large pieces

Carrots

chopped

Peas

(put in just before dish is served)

1 Onion

diced

Tomato paste

about 1-2 tablespoons

1 tablespoon

Vegemite or substitute

1-2 teaspoons

Mixed herbs

Noodles or spaghetti

broken into small pieces (add about 10 minutes before dish is served )
Cooking Directions
Put all into a large saucepan and mix (except peas and pasta) .
Add water to cover.
Bring to the boil and simmer for about an hour or so.
Add pasta and peas and cook for about 10 minutes more.
Serve.