Delicious Chicken Casserole
Chicken casserole is an easy, one pot supper. You can put all the vegetables in the casserole or cook separately. I remember it was one of the first recipes I used for entertaining when I invited my boyfriend for a meal when I was just 15! I was very proud of the meal.
Delicious and easy to make family supper recipe ideal for chicken thighs and drumsticks. Keep warm for latecommers, freeze any leftovers
Chicken Thighs, Drumsticks Or Breast
>A chicken casserole can be made in many ways. You can add the vegetables and flavourings you like – so use this recipe as a base – and make variations according to what you have in your cupboards. This recipe uses chicken pieces – chicken thighs and drumsticks. You could use chicken breasts or chicken wings if you wish too. For any chicken dish buy the best chicken you can afford. Personally, I would prefer to buy free range chicken thighs than non free range chicken breasts. The mustard coating gives the casserole a good flavour but is not essential if you don't have any. The casserole can be kept warm for any latecomers and can be frozen for a future home cooked ready meal
Using chicken thighs and chicken drumsticks keeps the cost of the recipe down. Although chicken pieces are lower cost, you could also use only half the chicken recommended and use a tin of lentils, chickpeas or other pulse to make the casserole go further. This would nearly halve the cost of the recipe
Easy Family Supper
It is a classic dish that everyone loves. Change the vegetables according to the season. It is of course, very easy to make too – just a bit of chopping and then leave it in the oven while you get on with other things. It would be good in the slow cooker too – just switch it on in the morning, place in all the ingredients. Cook on high for an hour and then on low until you are ready to eat it (min 3-4 hours)
It is certainly a crowd pleaser. Leftovers can be used for soups, stews or as a pasta sauce.
Chicken Casserole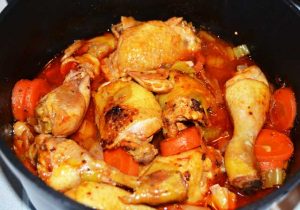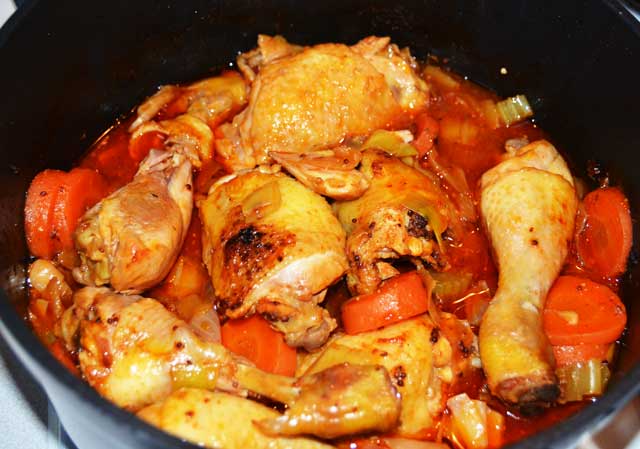 Ingredients
1 tablespoon

olive oil

4 chicken drumsticks and

4 chicken thighs

1 onion

peeled and sliced

2 carrots

sliced

1 teaspoon

wholegrain mustard

1 teaspoon

dijon mustard

1

sweet potato, peeled and chopped

2

sticks celery, sliced

1 tablespoon

tomato puree

600ml

chicken stock

2 teaspoons

mixed herbs
Cooking Directions
Preheat the oven to 180 degrees C, Gas Mark 4
Mix the two mustards
Coat each chicken piece with the mustard mix and put to one side
Heat the oil in a flameproof casserole
Add the onion and fry for 5 minutes until soft
Add the chicken pieces and cook for about 5 minutes, stirring frequently to turn the pieces over until browning on the outside
Add the other vegetables
Add the stock, tomato puree and herbs
Cover and place in the oven for 45 minutes