Stuffed Peppers Recipe
These stuffed peppers with Chorizo are a lovely, sweet and spicy fest. Served with a green salad they make for an easy supper but it will feel like you have had something special! And they are delightfully simple to make.
These Chorizo Stuffed Peppers have simple ingredients yet combined together they make a really special supper. Sweet and Spicy!
Chorizo
Chorizo is a Spanish style sausage – which British people can rarely pronounce correctly! However they love it! It can be bought as a whole sausage of in slices. Either will do fine for this recipe. It is made from pork and flavoured with paprika, garlic and salt. Beyond that there are many different variations of Chorizo – not least as to how spicy it is. For a for a full rundown of the different varieties read this guide from Great British Chefs
Peppers
Peppers are a staple product in our house hold. I often have stuffed peppers with a variety of ingredients and also add them to chillis and beany stews. All the colours of peppers are lovely so choose those you prefer or just use whatever you have. The red and yellow peppers are the sweetest.
Stuffed pepper recipes always start off with the peppers being roasted – which brings out their sweetness. One reason that they taste so delicious!
Stuffed Peppers With Chorizo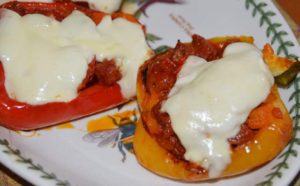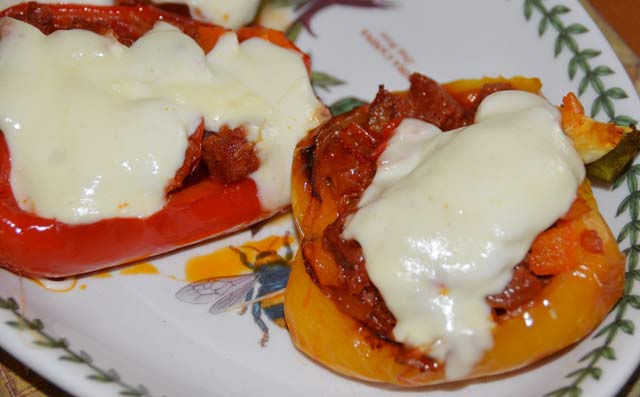 Ingredients
1

green onion, diced

8

cherry tomatoes, chopped

280g

chorizo, chopped

1 tablespoon

tomato puree

1 tablespoon

olive oil

3 large

peppers

1 ball

mozarella
Cooking Directions
Preheat the oven to 220 degrees C
Cut the peppers in half vertically and lay skin side up in a baking tray
Brush with olive oil
Bake in the oven for 15 minutes or until just starting to char
Gently turn over so they are ready for the stuffing
Meanwhile heat the oil in a large sauce pan
Add the chopped onion and cook for a few minutes, stirring frequently
Add the chopped cherry tomato and stir
Add the chorizo cook for 5 minutes
Add the tomato puree and a tablespoon of water if necessary
Spoon the mixture into the waiting pepper halves
Slice the mozarella and lay a piece on each pepper
Return to the oven and cook for 20 minutes
Serve immediately