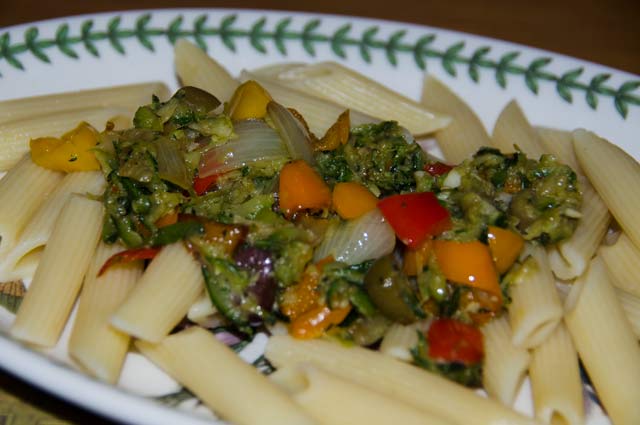 Courgette Recipes
In the summer time when the climate is right, the produce just keeps coming and you can have too much all at once. Of course a good idea is to do a swap with your neighbours or the people at work – courgettes for apples or rhubarb for example. It is however really good to get to eat what comes from your garden. Is there anything quite so satisfying as harvesting your own crop then turning it into something really yummy.
Courgettes can be a wonderful vegetable if cooked in an exciting ways. If we are honest it is not that wonderful a vegetable just boiled or steamed so it really needs to have a bit more done to it. It is fabulous for adding to bolognese or lasagne sauces and its great with a cheese sauce.
A Sort Of Courgette Pesto
This recipe for a vegetable medley to stir into pasta came from one of my readers who referred to a link for making a king of courgette jam by caramalising it – as suggested by thekitchn.com I took that basic idea and then added the result to some fried onions and peppers and then stirred it into pasta. Sprinkle with some cheese and black pepper and you have a really delicious pasta sauce – that is sweet and delicious.
Locally Grown Is Best
If you can't get your courgettes from the garden, do try to buy them from a local grower as they will taste much nicer and it will help to keep your food miles down.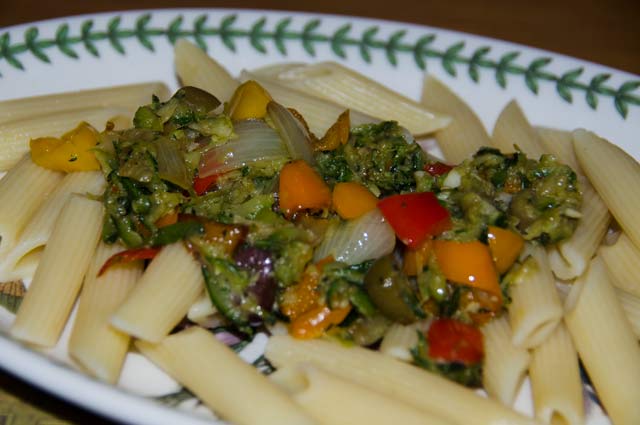 Courgette Paste For Pasta Recipe
Ingredients
1

tablespoon

olive oil

500

g

courgettes

2

garlic cloves

crushed

1

tablespoon

olive oil

1

onion

peeled and diced

1

red pepper

deseseeded and diced

1

yellow pepper

deseeded and diced

handful olives

sliced

400

g

penne pasta

cheddar cheese

grated

freshly ground black pepper
Instructions
Grate the courgettes

Place in a colander and squeeze out some of the excess water

In a large heavy bottomed frying pan, heat the olive oil

Add the courgettes and the garlic

Fry the mixture on a medium heat for about 10 minutes, stirring regularly.

Place in a bowl and set aside

Place the pasta in a large saucepan of boiling water and simmer for 12 minutes or according to pack instructions

Add a further tablespoon of olive oil to the frying pan

Add the onion and fry for a few minutes

Add the peppers and fry until the peppers are soft

Add the courgette and garlic mix and reheat

Add the olives, stir until warmed through

Serve on a bed of pasta, sprinkled with black pepper and cheese