Preserving Apples
There are many ways to use up your glut of apples such as Apple Crumble, Baked Apples and Apples with Sausages but what better way than apple chutney! As a gift when you visit friends and family, it makes a welcome change from flowers and you can include it in a foodie Hamper as a Christmas gift for someone. And you will have something to accompany your cheese and salads throughout the winter months.
Apple Chutney is so easy to make, delicious and low cost too. It makes a great Christmas gift for friends and relatives, on its own or as part of a Hamper!
Low Cost Apple Chutney
If your apples are free, then, with the other ingredients you will need, each jar will cost well under £1 each.
And if you have never made chutney before, you may be surprised at just how easy it is to do! It really is quite exciting to turn basic ingredients into a delicious chutney.
Of course there was a time when making chutney was just what people did in the Autumn when produce was plentiful, to provide food through the winter. Now from economic necessity and interesting in 'greener' practices, making chutney is on the increase again.
Apple Chutney Recipe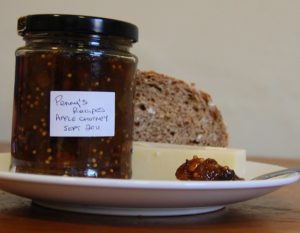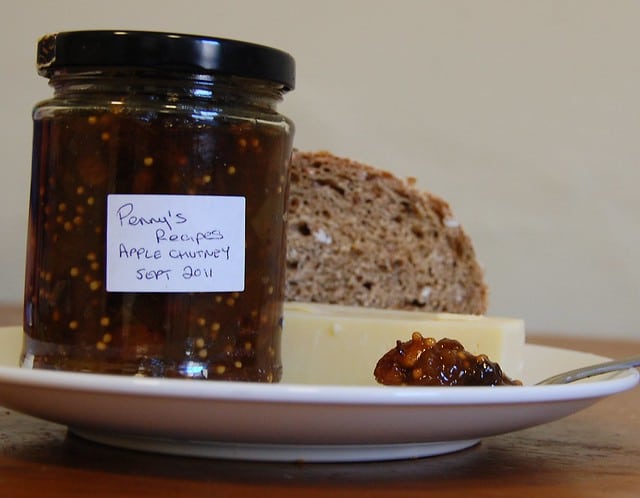 Makes about 6 average jars
Ingredients
500ml

cider vinegar (or malt or wine vinegar)

1.25kg / 3lbs

apples chopped into small pieces

500g / 1lb

onions, peeled and chopped

500g / 1lb

brown sugar

25g / 1 oz

mustard seeds

1 teaspoon

salt

375g / 12oz

chopped stoned dates

125g / 4oz

sultanas
Cooking Directions
Put the apples and onions in a large saucepan (or divide between 2 saucepans)
Add the sugar and cider vinegar
Bring to the boil then lower the temperature and simmer until apples and onion are soft
Stir occasionally to ensure the mixture is not burning
Add the dates, sultanas, mustard seeds and salt
Continue to simmer for about 30 minutes, stirring occasionally
The mixture is ready when it is dark and quite thick
Remove from heat and allow to cool a little
Using oven gloves remove the jars from the oven
Carefully spoon the apple chutney into the jars and seal with a lid
Set aside to cool
Stick labels on each jar
Put away in the cupboard for at least a month before using
Origins Of Chutney
The word chutney derives from the word 'chatni' – from India which is where the methods of combining fruit and spices to create tasty preserved food, comes from. Perhaps the most famous Indian chutney is Mango chutney. Although chutney was shipped to Britain as long ago as the 1600s, it wasn't until Victorian times that the recipes came to be known and developed in the UK and people started regularly making then in their kitchens.
Chutneys do, of course, keep for a very long time, potentially years if stored correctly and they are best kept for a month or two before consuming as they will improve with age.
Vinegar And Sugar
I used cider vinegar in this Apple chutney recipe, but it is fine to use malt vinegar or wine vinegar. They will all produce slightly different flavours and it just a matter of personal preference and what you happen to already have in your cupboard. The vinegar should be a minimum of 5% acetic content.
Either white or brown sugar can be used. Just like the vinegar, it will marginally affect the colour and flavour of the final produce, but it will be delicious, whichever you use! You can use different spices too, such as nutmeg, ginger or even chilli. It all depends how spicy you would like your chutney to be.
Before you start, you will need to have plenty of empty, clean jars ready to sterilise. Happily I have a cupboard full – no jar ever leaves my house once it has entered it – unless as a gift to a friend with delicious contents!
Sterilising Jars
Rinse your jam jars and the place then upside down in the oven at about 140 degrees C for about half an hour. You can turn the oven off after 15 minutes as they will continue to be hot. Remove them from the oven (using oven gloves) when you are ready to use them. I place the lids alongside each jar in the oven too. (This is also partly so I can don't mix up which lid goes on which jar!)
You can also sterilise you jars in the microwave or dishwasher
When you chop the apples, make them quite small – about sugar cube size. Leave the skins on as they add to the texture and taste of the chutney. Slice the onion small – think what size pieces you would like in your chutney.
Don't forget to have some labels ready to stick on the jars to state the type of chutney and when it was made!