Butternut Squash Curry
Butternut squash may not be the first thing that you think of when you are planning to cook a vegetarian curry but it is easy to make, sweet and wholesome so it makes a very good curry ingredient. In fact this curry is very easy to cook. The sweetness of both the squash and the pepper are delicious. I served it with wholemeal basmati rice.
Easy to make, delicious vegetarian curry recipe. Low cost and using seasonal vegetables. Use your favourite spices or a curry paste
The recipe use puy lentils but you could use brown or green lentils. You could use tinned lentils to make the dish quicker but green or puy lentils are so easy to cook it is simple enough just to boil some up. They are cooked in about 40 minutes (but always follow the pack instructions). You can pre-cook a day before or get them boiling shortly before you add the vegetables to the oven to roast
Curry Spices, Paste Or Powder
You can use individual spices or a curry powder or curry paste – which ever you prefer. I enjoy using spices and adjusting the flavour to get it how I like it but if you have a favourite curry mix you can simply use that instead.
Autumn Squashes
I made this with a butternut squash but you can make it with a crown prince, onion or other large squash that has a firm flesh. There are several different varieties around in the Autumn time.
Also with the peppers use whatever colours you have. A mix of colours makes for an interesting looking dish and a variety of flavour – but the choice is entirely yours!
This curry is easy to prepare – and ideal for a Friday night when you might be tempted to get a takeaway. You can buy some ready made bhajis, samosas and nan bread to go with it to complete your curry experience! Serve with wholemeal or white basmati rice.
Butternut Squash Curry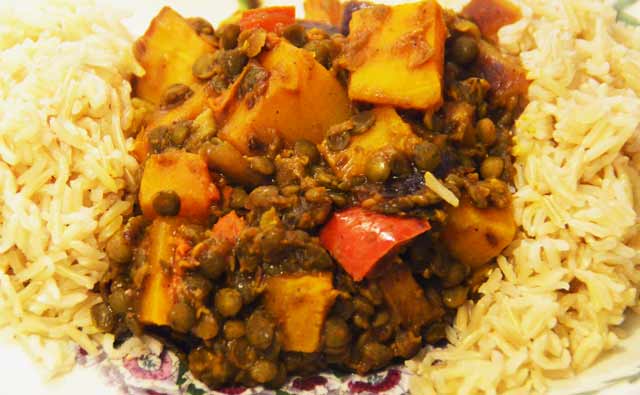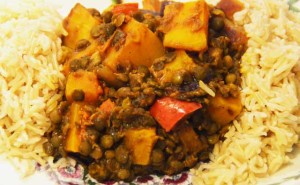 Ingredients
1 medium

butternut squash

1 red onion

peeled and sliced

3 peppers, any colours

deseeded and sliced

2 garlic cloves

chopped

2 tablespoons

olive oil

150g (dried weight) puy lentils

cooked in boiling water

2 teaspoon

cumin powder

2 teaspoon

garam masala

2 teaspoon

coriander

1 teaspoon

turmeric

1/2 teaspoon

chilli powder (or to taste)

1 teaspoon

salt

150ml

vegetable stock
Cooking Directions
Preheat the oven to 180 degrees C
Cut the squash in half and remove the seeds
Peel off the skin with a robust peeler
Chop into bite-sized pieces
Place the squash and peppers in a large baking tray
Drizzle with 2 tablespoons oil and then mix to ensure they are covered
Roast in the oven for 30 minutes
Meanwhile heat the oil in a saucepan
Add the onion and cumin seeds and fry until onion is soft
Add the garlic, stir and cook for a couple more minutes
Add the remaining spices and stir
Add the stock and lentils and cook for a few minutes
When the roasted vegetables are ready add to the saucepan
Serve with rice and / or nan bread