Halloumi Recipes
I have only recently really discoverd the joys of halloumi cheese. I was mainly introduced it it properly at a barbeque. Halloumi cheese is great for grilling on a barbeque as it retains its shape and doesn't melt. It also makes a really good addition to this chickpea and pepper mix and complements the flavours beautifully.
Halloumi cheese originated in Cyprus but has become much more popular in the UK in recent years. It is popular in salads but I love it best in hot meals when it is either fried or grilled. I did a quiche with it (recipe coming soon) and this lovely chickpea recipe which is very popular in my family.
This vegetarian supper dish is easy to make, low cost and quick to make. It is quite a treat as a midweek supper!
Halloumi cheese is available in all main supermarkets as well as health food stores. It is generally around £2 for 250g which is ample for this recipe for 4 people.
Chickpea and Halloumi Cheese
I developed this recipe after looking around on the internet for halloumi cheese ideas. As well as the halloumi cheese, this recipe includes chickpeas, peppers, tomatoes and couscous and still comes in as a meal for under £5 for 4 people.
It can be ready in 30 minutes so is an ideal midweek supper yet it could easily be served as an informal dinner party meal – when you will be able to spend time with your friends instead of in the kitchen!
Serve on a bed of couscous and a green salad
Chickpeas And Peppers
Most of the time I cook 500g of chickpeas in a batch and create 5 bags of cooked peas to freeze of around 250g each. This is by far more economical than buying a tin of chickpeas. However sometimes life doesn't always give you time to prepare things in advance so a tin of chickpeas will do just as well in this recipe – and still won't take the cost of the dish over £5 for four people.
Peppers
Peppers are readily available at low cost in green, red, yellow and orange. Choose the colours that you most enjoy. Green peppers are the least sweet and they all have their own flavours. A mix of colours makes for a colourful dish and a variety in taste!
I used to feel guilty buying peppers out of season but many are now grown all year round in this country – and I really love peppers – as may be evident from the number of pepper recipes that are on the website.
Chickpea And Halloumi Supper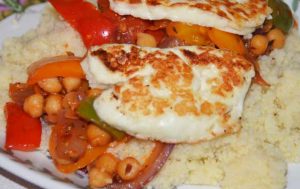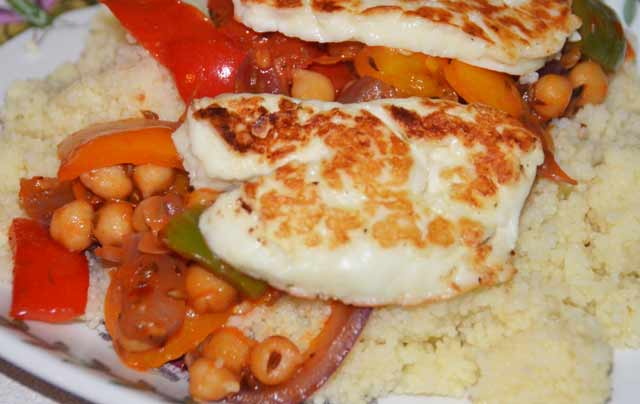 Ingredients
1 tablespoon

olive oil

1 red onion

peeled and sliced

1 teaspoon

cumin seeds

2 large peppers

deseeded and chopped

1/2 teaspoon

chilli flakes

3-4 medium tomatoes

chopped

250g / 8oz

cooked chickpeas

1 teaspoon

mixed herbs

250g / 8oz

halloumi cheese, sliced into 8

250g /8oz

couscous

400ml

vegetable stock (boiling)
Cooking Directions
In a large drying pan, heat the olive oil
Add the onion and cumin seeds and cook for a few minutes, stirring occasionally
Add the peppers and cook for 5 minutes
Add the tomatoes and chilli flakes and cook for a further few minutes
Add the chickpeas and herbs and heat through
Prepare the couscous – place in a bowl and pour over the vegetable stock, just off the boil. Leave for 5 minutes
Grill or fry the halloumi pieces for 2 minutes each side
Serve by placing 1/4 of the couscous on a plate then a serving of the chickpea mix
Top with 2 pieces of halloumi