Leek And Celery Soup
Celery Soup is light and delicious and can be made in a variety of ways. This recipe was given to me by a reader, Lesley. It uses leeks and bacon with the celery and adds the wonderful flourish of fennel seeds to create a delightful flavour.
Really easy to make and warming.
This Celery Soup is made with leeks. Add bacon or chicken for asome meat contenet or make as a vegetable soup. Deliciously light and warming
I have made this soup with and without the bacon and it is really good either way Lesley also suggests that if you don't have fennel you can simply use some parsley or mixed herbs – whatever you have. I suspect this would be really good with some leftover cooked chicken or ham too.
Take the soup out in a Thermos flask for a delicious lunch on the go. Make some crusty bread and share with friends over a leisurely lunch.
Like many soup recipes, a swirl of yoghurt or cream on the top is a wonderful finishing touch
Celery
Celery is often known as a diet food being low calorie and high fibre as well as being full of flavour. It's nutrient benefits should not be underestimated either. It is enriched with vitamins and antioxidants as well as having anti-inflammatory properties.
Celery is in season in Britain from July through to the Spring. Buy from local sources where possible so you know your celery is fresh and eat within 5 days of purchase for maximum nutritional benefit although it does keep in the fridge for longer than that.
Leeks
As well as tasting great leeks are a good source of Vitamin A and vitamin B6. In season Autumn to Spring they can be used in many soups, stews and winter recipes. Use one large leek in this recipe.
Leek And Celery Soup Recipe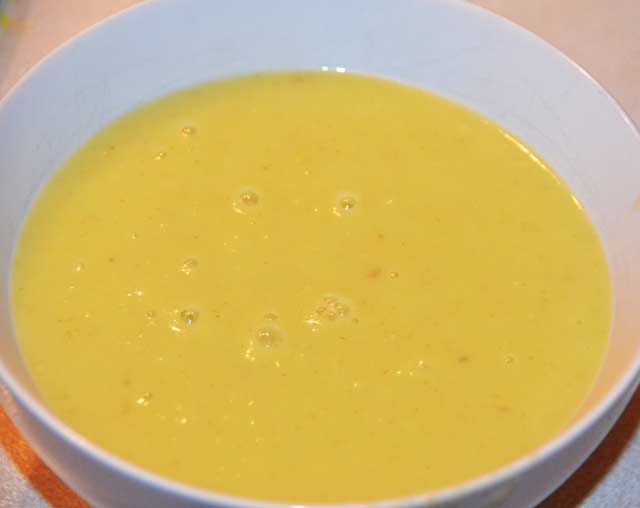 Ingredients
4 rashers

streaky bacon, no rind

1 tablespoon

butter

1

head celery, chopped (keep leaves for garnish)

1

medium potato, skin scrubbed, in medium dice

1

medium onion, finely chopped

1

clove garlic, peeled and crushed

1

large leek, trimmed and thinly sliced, washed and drained. Discard coarse or torn green tops

1.2 litres/2 pints

vegetable/chicken stock or water

1 teaspoon

dried fennel if available, or use mixed herbs/parsley

1 tablespoon

cream or yoghurt to swirl as garnish (optional)

1/2

large onion
Cooking Directions
Fry bacon until beginning to turn golden then remove from pan and drain
Place all vegetables in warm frying pan with butter. Sweat for 3–4 mins.
Add stock or water and fennel/mixed herbs, cover and cook on low heat until all vegetables are tender, about 15–20 mins
Liquidise/blend vegetable mixture until not quite smooth.
Season with pepper to taste.
Add finely chopped bacon and reheat very gently.
To serve: float small amount of torn celery leaf on top and swirl in drops of cream/yoghurt (optional). Offer salt at the table, and warm crusty bread.