Sponsored Post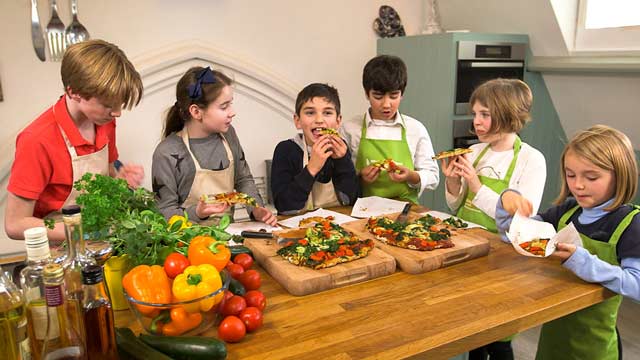 Make A Pizza Party
Most parents will attest that getting kids to eat healthily can be a daily battle, but with childhood obesity on the rise, it's become even more important to find creative ways of improving children's diets.
And we know all children love a pizza party. And yet pizzas have a bad reputation as an unhealthy food. But it really all depends on what you put in it – and on it! I have often made pizza bases and let the children (and adults of course too) add their own toppings. It is fun and it is amazing how creative kids can be. And of course because they made it, they are very keen to eat it!
Most children love a pizza party – especially when they have made the pizza from scratch and then added the toppings too! (The adults will have quite a bit of fun too!)
It is also very sociable too. It can get everyone talking about the food and learning from each other's ideas. I was delighted therefore to see this campaign from Wholgrain Goodness.
Getting Children Cooking
Wholegrain Goodness, a non-profit organisation for the promotion of healthy wholegrains recently undertook a survey that revealed that three in ten children think healthy eating is boring, a quarter think healthy food doesn't taste nice and nearly two thirds don't think it's important to eat healthily.
Part of the issue may be the lack of experience children have of preparing food with only a quarter regularly help make meals, with twice as many boys than girls having never helped prepare a family meal. Despite this, more than one in three say they would like to cook more.
Well I will support anything that gets kids cooking and enjoying healthy food!
To show how much kids can enjoy cooking they let six loose in a professional kitchen with a wholegrain pizza recipe, the result is a lot of fun and the video is worth a watch:
Wholegrain Pizza Base Recipe
The video features a Wholegrain Goodness recipe: Vegetable & Salsa Verde Scone Pizza – with just 451 calories per serving, as well as two portions of wholegrain and three of your 5 A Day.
But of course you don't have to use the exact toppings the recipe describes. So long as you use healthy vegetables on this wholegrain base, you can make up your own individual pizza. Add a bit of chilli for spice, some broccoli, onion, olives – wel you get the idea! You can also order a recipe booklet with surprisingly good, healthy recipes for the whole family. So you can go on getting inspired.
Find all you need to know about wholegrain, oats and rapeseed oil, including recipes and nutritional information at WholegrainGoodness.com – an independent, not-for-profit campaign launched by HGCA.
And do drop by to let us know about your pizza party where the kids got cooking and eating healthily!