Easy Tomato Soup Recipe
What could be better when the days get colder than a warming and delicious soup with a dash of chilli! It really does warm you up from the inside. It is very easy to make with ingredients you probably already have in the cupboard. Like most soup recipes it is adaptable.
The basic ingredients are a couple of tins of tomatoes, some stock, an onion, a carrot and a tin of kidney beans plus some seasoning. If you don't have a carrot try sweet potato, pepper or an ordinary potato. The beans don't have to be kidney beans – use what you have in your cupboards. Follow the recipe exactly or make your own alterations – the choice is yours!
Full Of Tomato Goodness
This soup recipe is full of goodness too. Tomatoes – especially cooked ones – are so good for you containing vitamin C, iron, lycopene and antioxidants as well as being sweet and delicious! Always available in tinned form on the supermarket shelves – and there is almost always some brand on offer too! Carrots too are low cost and available all year round and full of essential vitamins especially vitamin A. The kidney beans give you fibre and protein (whether canned beans or if prepared from dried beans) so it really is a nutritious and low calorie soup as as low cost!
As Chilli Hot As You Like!
And you can make the soup as hot chilli wise as you like. Just go careful and taste as you add. Remember to use a different spoon to taste to the one you used to add the chilli powder or you might get a distorted result – not to mention a heatwave on your tongue!
Soup Recipes
Soup is just the easiest and tastiest thing for a lunch or light supper – served with some lovely bread – home made if you have time! It is always good for using up ingredients too. And you can make a soup with really pretty much anything. Check out out the soup recipes – Click Here
Most soups require to be blended until smooth (although many can be made without doing that – making it more like a stew). If you don't have a blender you can try putting it through a sieve. It is possible to do with most soups although does take 5-10 minutes.
Tomato And Chilli Soup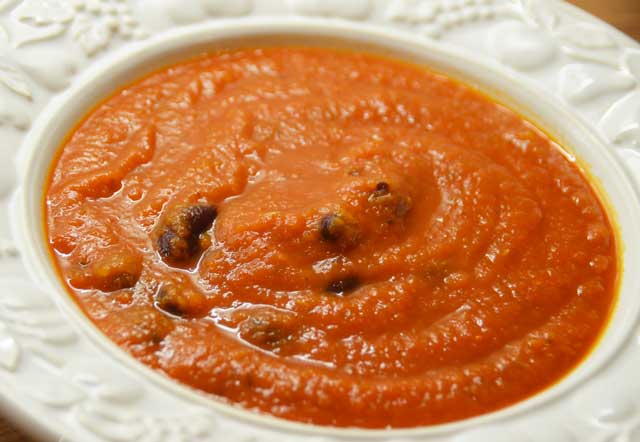 Ingredients
1 tablespoon

olive oil

1 red onion

chopped

1 teaspoon

cumin seeds

1 large (or 2 small)

carrots, peeled and chopped

2 x 400g

cans of chopped tomatoes

500ml

vegetable stock

1 teaspoon

garlic granules

1 teaspoon

chilli powder

1 teaspoon

oregano

1 x 400g can

red kidney beans, drained
Cooking Directions
In a large heavy bottomed saucepan, heat the oil
Add the onion and cumin seeds and fry for a few minutes, stirring frequently
Add the carrot and stir fry for a couple of minutes
Add the tomatoes and stock, stir and bring to the boil
Add the garlic, chilli and oregano
Simmer for about 20 minutes
Transfer the ingredients into a blender and blend until smooth
Return to the pan
Add the kidney beans and heat through
Serve with bread