Leek And Potato Soup
Leek and Potato Soup can be a real comfort food. The simple ingredients seem to be made for each other and you need no other ingredients. Some recipes have lots of cream and butter in but the simplicity keeps the soup healthy. I adapted the Slimming World recipe as there is plenty of flavour in the leeks and potato to not need lots of additions. It also keeps the soup low cost and very easy to make and who needs the extra calories?
I don't normally count calories on my recipes but I do like to keep an eye on what is healthy. I did however use some butter in the recipe – as the taste is worth it.
It is ideal for a lunch or light supper. Garlic bread goes very well with it and may be some salad and a little cheese or ham if you want to turn it into more of a main meal. It depends whether you are counting your calories or not.
Leeks And Potatoes
As well as tasting good, leeks are a low calorie, low fat way of adding bulk to a meal and vitamins. They are particularly high in vitamin A and K. In fact being from the allium family they share some of the health benefits of garlic.
Potatoes have had a mixed press through the years – but they taste so good and act as a natural thickener to a soup recipe such as this. I like to leave some of the potato cubes whole to give added texture to the soup but the choice is yours when you blend it. You can put all the potato in or leave some in reserve to add back to the soup once it has been processed.
Leek And Potato Soup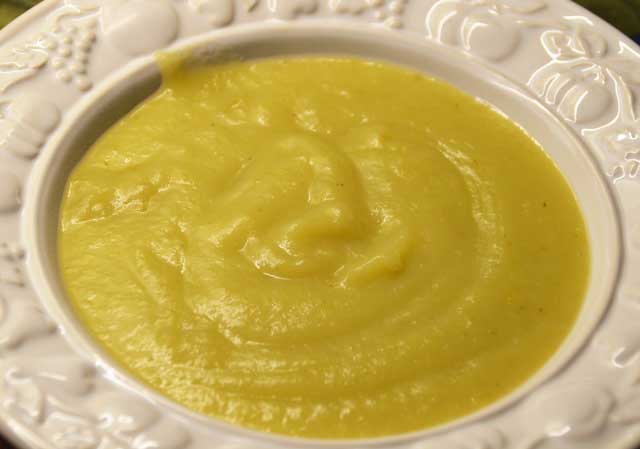 Ingredients
1 tablespoon

butter

2 large

leeks chopped

3 large potatoes

peeled and chopped into cubes

1 stick

celery

1 litre

vegetable stock
Cooking Directions
Melt the butter on the hob in a large saucepan
Add the leeks and fry gently until beginning to soften
Add in the potatoes and celery and stir fry for a few minutes.
Add the stock, stir and bring to the boil
Reduce the heat to a gentle simmer for about 20 minutes or until the potato is soft
Place most of the mix in a food processor. Leave some potato cubes behind for added texture